Fitted Wardrobes for Sloping Ceilings
Fully bespoke and tailor-made solutions for awkward spaces, angled/slanted ceilings
Project details
Location South East England, Essex, London
Space Awkward spaces, angled door wardrobes, bedrooms with sloping ceilings
Finish sprayed, veneered, laminated
Price From £3,500+VAT per project incl. installation (contact us for estimate)
People are trying to renovate rather than relocate because it's so expensive with legal fees, stamp duty and estate agent costs when you go about purchasing a new property. If you can find extra space utilising the awkward shape rooms or adding a loft extension, it can save a lot of the cost and heartache but will still give you the potential to have the house you always dreamt of.
Rather than letting sloping ceilings deter you from transforming top-floor rooms, use what you have and turn it into a design feature. Freestanding wardrobes might not be a possibility where space is compromised. You might not have adequate height across the room to accommodate them, so you need to weigh up suitable options to deal with all those awkward slants.
Although a sloping ceiling might usually leave you short of space, you can make the most of what you have with the right-angled fitted furniture. Sloping ceiling wardrobes tailored to your needs is a better solution. Made to measure, they can provide any angle and offer a combination of hanging space, shelves and drawers. Then you do not need to add a chest of drawers or other additional furniture (aside from the bed!) to the room, as everything is incorporated into one clever wardrobe design that gives you more floor space when needed.
Sloping or angled doors mean the most awkward ceilings can be transformed into valuable and practical storage, and the results can be pretty eye-catching. You can even consider sliding wardrobe doors so they open into the room if the other furniture is close to the wardrobe itself. Aspects like this are one of the many things designers can run through with you to find a cupboard arrangement that would meet (and most likely exceed!) your requirements. Going bespoke gives you much more flexibility than buying freestanding furniture. Also, there is less wasted space, as you do not necessarily need back panels on a custom-built sloping ceiling wardrobe as everything is secured onto the wall, unlike the freestanding options.
Approaching sloping ceiling rooms in this manner, you can soon transform a small room into one with multiple possibilities. Improving your property in this way will only add to its value. You show people how much space can be created through the correct furniture choices. Sadly not everyone has that vision and will rule out re-modelling smaller rooms, which is a real shame when you see how much can be achieved.
Before & After
Fitted Slopping Ceiling Closets
Urban Wardrobes specialises in fit-for-purpose storage solutions for angled ceilings, loft rooms, slanted walls and under-eaves cupboards and bespoke sloping ceiling cabinets.
Our made-to-measure furniture is manufactured based on the measurements of your space and will be fitted to absolute perfection.
View Project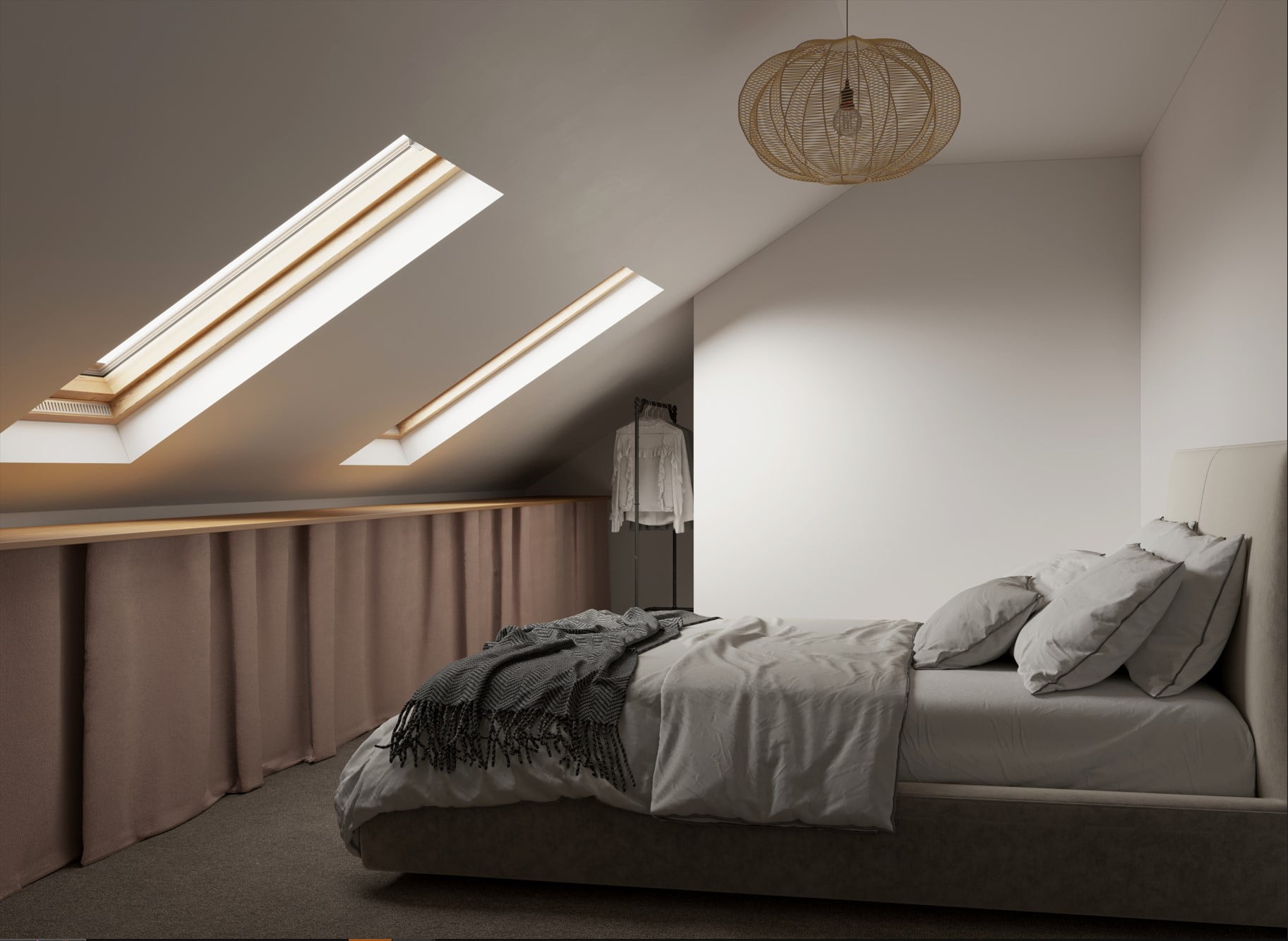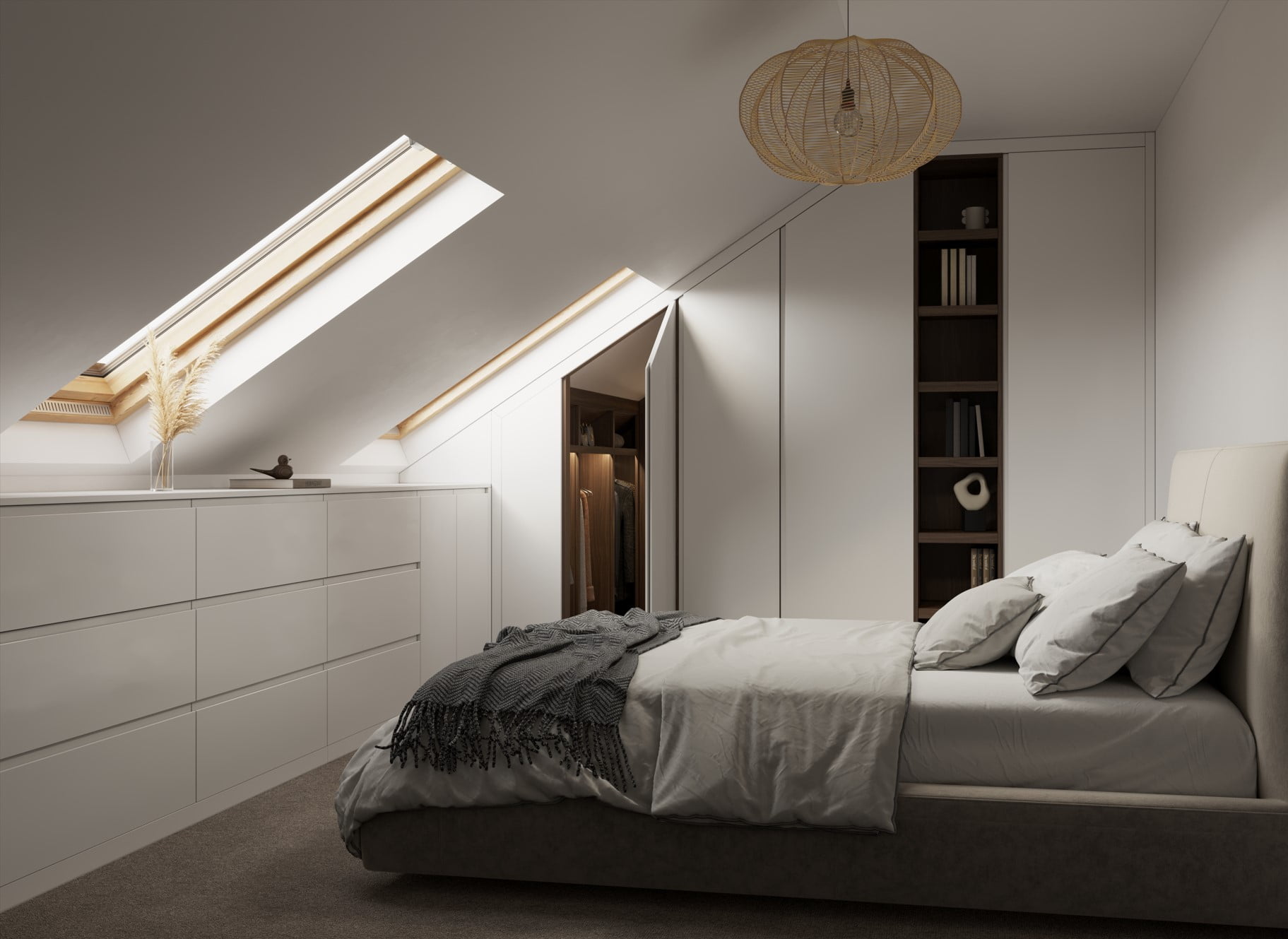 TAILOR-MADE BEDROOM CUPBOARD IDEAS
There are endless ways to customise your bedroom in your way
custom made sliding door cupboards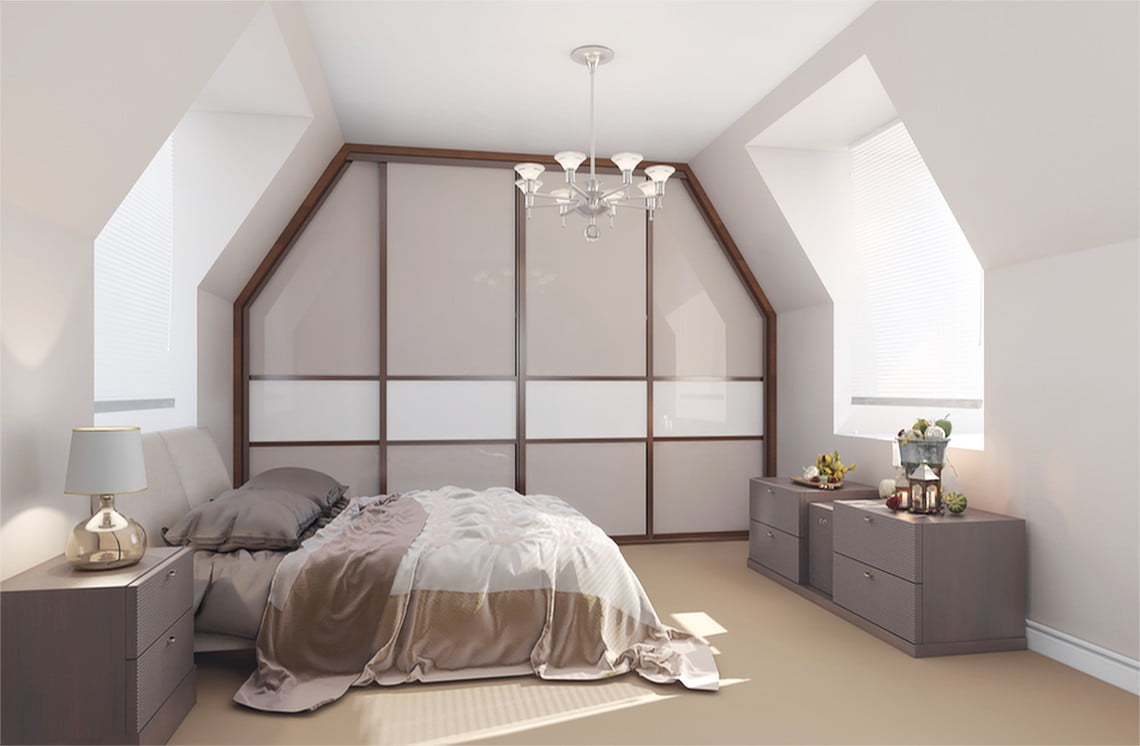 Sloping ceiling sliding wardrobes
Our sliding door wardrobes for bespoke angled storage spaces are fully made-to-measure, and we work even with the most complicated and awkward sloping ceilings.
Properly designed and installed sloped ceiling-fitted wardrobes will increase the value of your property.
Sliding Wardrobe Ranges
slanted ceiling made to measure wardrobes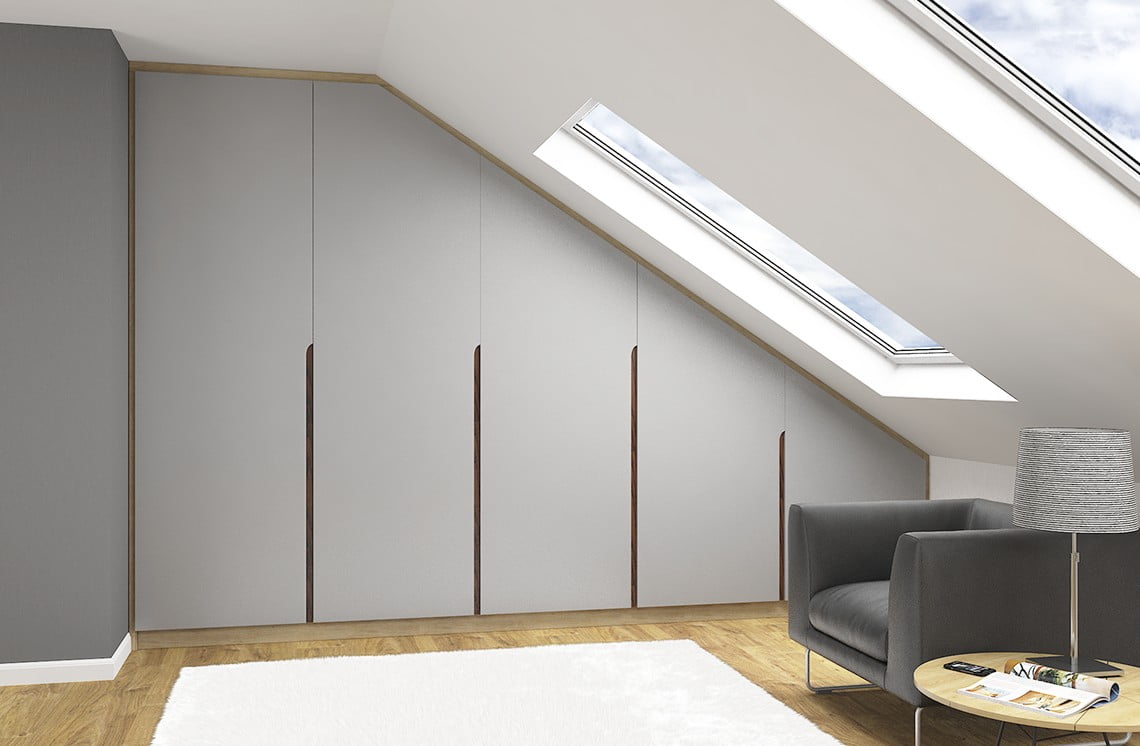 Scandinavian-style fitted cabinets in slanted ceilings room
The main advantage of the sloping ceiling fitted wardrobe is the ability to work around angled sloped ceilings in your bedroom.
All our carcasses and doors are fully made to measure and can be customised based on your requirements.
View Range
built in handleless cabinets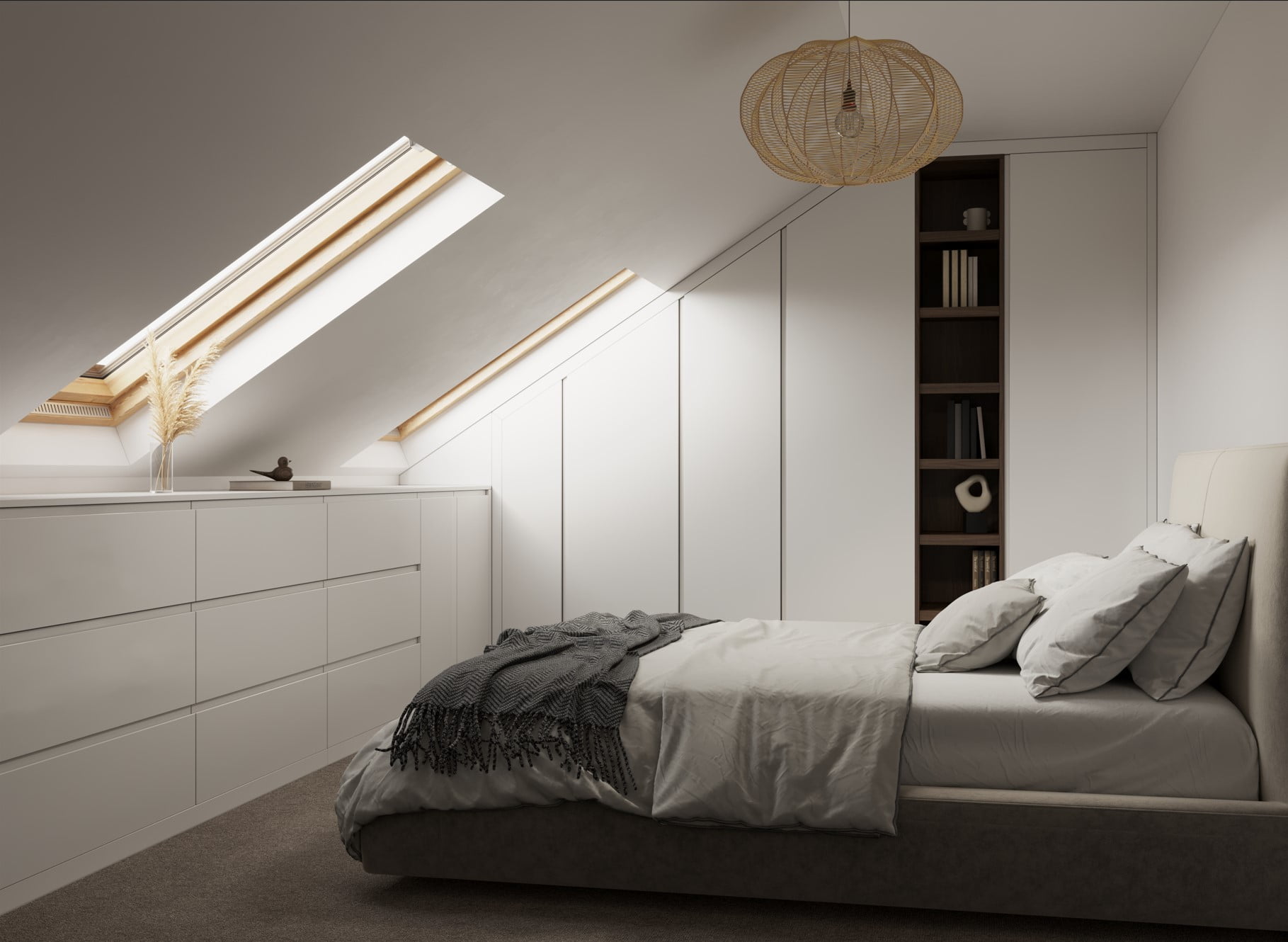 Modern built-in angled wardrobes
With sprayed finish facades, you can choose any paint colour for your fitted wardrobes with sloping ceilings.
All our awkward-fitted wardrobes are built from scratch and manufactured based on the measurements of your room. It means every inch of the interior will be maximised.
View project
Sloped Ceiling Cupboard Ideas
Sloped ceiling fitted wardrobes in London, UK
Our company specialises in built-in awkward shape cabinets and fitted wardrobes for slanted ceilings. We offer an almost limitless amount of finishes available for the exterior and interior of the closet.
Once the designs of your project are approved, our engineer will arrange a measurements visit and based on the dimensions taken in your property, we will start the manufacturing process.
The main advantage of angled-fitted wardrobes is that you get a fit-to-purpose bespoke solution that will work even with the most awkward space and wall shapes.
Fitted Cupboards Questions
Bespoke configuration for bedrooms with sloping ceilings
We understand that each project is unique. That's why we are offering complete flexibility in configuring your made-to-measure cupboard. All our storage solutions and angled wardrobes are built from scratch, meaning all your special requirements will be considered during the design process.
Who we are
Why Choose Urban Wardrobes
With so many customers on the market of fitted bedrooms & kitchens at the moment it's really hard to choose the right one. Check below what make us different.
Our specialists put up significant amount of effort behind every design they come up with. From the contemporary walk in wardrobe, bespoke sliding wardrobe, or custom-made kitchen, we leave no stone unturned to make you feel satisfied with the overall project.
We offer straightforward quotation process with none of the 'discount smoke and mirror strategy'. We never "beat other quotes" simply because 'others' don't offer same quality & service.

Our sprayed and veneered doors with integrated handles look amazing. We produce classic & modern fitted furniture. Visit our showroom to check our finishes and discuss your project in greater depth.