Windsor shaker style hinged wardrobes with lacquered exterior
Shaker style doors. Sprayed in any colour. Optional cornice.
Project details
Location South East England, Essex, London
Space Hinged or sliding door wardrobes
Finish Shaker style lacquered doors - any shape, paint and handles. For mirrored shaker style doors please check our Vetro range.
Price from £1,500+VAT per meter width (linear meter)
Windsor is a range of fitted hinged wardrobes with shaker style painted doors. Internal part of the wardrobe (carcass) can be made from our Italian wood panels which are available in approximately 50+ different colours and textures. Additionally to the fully bespoke wardrobe the matching furniture like dressing tables, chest of drawers, bed cabinets etc. can be manufactured to the highest standards, delivered and installed by Urban Wardrobes.
Classy solutions for the modern age homemaker's needs, why not? Who wouldn't want to be the envy of neighbours as soon as the nosey pickets walk into the house! We all desire a home, well-furnished and chic to flaunt- to show the world what can be done in the smallest of spaces or the largest of homes.
Bring home the Windsor concept; style hinged wardrobes have always been a classy touch; one that wouldn't go out of style ever. With proper hinge fittings and doors painted in shaker style; your living space now would be an epitome of style and functionality.The Italian wood panels are right for the insides, and they come in various textures, tones and colours too- match the mise-en-scene and other furniture pieces around, choosing the colour combinations that best suit you.
Bespoke wardrobe combinations, matching the chest of drawers and dressing tables; enough storage to keep and quirky yet minimalistic designs for the modern day tastes. Windsor sure has read the minds of many and hence brought out a range that wouldn't miss the eyes. Manufactured with utmost care and consideration, Urban Wardrobes UK deals with the best and only the finest. Should you fancy having this piece of furnishing around, giving us a call! If you like mirrors please check our Vetro range which is extremely popular.
Before and After
Timeless Beauty, Tailored Fit
Lots of our customers transformed their bedrooms with the help of our Victorian-style fitted wardrobes with shaker-style doors.
Here at Urban we mainly use sprayed MDF or lacquered wood veneer to produce traditional bespoke cabinets, however hand painted finish is also available on request.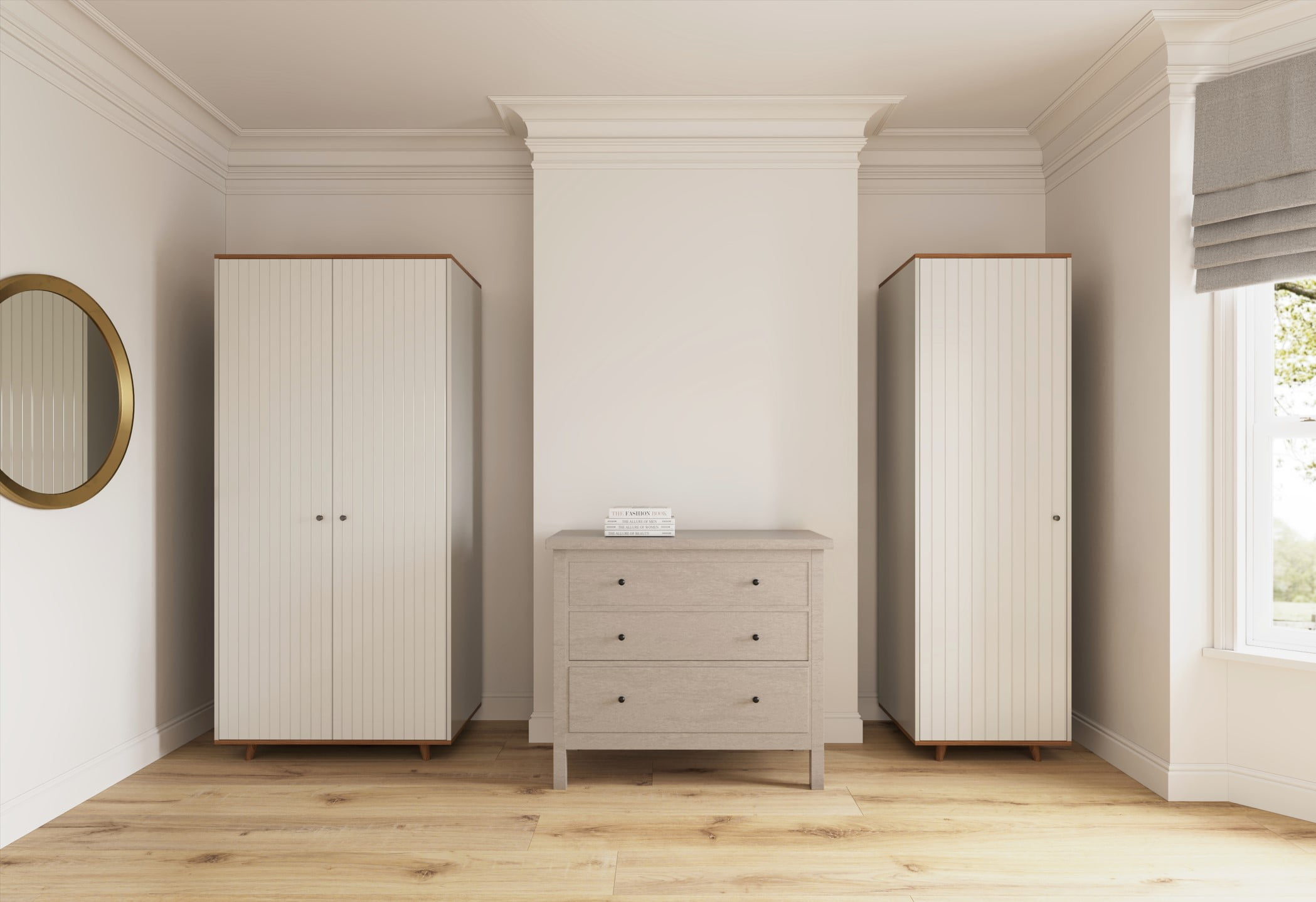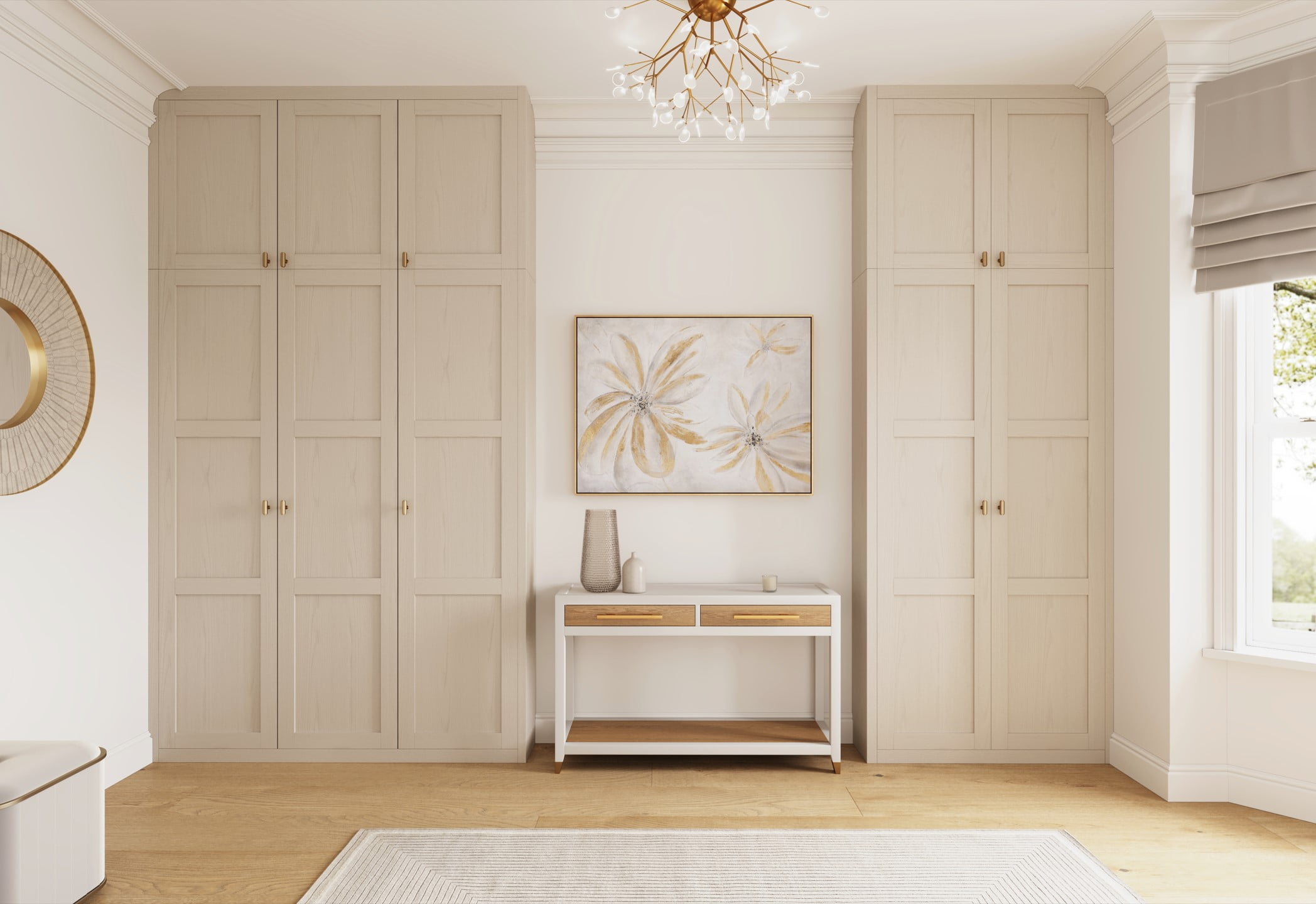 Mirrored Doors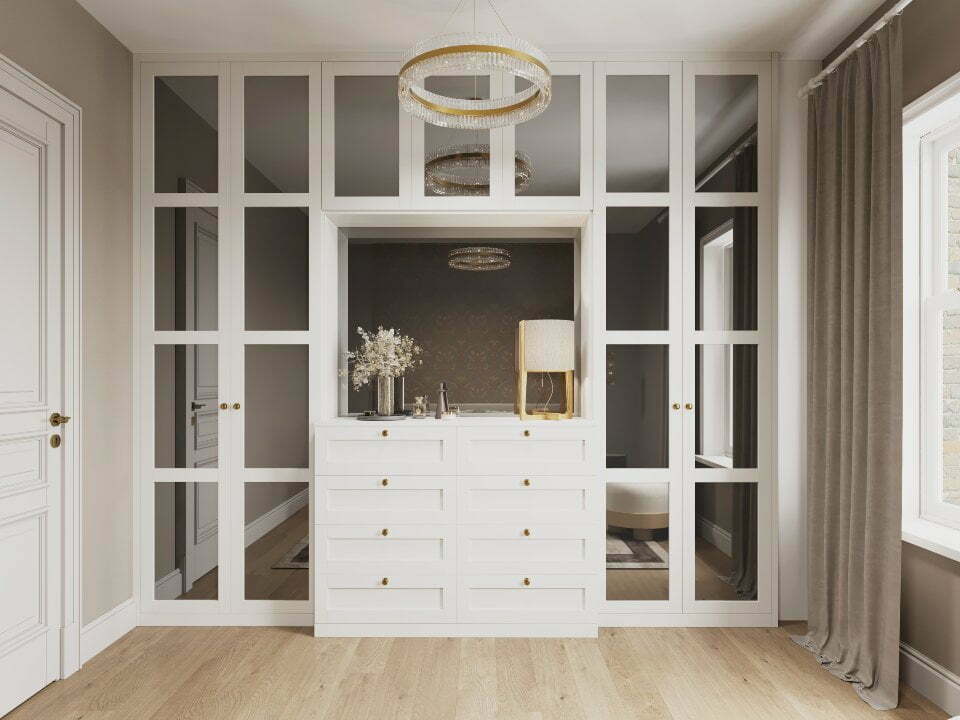 Mirrored victorian fitted cabinets
Mirrors not only enhance the visual space of a room but also add a touch of luxury, reflecting the refined aesthetics of the period. Our mirrored facades are made from spray-painted frames, perfectly aligning with the craftsmanship of the Victorian age.
Victorian fitted wardrobes with mirrors provide a sophisticated solution for storage, effortlessly marrying traditional elegance with modern-day practicality. If you are in search of a unique design that speaks of history, grace, and functionality, look no further than our Windsor-style Victorian bespoke closets adorned with exquisite mirrors.
Visible Woodgrain Texture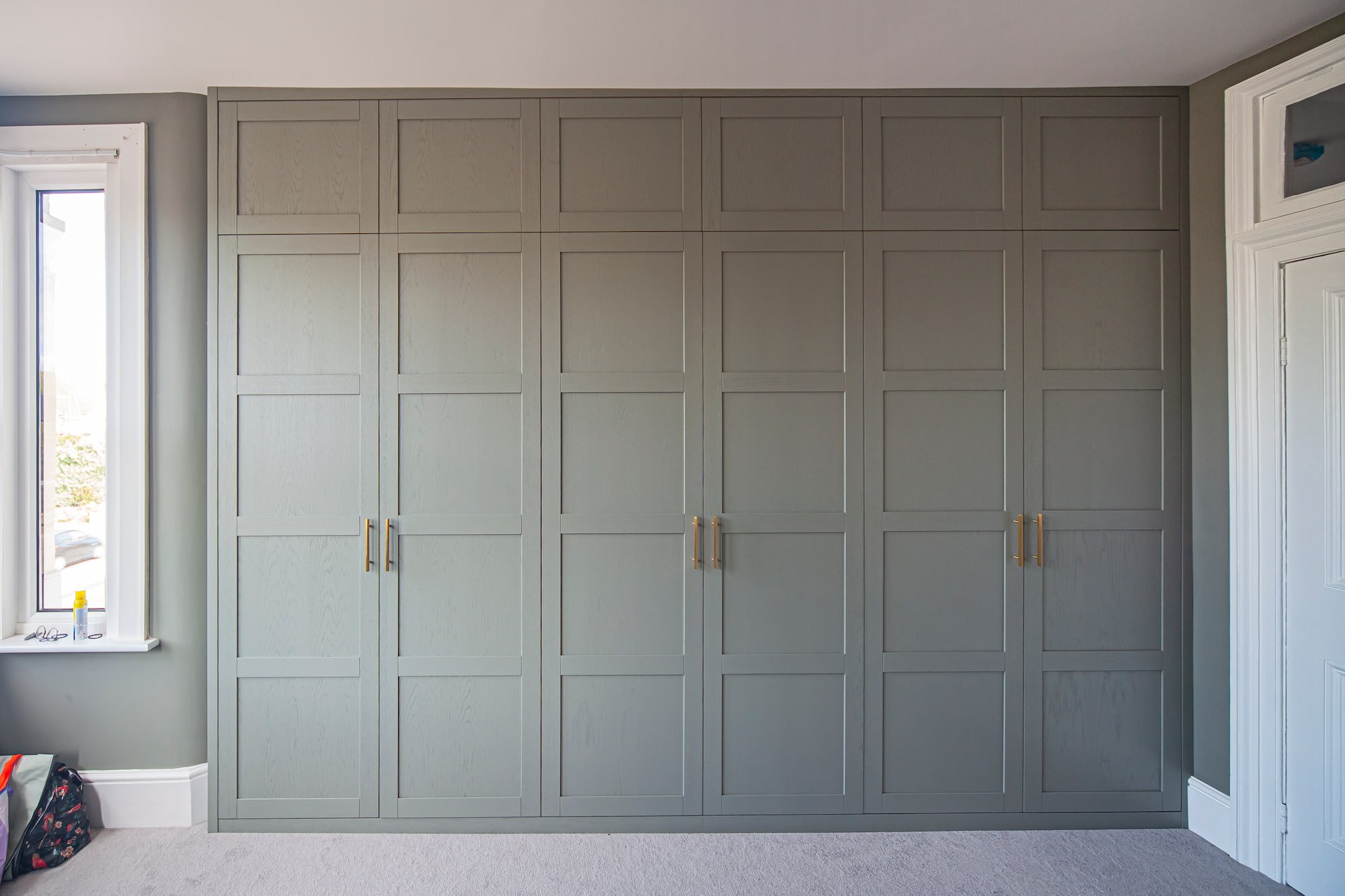 Classic fitted cabinets with woodgrain texture
With our Malmo range of classic fitted wardrobes, you can have a woodgrain texture for your exterior. We use real wood veneer and paint the facades in the colour you choose.
Classic bespoke cupboards with woodgrain visible texture can be used not only for bedrooms but also for rooms with sloped ceilings, loft conversions, hallways, alcoves, dressing rooms and many other spaces in your house.
Cubpoards with dressing table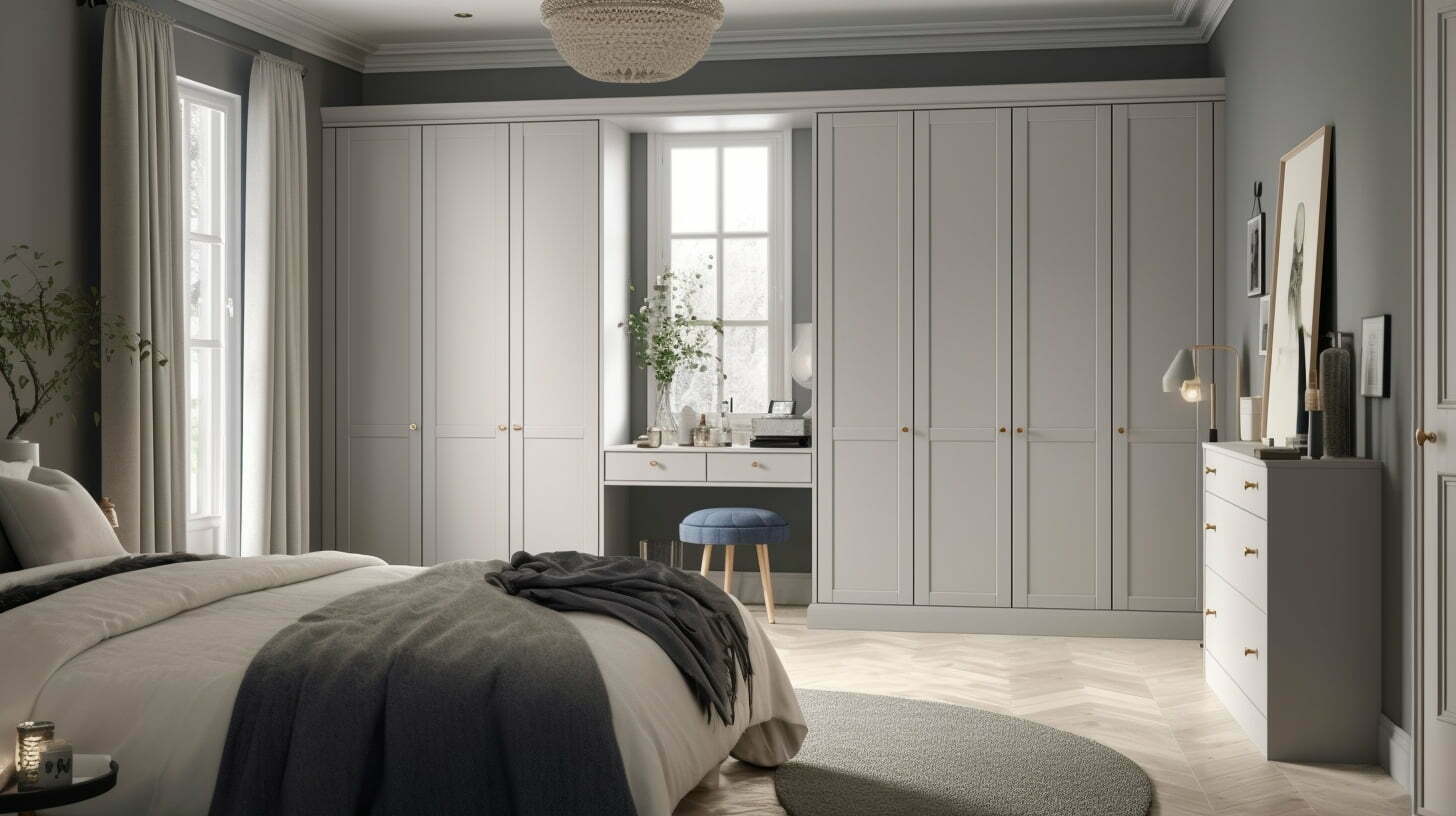 Traditional bedroom fitted wardrobes with dressing table
If you would like to bring a touch of timeless elegance to your bedroom, our traditional shaker-style cupboards is the best way to do that. You can use the full functionality of made-to-measure traditional wardrobes combined with a dressing table, emphasizing convenience and practicality.
Our traditional built-in wardrobe can be tailored to your individual needs and available customization options are almost limitless.
Customisable shaker style wardrobes, custom built in classic furniture
A lot of our customers have the same question: "Why should we choose a classic style fitted wardrobe over contemporary designs with handleless doors?"
There are many reasons for that and the first one is a Timeless Appeal. Shaker-style wardrobes add a touch of classic elegance to any bedroom and are less likely to go out of fashion.
Homes with traditional elements in interiors, including bespoke classic closets can appeal to a broader range of buyers, potentially enhancing Resale Value.
Versatility: Traditional designs offer flexibility in home decor and as a rule blend well with a variety of interior styles, whether you're aiming for a rustic look, an English country vibe.
Shaker Cupboards Questions
TAILOR MADE VICTORIAN BEDROOM IDEAS
There are endless ways to customise your traditional bedroom in your own way
Who we are
Why Choose Urban Wardrobes
With so many customers on the market of fitted bedrooms & kitchens at the moment it's really hard to choose the right one. Check below what make us different.
Our specialists put up significant amount of effort behind every design they come up with. From the contemporary walk in wardrobe, bespoke sliding wardrobe, or custom-made kitchen, we leave no stone unturned to make you feel satisfied with the overall project.
We offer straightforward quotation process with none of the 'discount smoke and mirror strategy'. We never "beat other quotes" simply because 'others' don't offer same quality & service.

Our sprayed and veneered doors with integrated handles look amazing. We produce classic & modern fitted furniture. Visit our showroom to check our finishes and discuss your project in greater depth.