Floor-to-ceiling fitted wardrobes
Bespoke wardrobes floor to ceiling and sliding doors
Project details
Location London, Essex, Sussex
Space Bedrooms, Walk in wardrobes, Hallways, Living rooms
Finish Spray painted MDF, Lacquered veneer, Laminated wood
Price From £3,000+VAT per project incl. installation
No Wasted Space
Floor-to-ceiling fitted wardrobes can help create more storage space. A floor-to-ceiling cabinet looks much tidier in a room. It does not have that wasted space at the top of the wardrobe like many free-standing wardrobes. The temptation then is to fill it with boxes and other belongings, making a room look cluttered and messy.
Wardrobe Doors
You have a few different options when it comes to floor-to-ceiling wardrobe doors. One way to stick with minimalist interiors is to opt for floor-to-ceiling sliding doors. The clean lines without handles are more sleek and modern. This works well in a smaller bedroom where having handles can get in the way. Plus, floor-to-ceiling sliding wardrobes do not open into the room, which would use up valuable floor space.
Sloped Ceilings
A ceiling-to-floor wardrobe can be more of a challenge when dealing with a slanted roof. But it is still possible to have wardrobes floor to ceiling because you can either have diagonal hanging rails or use the smaller height within the eaves to incorporate shelves and cupboards.
Wardrobe interiors
A floor-to-ceiling built-in wardrobe will give you more options to customize your internal space to your needs. With a ceiling wardrobe, you can fit in more shelves and hanging space than free-standing furniture and tailor it to your lifestyle.
Things To Consider
In traditional homes, a floor-to-ceiling built-in wardrobe might mean you cannot appreciate the decorative coving or picture rails. However, you can always add classic features to any wardrobe you have built, such as recessed centre panels or brass wardrobe door handles.
Floor-to-ceiling mirrored wardrobes can help reflect natural light making the bedroom appear brighter. Mirrors also create that impression of depth in a room. This is an effective way to make a room look bigger than it is.
FEATURED PROJECT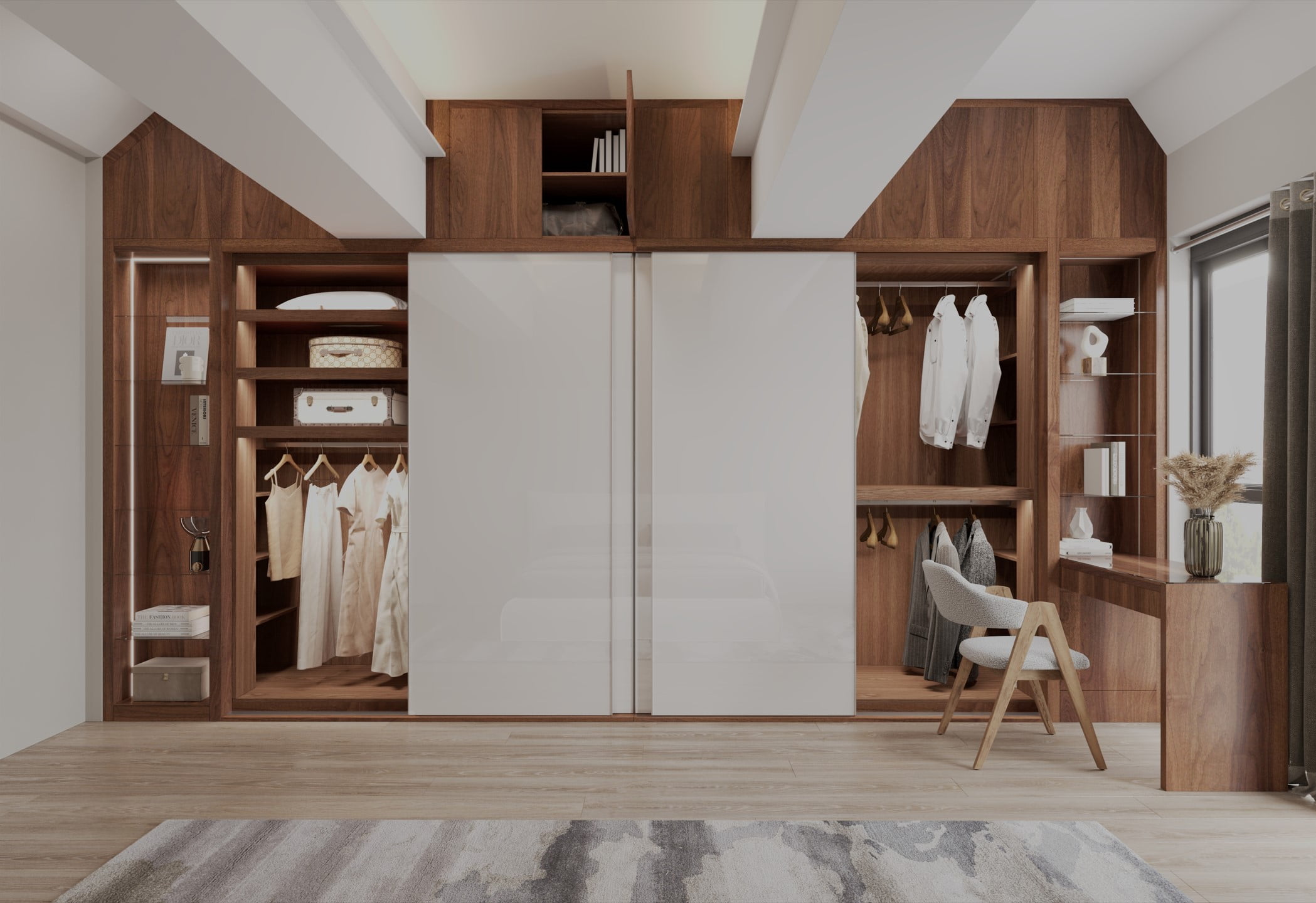 Floor-to-ceiling sliding door wardrobes
If you're in need of more storage space in your home, a floor-to-ceiling sliding door wardrobe might be the perfect solution for you. These fitted cupboards can provide ample storage while also adding a sleek and stylish touch to your room.
One of the biggest advantages of floor-to-ceiling wardrobes is that they make the most of your available space. By extending from the floor all the way to the ceiling, they provide ample storage without taking up too much floor space. They also give your room a clean and uncluttered look.
FEATURED PROJECT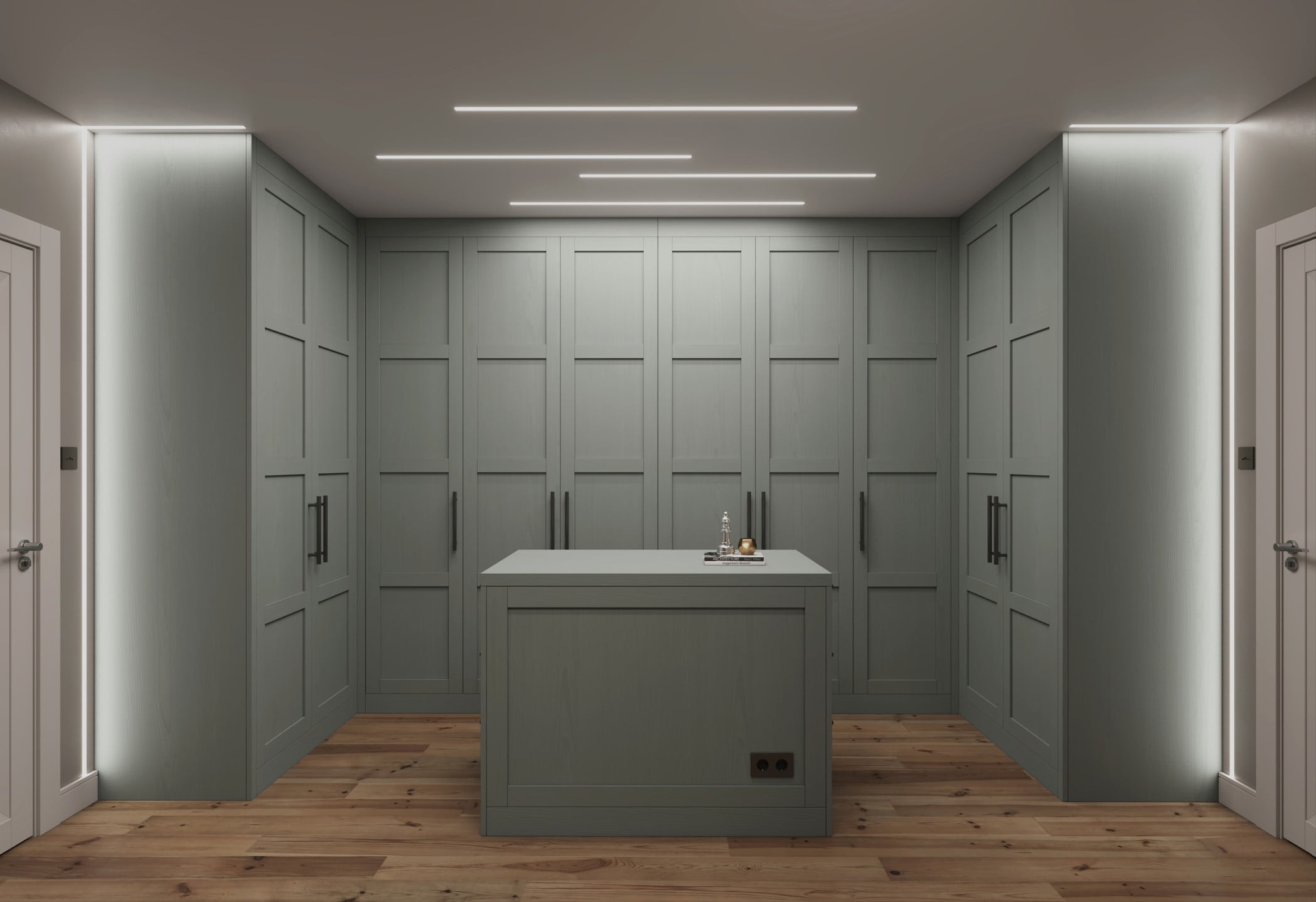 Floor to ceiling dressing rooms
Floor-to-ceiling wardrobes come in a wide range of customization options. You can choose from different types of wood, finishes, and colors to match your existing decor. Additionally, you can opt for additional features like adjustable shelving, pull-out baskets, and even built-in lighting.
When choosing the right style for your floor-to-ceiling wardrobe, consider the existing style of your room. If you have a modern or minimalist aesthetic, a sleek and simple design might be the best choice. Alternatively, if you have a more traditional or rustic style, a wardrobe with more decorative features might be a better fit.
FEATURED PROJECT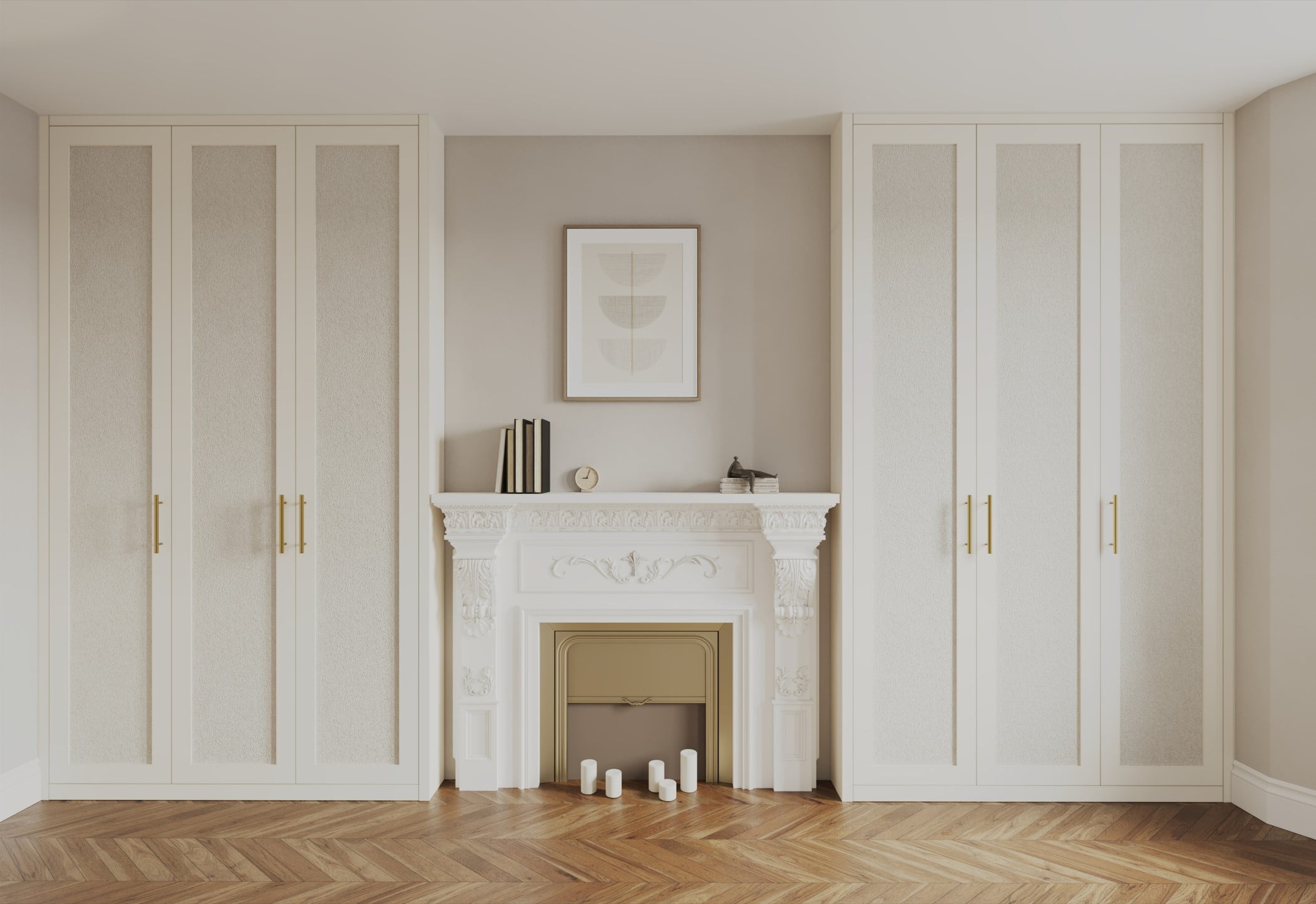 Floor to ceiling alcove fitted cupboards
In conclusion, floor-to-ceiling wardrobes are an excellent way to maximize your storage space while also adding a stylish touch to your home. With a wide range of customization options, you can create a wardrobe that fits your specific needs and style preferences. By opting for professional installation and proper maintenance, you can ensure that your wardrobe looks and functions its best for years to come.
Storage solutions for your wardrobe
We understand that each project is unique that's why we are offering full flexibility of configuring your made to measure office cupboard. All our storage solutions for offices are built from scratch which means all your special requirements will be taken into consideration during the design process.
Who we are
Why Choose Urban Wardrobes
With so many customers on the market of fitted bedrooms & kitchens at the moment it's really hard to choose the right one. Check below what make us different.
Our specialists put up significant amount of effort behind every design they come up with. From the contemporary walk in wardrobe, bespoke sliding wardrobe, or custom-made kitchen, we leave no stone unturned to make you feel satisfied with the overall project.
We offer straightforward quotation process with none of the 'discount smoke and mirror strategy'. We never "beat other quotes" simply because 'others' don't offer same quality & service.

Our sprayed and veneered doors with integrated handles look amazing. We produce classic & modern fitted furniture. Visit our showroom to check our finishes and discuss your project in greater depth.