Scandi lacquered wardrobes with real wood integrated handles
Routered walnut or oak handles. Fully sprayed Scandinavian style exterior
Project details
Location South East England
Space Bedrooms, dressings rooms, lofts etc.
Finish Lacquered finish (any paint colour) with grooved real wood handles (oak, walnut, rosewood etc.)
Price from £1,500+VAT per meter width (linear meter)
Scandi is one of our new ranges of fitted hinged wardrobe. Can be installed for rooms with sloping ceilings or just for standard bedrooms or living rooms. The main feature of this wardrobe is perfectly routered handles made from real wood veneer and available in any colour (oak, walnut, pine, ash, beech etc.). Our designers will be happy to check the existing interior in your property and advice the a harmonious combination of carcass material, doors & routered handle colours.
Below you will find pictures of our fully bespoke & made-to-measure built in wardrobes made in Scandi Range. We can work with most awkward spaces maximising the space inside the wardrobe at all times. We will provide you with impressive colour palettes to inspire your ideas. Just in case you prefer metal handles please check our Antico range.
This has to be one of my all time favourite Urban Wardrobes designs; you would never guess there was a wardrobe hiding behind the cleverly routered handles. It's so seamless; this choice blends in completely into the wall except for the striking effect of the lines from the handles, which create an eye-catching and interesting backdrop for the room. It is actually quite decorative in its own simple way.
It all feels very streamlined, fitting the available space perfectly. This new range of wardrobe works with any space giving you ample storage regardless of the measurements of your room. As it's not a traditional wardrobe, it would be well suited for other rooms not just limited to the bedroom, freeing up more storage in every living space for paperwork, books and other belongings – making it easier to have a clutter-free lifestyle! Better for aesthetics and your general health and well-being.
It is so contemporary yet still highly practical, despite the restriction of a sloping ceiling the space is utilised well and astonishingly accommodates a generous selection of clothes and accessories through a combination of hanging space, shelves and drawers. Sloping ceilings can become an attractive feature rather than a difficult aspect of the room to work around – no space is lost in the process either. The pictures show how any loft can be transformed into a valuable asset for your home.
The skylights mean the room is already flooded with light so the wardrobe does not need to reflect additional light back into the room so grey was an excellent choice by the client. The grey colour is on trend at the moment, a reliable, modern choice that is surprisingly neutral. It's also a colour that works well with other colours if you decide to be more adventurous with your palette later on.
Nordic-style fitted wardrobes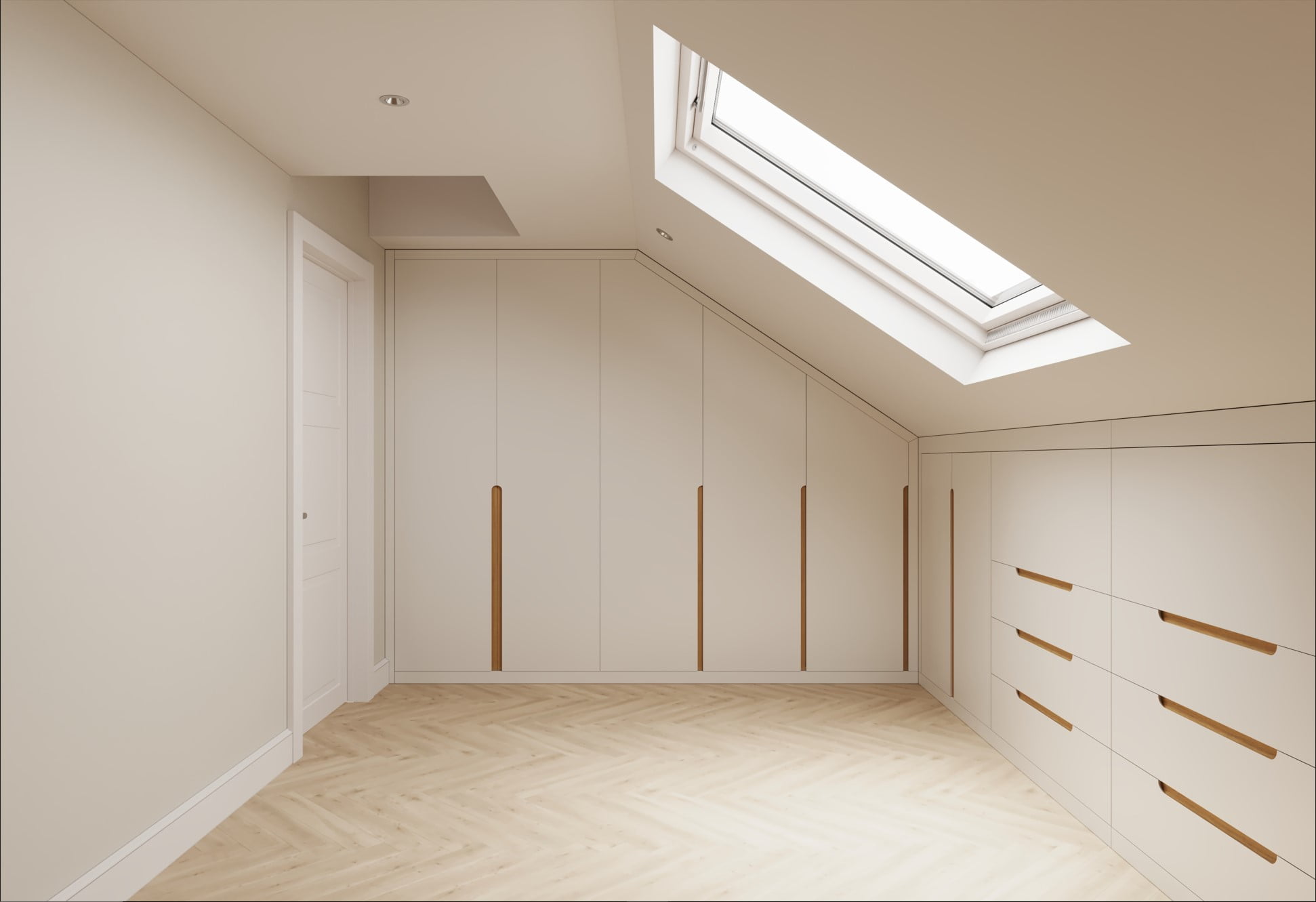 Scandinavian storage solutions for loft
Transform your sloping ceiling wardrobes into stylish and practical storage solutions with the beauty and functionality of Scandinavian design.
With cleverly crafted storage compartments and adjustable shelving, these wardrobes make the most of every inch, ensuring efficient organization for your belongings.
Scandinavian built-in wardrobes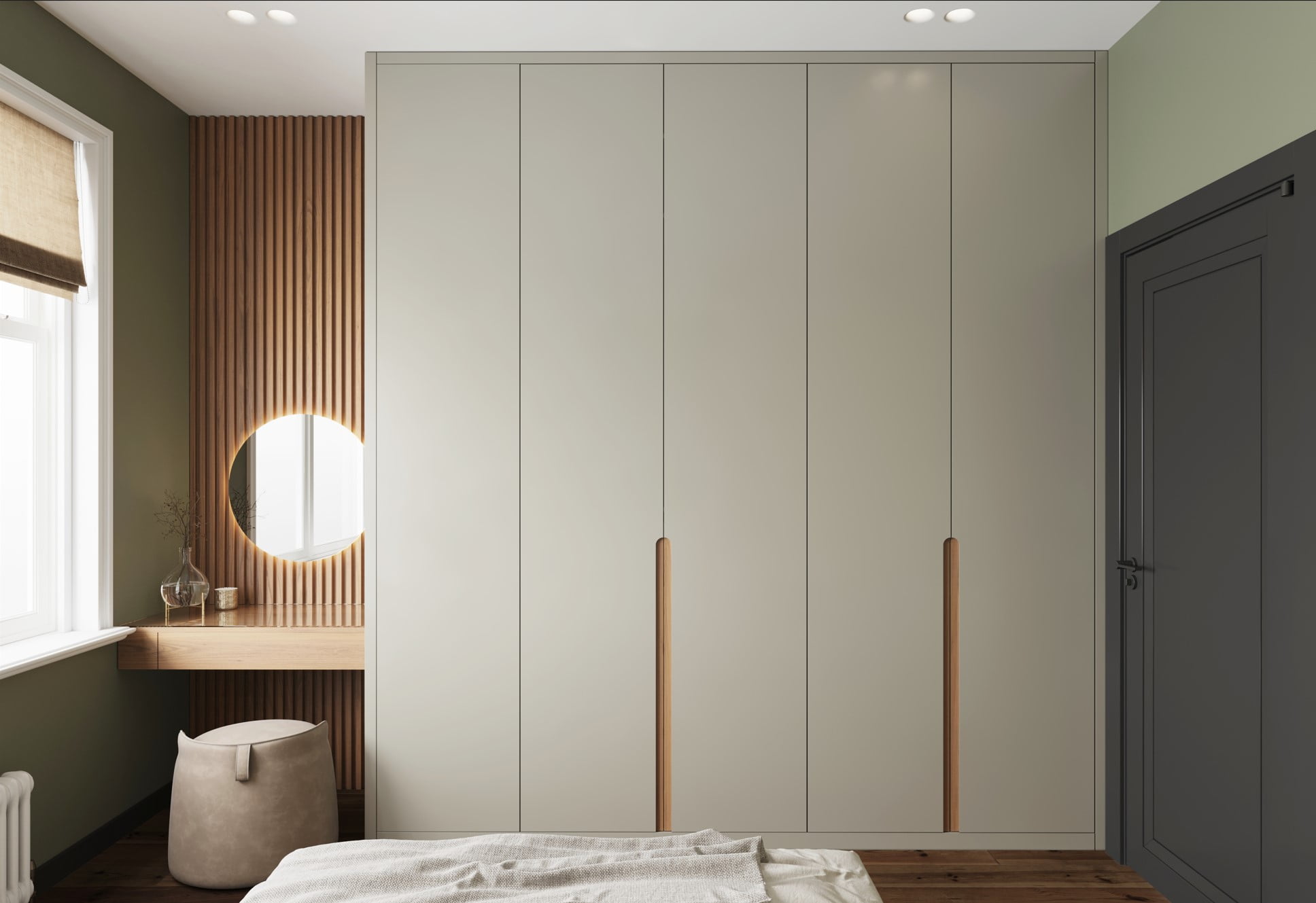 Modern Scandinavian wardrobes with dressing table
Experience the perfect blend of modernity and Scandinavian design with modern wardrobes featuring integrated dressing tables. These sleek and functional wardrobes offer a seamless combination of ample storage space and a dedicated dressing area, all in one elegant piece of furniture.
The clean lines, minimalist aesthetics, and light tones synonymous with Scandinavian style grooved tailor-made cabinets create a serene and inviting atmosphere in your bedroom.
Grooved bespoke cabinets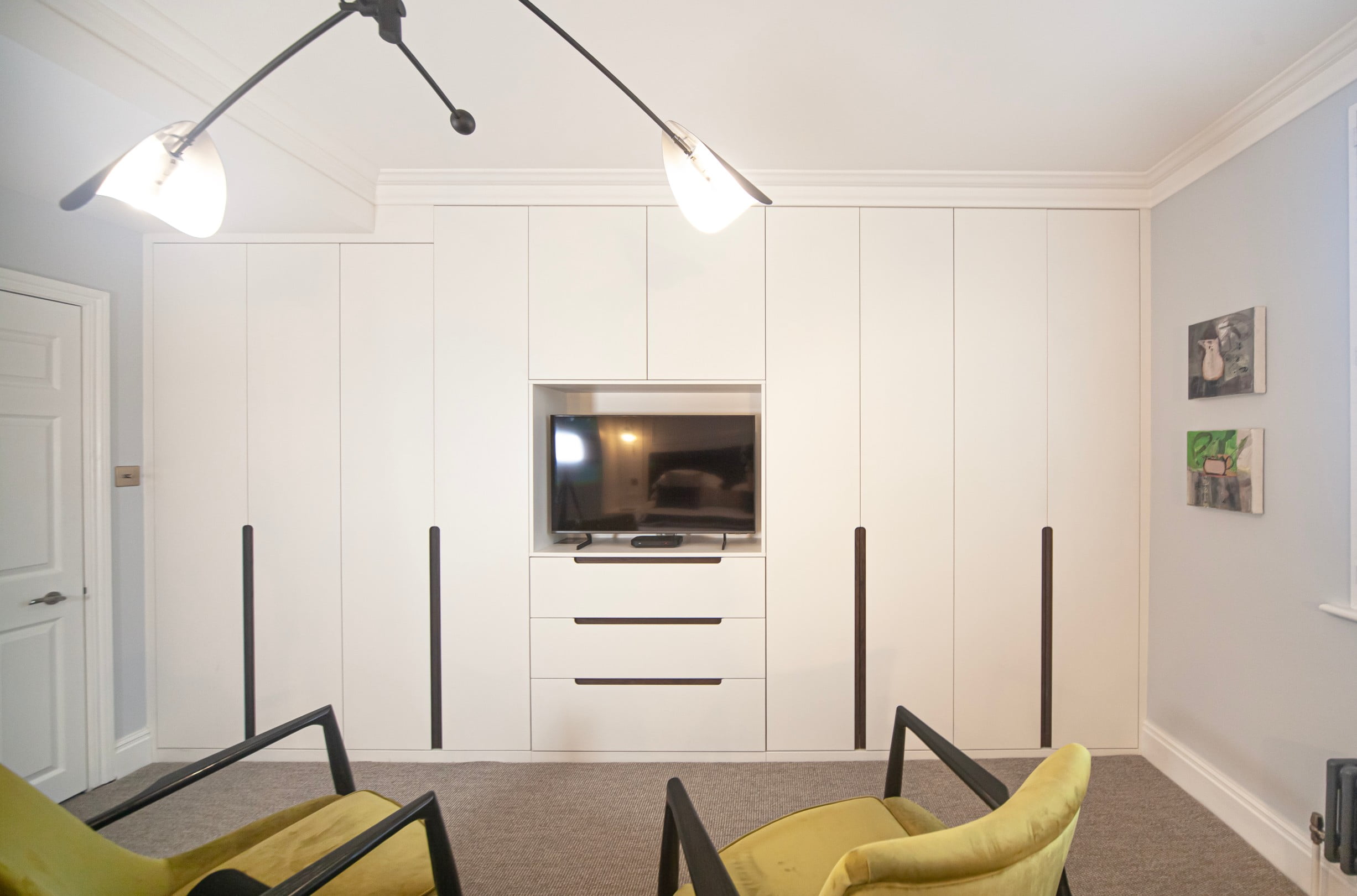 Scandinavian wardrobe ideas
From open-concept wardrobes with modular shelving or space for TV to sleek built-in closets with hidden storage solutions, customized nordic wardrobes prioritize organization and maximize space utilization. Light colors, natural wood textures, and clever details contribute to the overall charm.
Whether you seek a small bedroom wardrobe or a spacious walk-in closet, let Scandinavian wardrobes manufacturers and designers guide you towards a stylish and harmonious storage solution that reflects your personal style.
Custom Fit Scandinavian fitted wardrobes London
Scandinavian Bedroom Furniture, fitted to an absolute perfection, will create an unbelievably cozy atmosphere inside your property. Our Scandi range of fitted wardrobe is fully customisable giving you almost unlimited potential to design your bedroom in the exactly same way you had in mind.
What materials are commonly used in Scandinavian-style fitted wardrobes? – Scandinavian-style built-in wardrobes often incorporate natural materials such as solid wood, plywood, and MDF (Medium-Density Fiberboard) with light finishes, contributing to the overall aesthetic and durability of the wardrobes.
We offer fully bespoke service which means you can choose the location of the grooved wood handles, choose the colour of the handle and also select the colour of the lacquered door.
Scandi is one of our most popular ranges of contemporary fitted cabinets with grooved handles in 2020-2023.
Fitted Scandinavian Style Wardrobes for Sale
Unlock Your Space's Potential
Contemporary Scandinavian wardrobes
Under-eaves spaces in loft bedrooms often have challenging dimensions and limited headroom. Fitted wardrobes can be custom-designed to fit these unique spaces, maximizing storage capacity and utilizing every inch effectively. This allows you to make the most of the available space and avoid wasting potential storage areas.
Scandinavian wardrobes can be seamlessly integrated into the under-eaves spaces, creating a cohesive and harmonious look.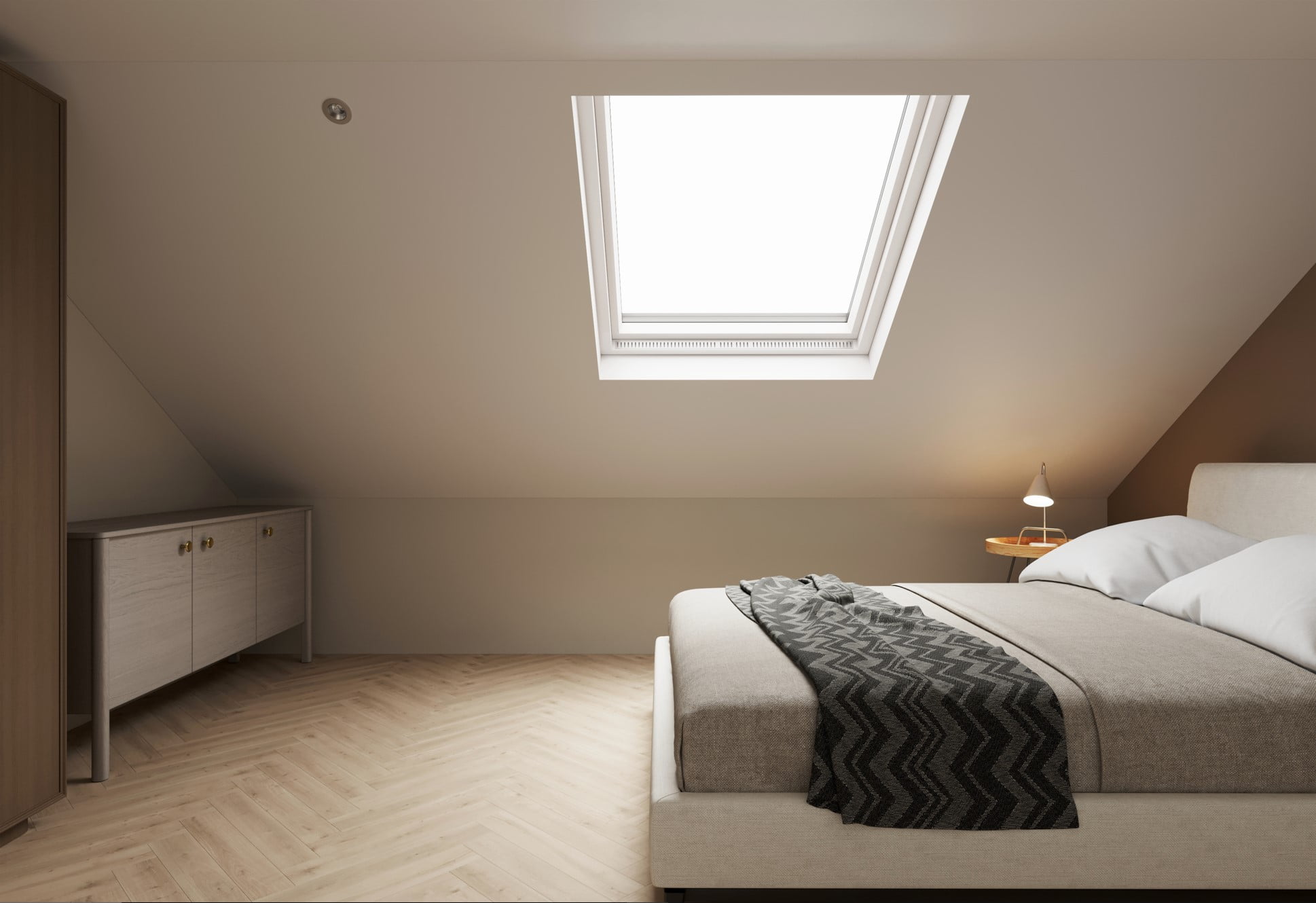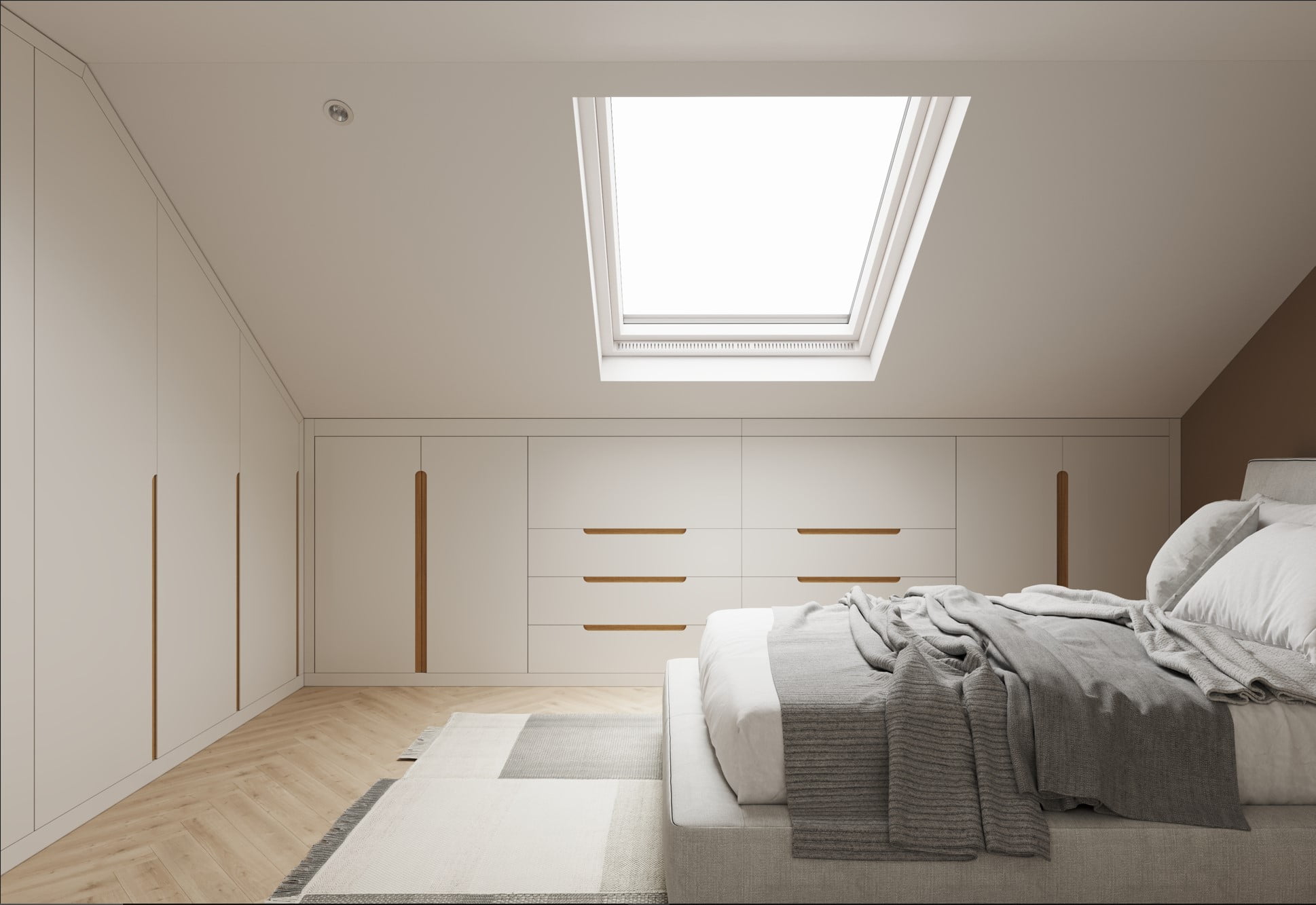 SCANDINAVIAN STYLE DOOR IDEAS
There are endless ways to customise your Scandi style doors
Who we are
Why Choose Urban Wardrobes
With so many customers on the market of fitted bedrooms & kitchens at the moment it's really hard to choose the right one. Check below what make us different.
Our specialists put up significant amount of effort behind every design they come up with. From the contemporary walk in wardrobe, bespoke sliding wardrobe, or custom-made kitchen, we leave no stone unturned to make you feel satisfied with the overall project.
We offer straightforward quotation process with none of the 'discount smoke and mirror strategy'. We never "beat other quotes" simply because 'others' don't offer same quality & service.

Our sprayed and veneered doors with integrated handles look amazing. We produce classic & modern fitted furniture. Visit our showroom to check our finishes and discuss your project in greater depth.