Made To Measure Sliding Wardrobe Doors
Built-in sliding wardrobes designed based on your requirements and fitted to an absolute perfection
Project details
Location We cover London fully and most locations within 2-3 hours drive.
Space For bedrooms and living rooms. We have no height limitations. All our furniture is fully bespoke and made to measure.
Finish Sprayed mirrored doors, glass doors in aluminium profile, plain sliding doors with routered handles etc.
Price From £1,200 excl. VAT per linear meter (width)
Sliding door wardrobes are a contemporary option that helps you make the most of your space. With bespoke sliding doors, your rooms seem much more significant because you still have all your valuable floor space when in use. Whilst hinged doors swing out into the room, getting in the way of the walkways. That can limit your choice regarding the placement of other furniture in your room, like the bed and bedside cabinets.
From the projects shown, you can see numerous options available when picking custom sliding wardrobes. You could have mirrored doors, tinted glass or wood panelling. Each of the designs has its advantages. Mirrored doors help rooms look more spacious by reflecting light, and tinted glass works similarly. Whilst wood panelling is elegant and timeless. It can make your bedroom look more expensive and luxurious. Whatever your vision, we will produce and install luxury wardrobes with sliding doors for your home.
If you fancy adding a splash of colour to your white furniture, add a warm wood effect or something bolder to match your home interiors. By doing this, you can stop your furniture from blending into the background. We offer a wide range of designs, so you have considerable freedom when choosing sliding door wardrobes with our company.
Custom bedroom slide-door wardrobes UK are trendy because of their practical benefits. They are easy to open as they move along a track and save space. But they are so much more than just being functional. They are also very stylish and sleek. These wardrobes can be very aesthetically pleasing, especially with their handless design. Sliding door wardrobes work well in children's rooms as a way to avoid them swinging open doors and damaging the walls.
Can sliding doors be cut to size? – Absolutely. You can buy fully bespoke slide-door wardrobes from our UK-based workshop manufactured based on the size of your space.
MIRRORED SLIDING WARDROBES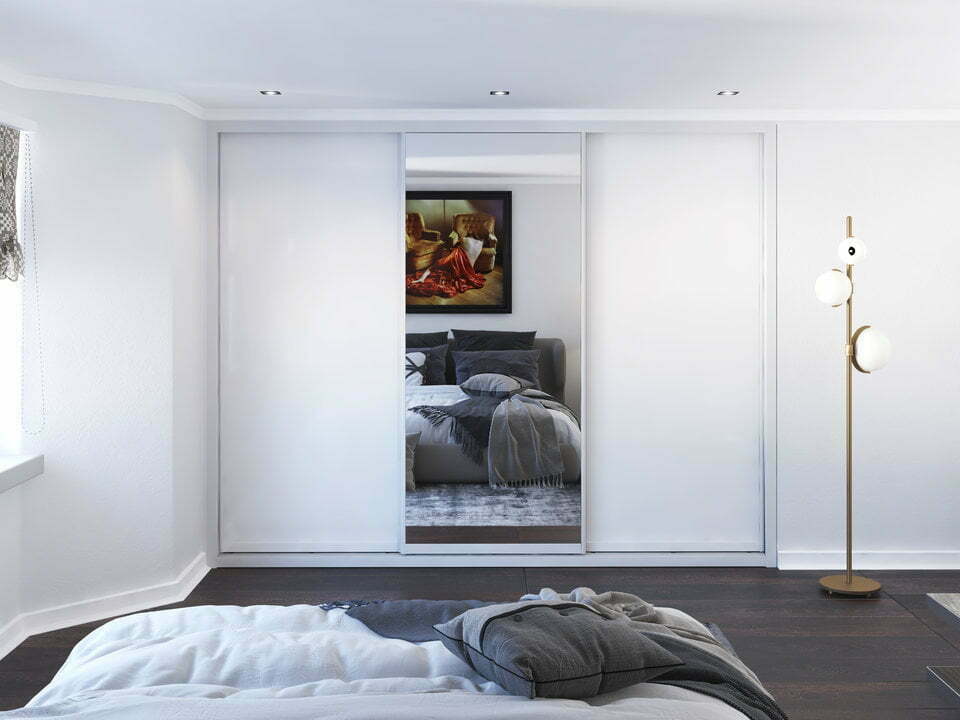 Glass & Mirror Fitted Sliding Wardrobe Doors
If you want to buy a fully bespoke sliding wardrobe with a combination of mirrors and glass, you might be interested in our Bianca range.
This is one of our sliding doors wardrobes for sale, which is fully configurable, and our designer will create a unique design based on your requirements.
View Range
MODERN SLIDE WARDROBES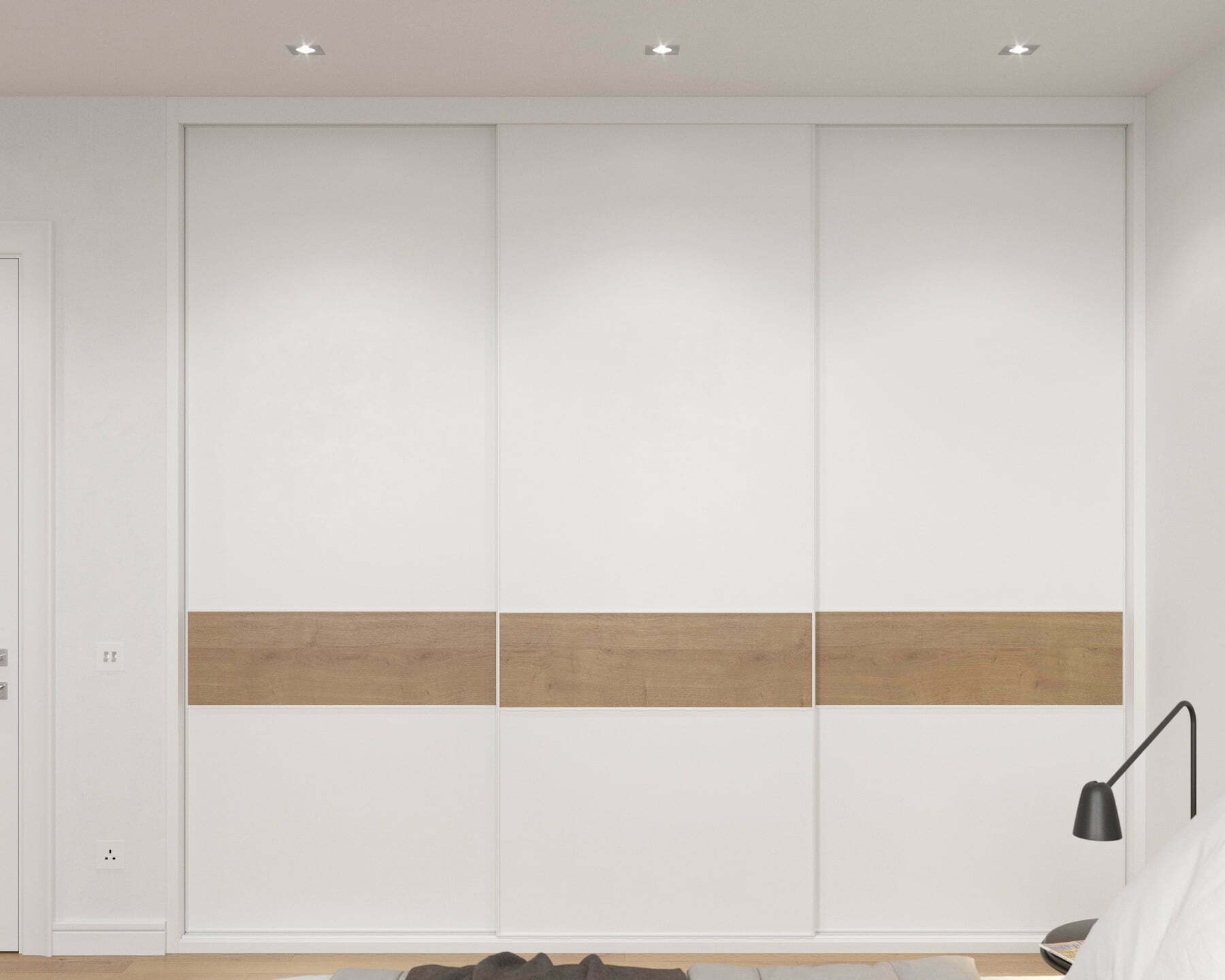 Bespoke Built-in Scandinavian-style Cupboard with Sliding Doors
Fitted wardrobes with sliding doors are an intelligent solution for your bedroom or living room and might be a perfect solution for spaces with a limited size around the wardrobe.
Our built-in bedroom wardrobes with sliding doors are available with fully bespoke interiors and Scandinavian-style slide closet doors.
View Range
SPRAYED MDF SLIDERS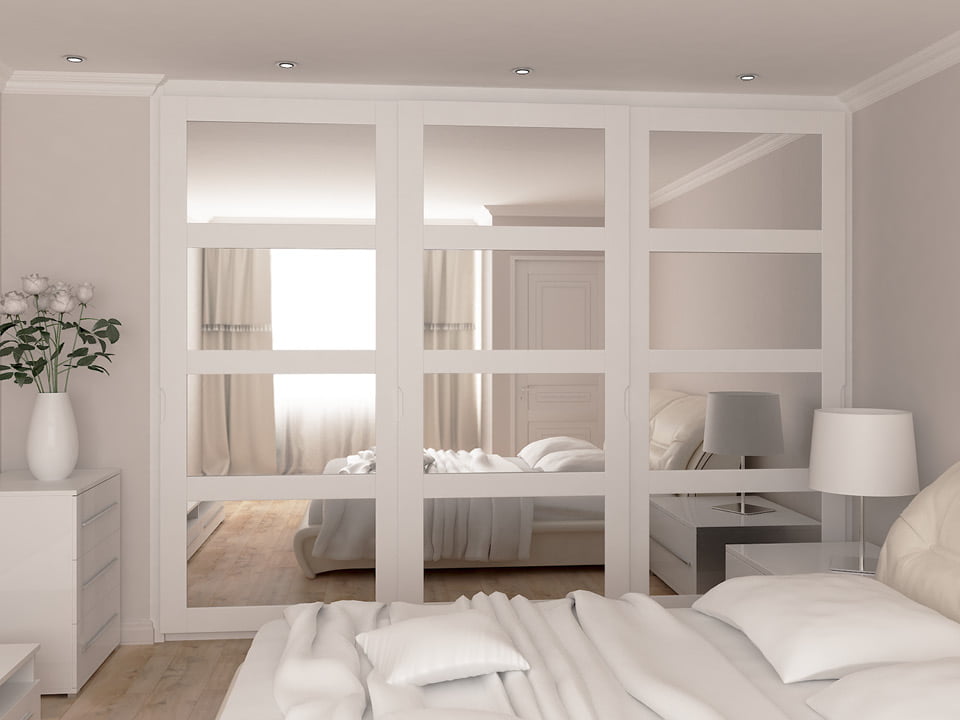 Lacquered MDF Sliding Wardrobe Doors
If you prefer a frameless built-in wardrobe with sliding doors, you should check our sprayed MDF door ranges – Quarto and Vetro.
The main benefit of having lacquered sliding doors is the ability to choose any colour for the facades. It could be any RAL code or colour from Farrow & Ball, Dulux, Paint and Paper Library, Little Green etc.
View project
Sliding Wardrobe Doors Ideas & Designs
Sliding Wardrobe for sale UK
Custom Made Fitted Sliding Wardrobes
Adding a fitted sliding door wardrobe to your bedroom or living room can maximise your storage space. Made-to-measure sliding-fitted wardrobes can be a great solution for hallways, lofts, kitchens, and guest bedrooms.
Built-in sliding doors wardrobe can be fully customised based on your requirements, and we can offer dozens of options for the exterior style. You can also buy the bedroom slide wardrobe based on your sketches.
The most popular finish for the bespoke sliders is glass, mirrors, laminated MFC panels, sprayed MDF panels, natural wood veneer, decorative marble and fabric and some other materials.
How much are built-in wardrobes with sliding doors the UK? – It will mainly depend on the finish of the facades. The more complicated and time-consuming the exterior finish, the higher the price. Our minimum project price is £3,000+VAT incl. installation.
Bespoke Fitted Sliding Cupboards Questions
Who we are
Why Choose Urban Wardrobes
With so many customers on the market of fitted bedrooms & kitchens at the moment it's really hard to choose the right one. Check below what make us different.
Our specialists put up significant amount of effort behind every design they come up with. From the contemporary walk in wardrobe, bespoke sliding wardrobe, or custom-made kitchen, we leave no stone unturned to make you feel satisfied with the overall project.
We offer straightforward quotation process with none of the 'discount smoke and mirror strategy'. We never "beat other quotes" simply because 'others' don't offer same quality & service.

Our sprayed and veneered doors with integrated handles look amazing. We produce classic & modern fitted furniture. Visit our showroom to check our finishes and discuss your project in greater depth.