Overhead Bedroom Storage, modern overbed cabinets and cupboards
Project details
Location We cover London fully and most locations within 2-3 hours drive.
Space Bedrooms, Living rooms, Dressing rooms
Finish Lacquered MDF, Veneer, Laminated wood
Price From £1,200 excl. VAT per linear meter (width)
The over bed cabinets are making a comeback. They were popular in the 80s and 90s, but now with space being at a premium, people are looking for furniture designs that utilise the wasted space above the headboard.
Opting for overhead bed storage can help free up floor space. You want that illusion of space in your bedroom. Otherwise, it can feel quite claustrophobic. So, if you have high ceilings, why not build up above your bed? You can even choose to get rid of your bedside tables and have a shelf to store your sleep essentials instead.
Overbed units work exceptionally well in smaller bedrooms where finding adequate storage space for your belongings can be a real issue. Those that have cluttered bedrooms generally have a poor quality of sleep. Therefore, your health should be more creative with the storage solutions in your room.
When selecting your over-bed storage with us, you can choose cupboards, shelves or a combination of the two depending on your needs. Cabinets are handy for keeping items stored more discreetly. However, frames are helpful for ease of access or if you want more personal items on display in your room.
The around-bed fitted wardrobes and over-bed storage shown here are very contemporary. The overall look is quite sleek without any handles. Instead, the design is all about clean lines and minimalism. Going handleless looks neat. It is less obstructive. It means these modern overbed wardrobes can almost look like wall panelling.
The light colours of the overbed storage make the room look bigger and brighter. White, in particular, is very calming. It is a soothing colour that makes a clean canvas. You can easily add warmth with textures and bolder colours. For example, they have carpets in each of the rooms.
With fitted overhead bedroom storage, safety is an important consideration. Make sure you use a reputable company such as ourselves that will ensure its security for a restful night's sleep.
Fitted Over Bed Wardrobes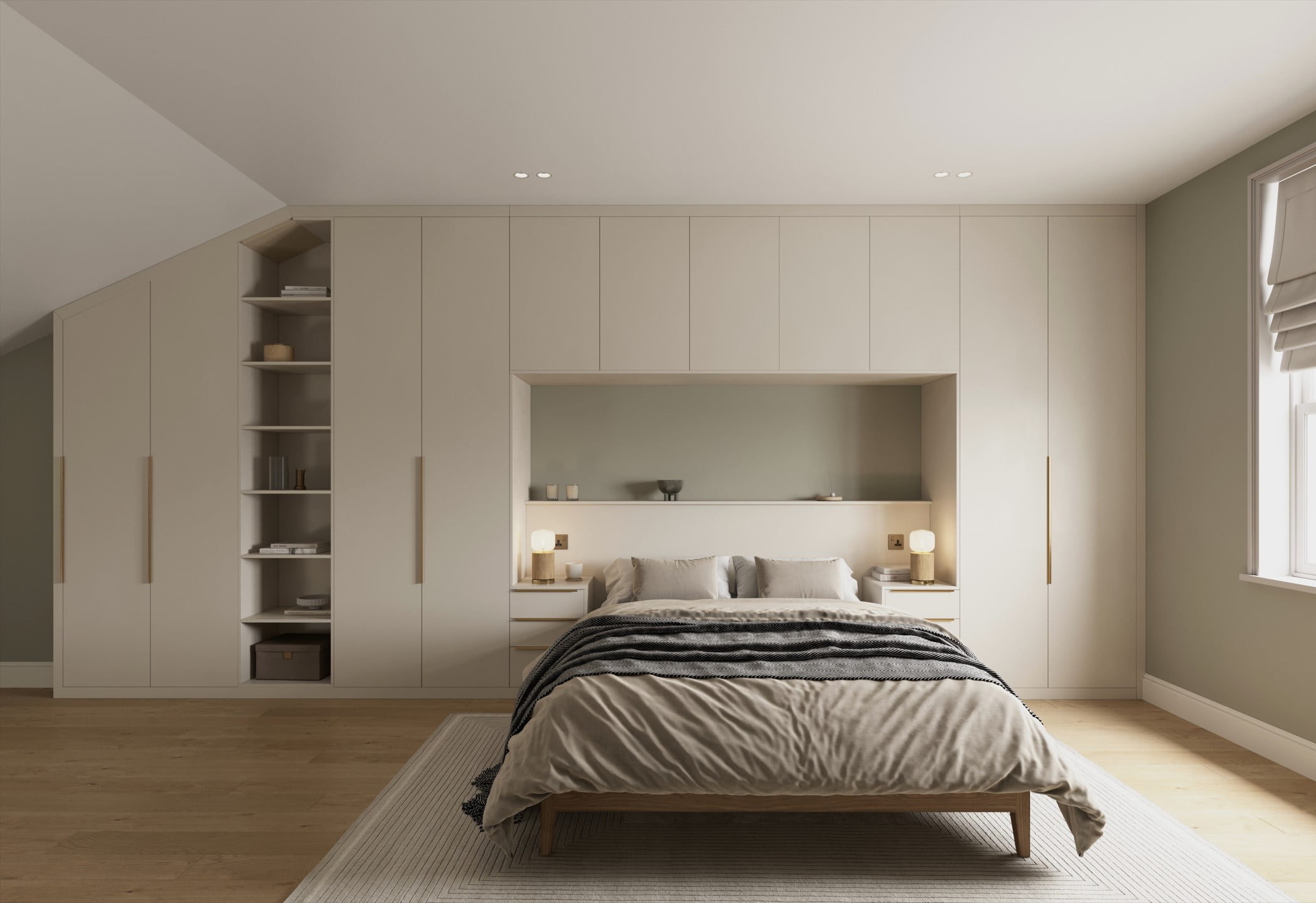 Matt finish overbed wardrobes
Overbed fitted wardrobes in the last few years have become more and more popular and relevant among a large number of users. Such designs are distinguished by high functionality and ease of arrangement, allowing you to use the entire available free zone with maximum benefit and adequately planning the space for a comfortable stay at home.
FEATURED PROJECT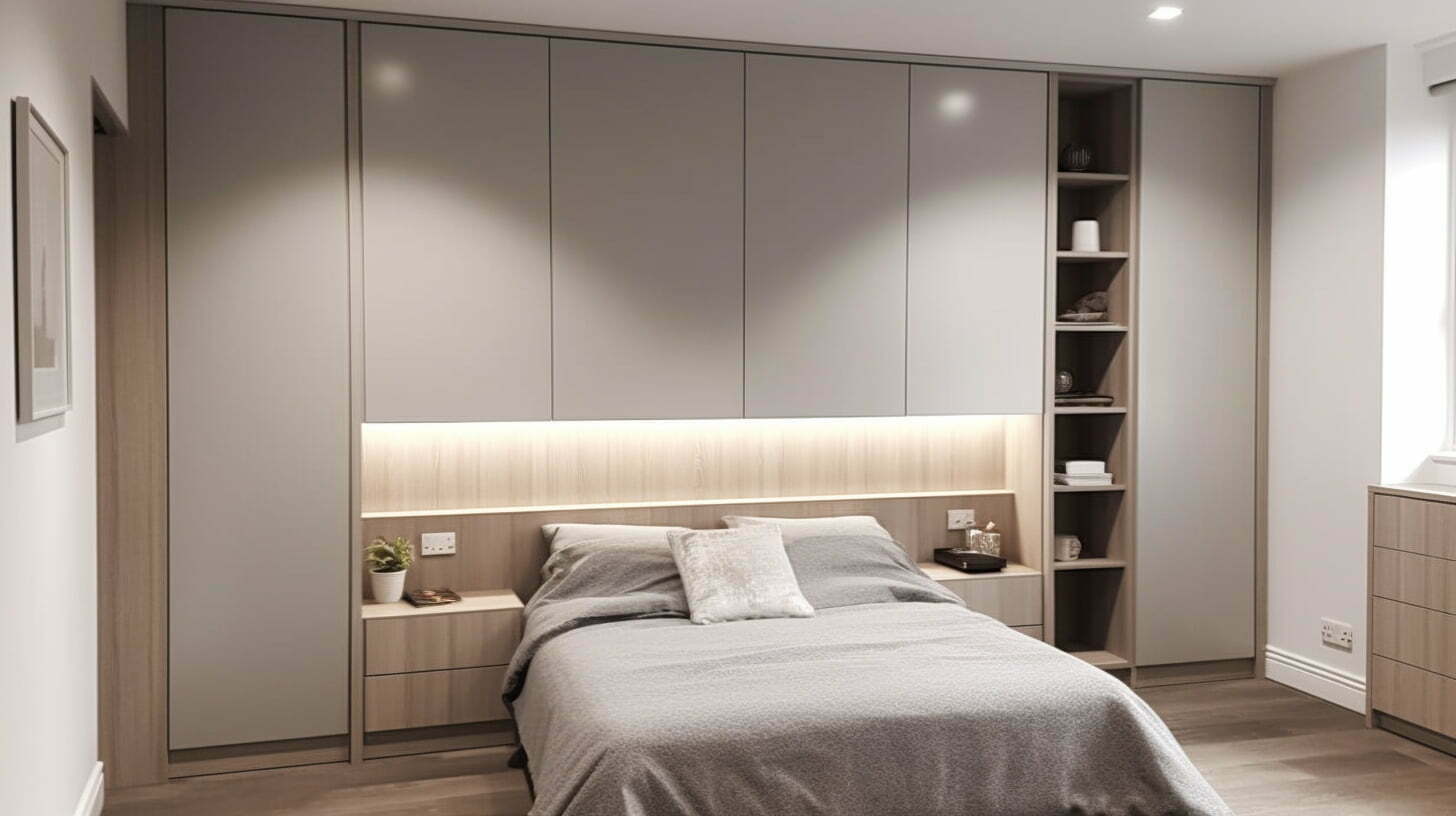 Grey matt doors with wooden surroundings
You can use built-in cupboards over the bed to organize storage. Such an illusion of a living area can give the room more lightness, airiness, and beauty. You can also eliminate numerous bedside tables, chests of drawers, or shelves, using a single planned space for storing various things right at your fingertips. You can always provide the optimal storage system that fully meets your goals and objectives, allowing you to maximize the use of the living area with benefits.
FEATURED PROJECT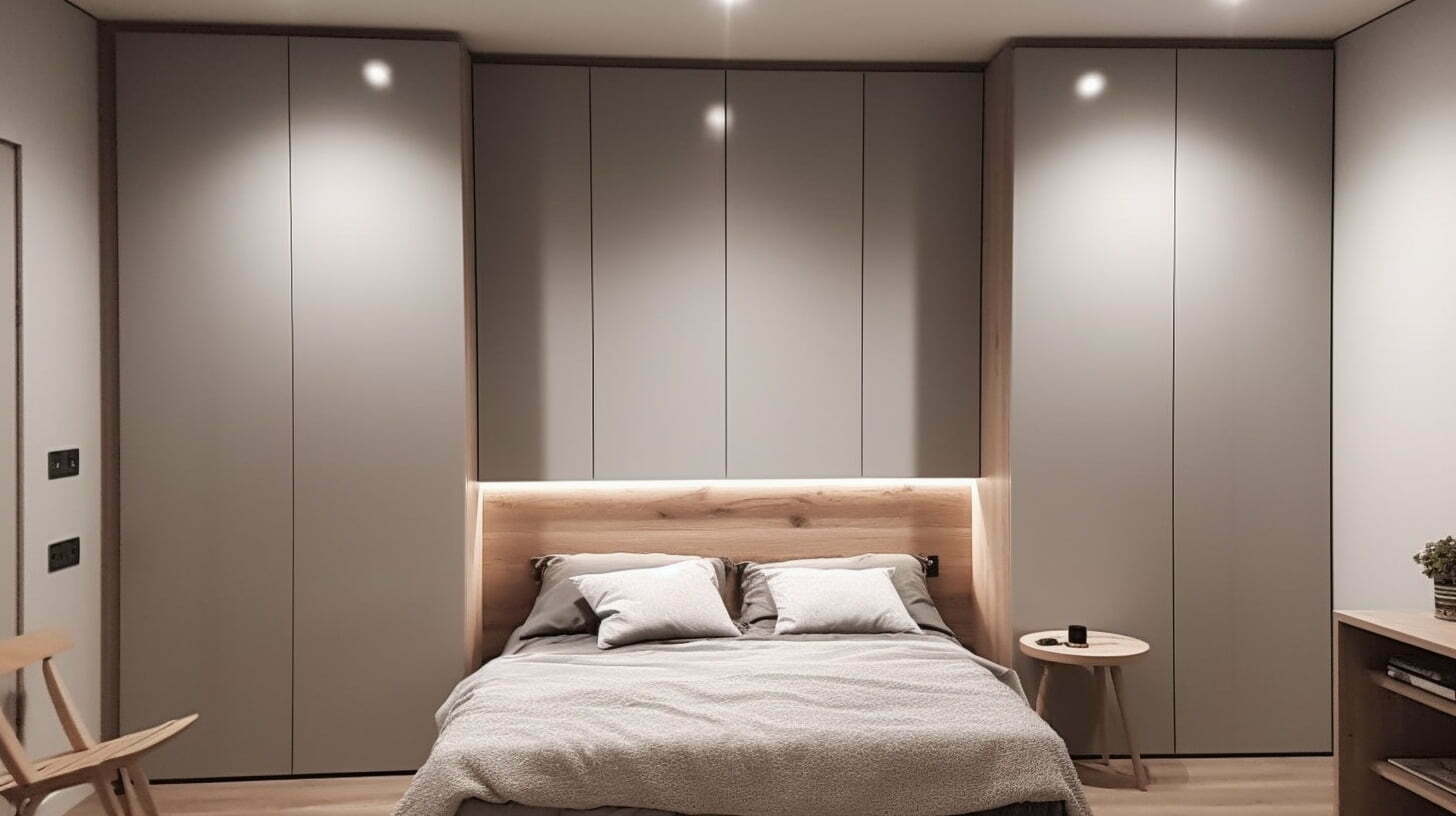 Push-to-open super matt facades
Overbed fitted bedroom furniture is a great way to organize space in a small bedroom, save space and optimize storage. Such a space provides a high quality of sleep and allows you to relax and maximize your vacation. At the same time, you can use a creative approach to organize the space according to individual needs completely. When choosing a suitable furniture set, the features of the organization of the storage system and combinations should be followed to ensure the safety of things unnoticed by strangers and competently use all available living spaces.
Storage solutions for your wardrobe
We understand that each project is unique that's why we are offering full flexibility of configuring your made to measure over bed cupboard. All our overbed storage solutions  are built from scratch which means all your special requirements will be taken into consideration during the design process.
Who we are
Why Choose Urban Wardrobes
With so many customers on the market of fitted bedrooms & kitchens at the moment it's really hard to choose the right one. Check below what make us different.
Our specialists put up significant amount of effort behind every design they come up with. From the contemporary walk in wardrobe, bespoke sliding wardrobe, or custom-made kitchen, we leave no stone unturned to make you feel satisfied with the overall project.
We offer straightforward quotation process with none of the 'discount smoke and mirror strategy'. We never "beat other quotes" simply because 'others' don't offer same quality & service.

Our sprayed and veneered doors with integrated handles look amazing. We produce classic & modern fitted furniture. Visit our showroom to check our finishes and discuss your project in greater depth.