Built-in alcove wardrobes, bespoke alcove wardrobe projects
Project details
Location We cover London fully and most locations within 2-3 hours drive.
Space Bedroom or Living room alcoves
Finish Spray painted MDF, Lacquered veneer
Price From £3,000+VAT per project incl. installation
Alcove wardrobes are a great way to utilise the space either side of your fireplace. An alcove can often be an awkward space for free-standing furniture. Some struggle to see how to make the most of it, but it works perfectly with fitted alcove wardrobes. It's just thinking creatively to make the most of this often unused space.
The results mean no gaps that will collect dust, and you can avoid wasted space with built-in wardrobes in alcoves utilising the height in the room. This allows you to add additional wardrobe shelves. Maximising storage in the bedroom can help you de-stress. Too much clutter on display can make you irritable, overwhelmed and anxious. It can also impact your sleep quality.
Alcove-fitted wardrobes can be painted the same colour as your walls for a cohesive look. You can find many other alcove wardrobe ideas online or browse our photographs of precious completed work for inspiration.
Each of the fitted wardrobes in the alcoves shown is painted white. White is a pure colour, making any room look brighter and more spacious. White is also a versatile colour that makes a great blank canvas. You can incorporate other colours and textures into a room following current trends or your changing taste.
Bedroom alcove wardrobe ideas give you lots of freedom and scope to find something that works for your life and personal style. Alcove-fitted wardrobes with mirrors can help brighten a room by reflecting light. They also help rooms look considerably more significant, as you can see the room reflected in itself.
When you think about alcove wardrobe design ideas and future-proofing, you want whatever you pick to stay on trend and still meet your taste many years from now.
FULLY BESPOKE
It's essential to have custom-made furniture for the nooks in your bedroom or walk-in wardrobe, as in this way, you will be able to maximise the storage and achieve any desired exterior finish.
With our experience designers' help, we can convert pretty much any nook into a luxuriously fitted cabinet.
Get Estimate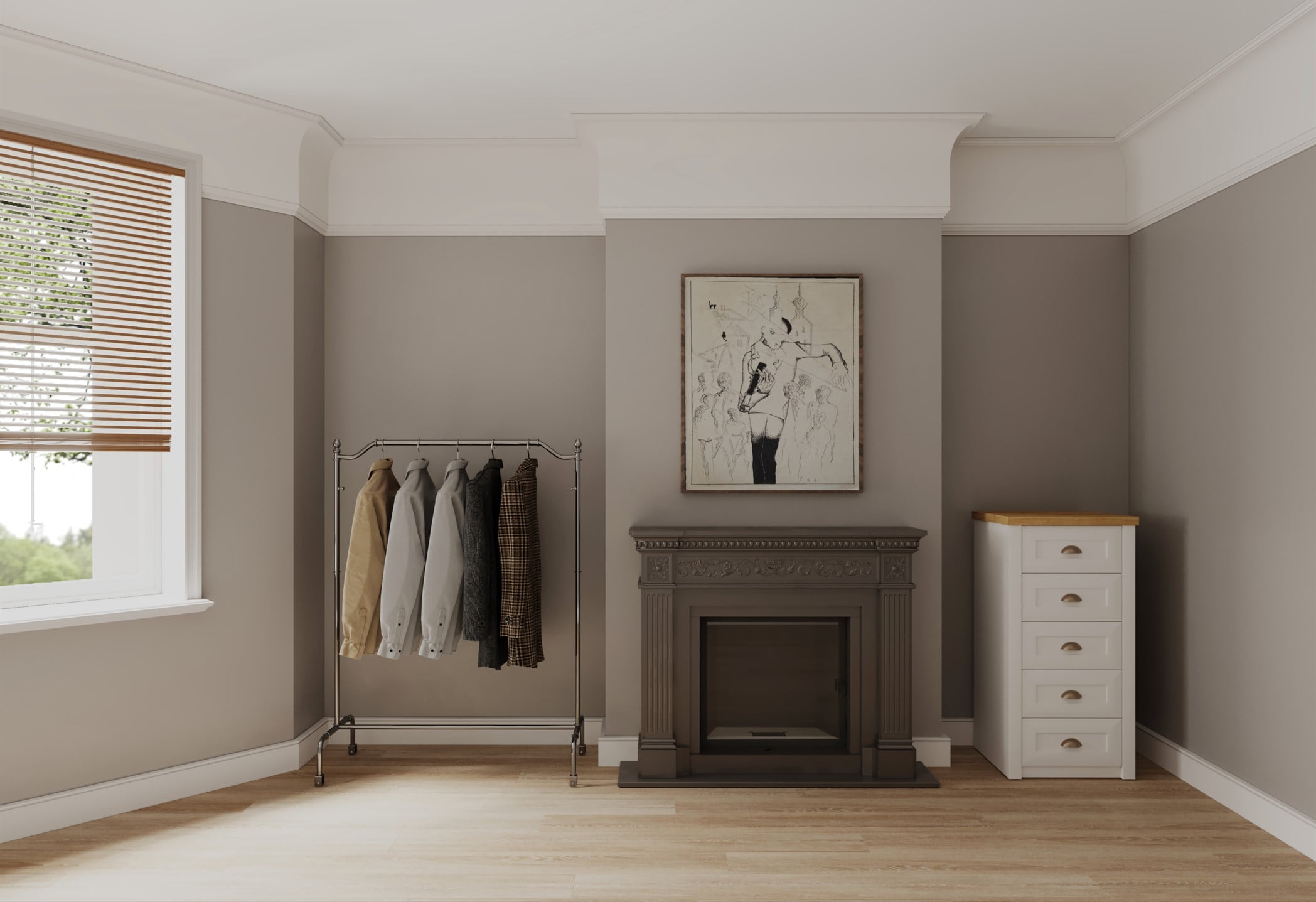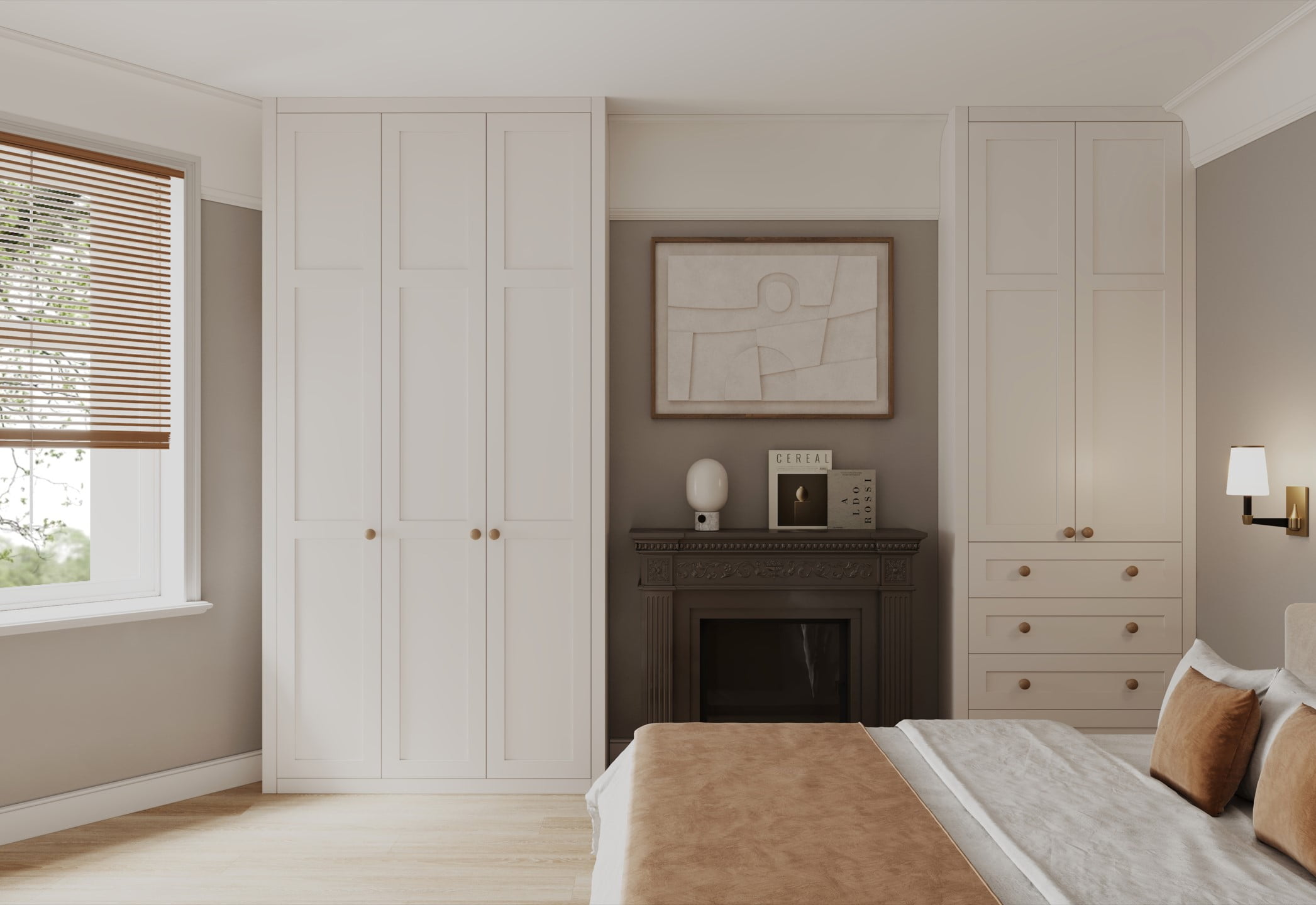 FITTED ALCOVE  WARDROBE IDEAS
There are endless ways to customise tailor-made alcove wardrobes in your way
LACQUERED ALCOVE WARDROBES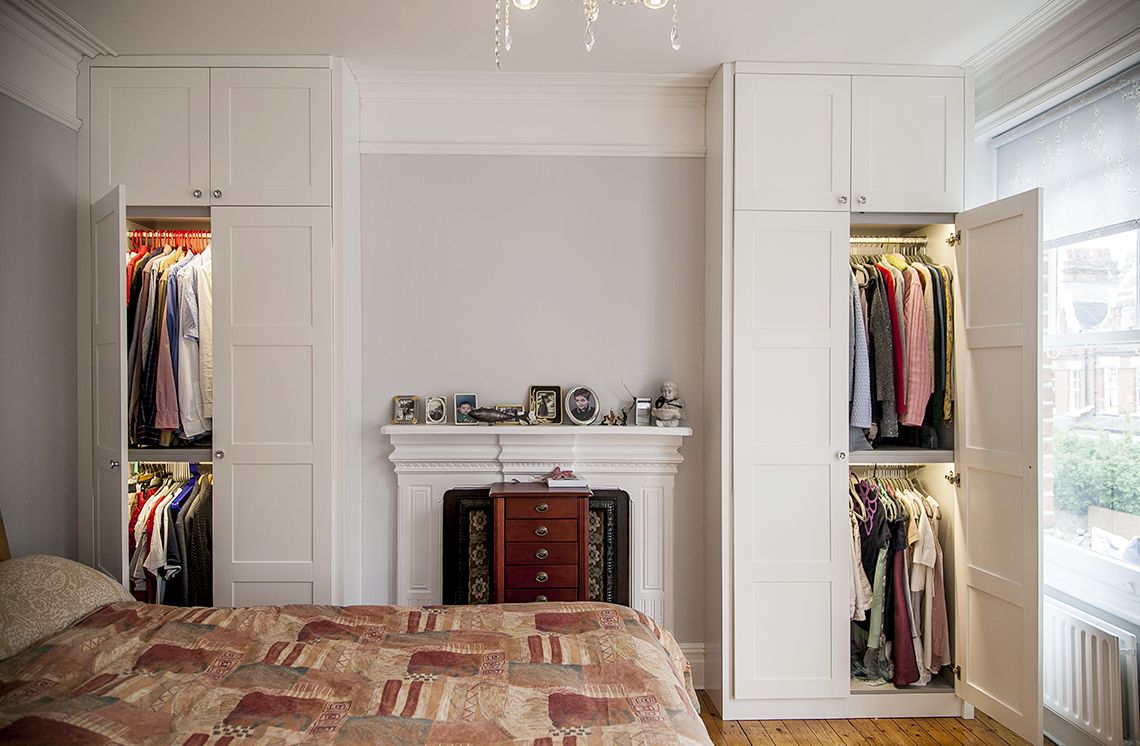 Shaker-style painted alcove wardrobes
The Shaker-style cabinet is an excellent choice for Victorian houses, and the exterior can have any shape and be sprayed in any RAL colour.
Depending on the colour you choose for your lacquered MDF shaker-style alcove wardrobes, brass or black knobs will look great.
View project
MODERN ALCOVE WARDROBES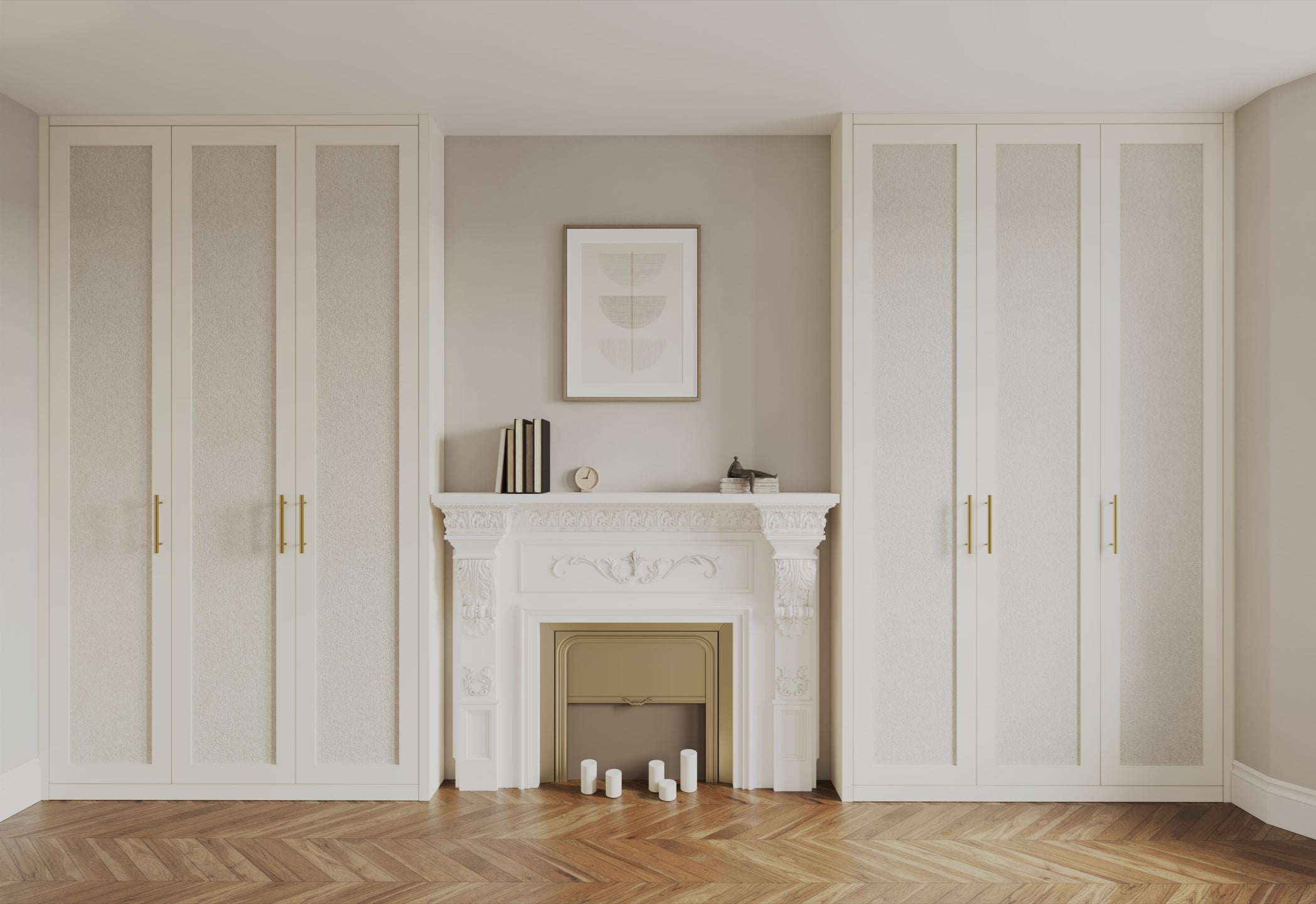 Alcove wardrobes with textile doors
The great advantage of built-in wardrobes for alcoves is the variety of options for the exterior.
In most of our ranges, the frame of the cabinets' doors can be spray painted in any colour from Farrow & Ball, Little Green or Deluxe. And the inserts can also be made from fabric.
View project
FEATURED PROJECT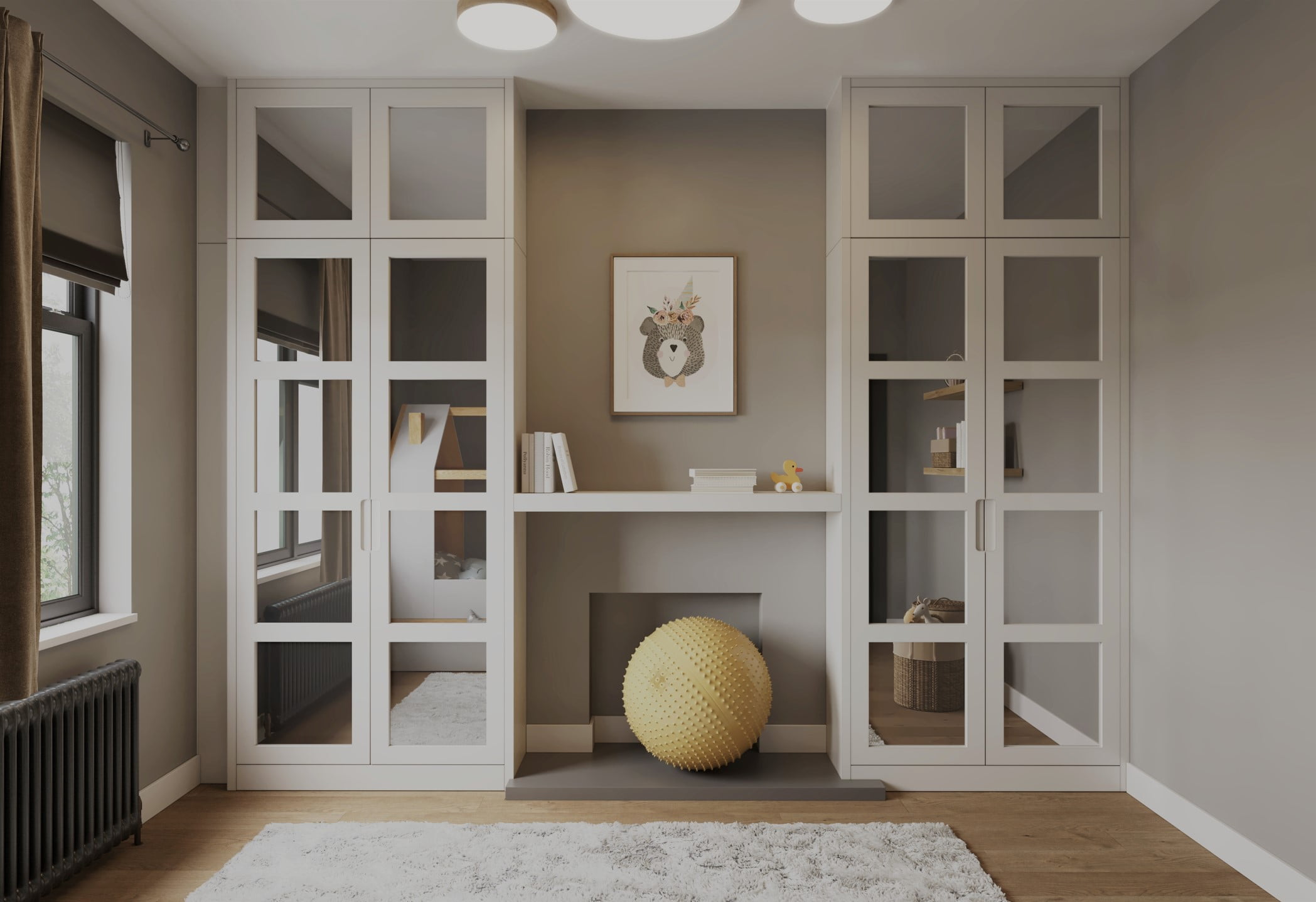 Mirrored built-in alcove wardrobes
Adding mirrors to the wardrobes fitted in alcoves is a great way to make your room look bigger.
We can be fitted with mirrored built-in wardrobes for any ceiling height, and the interior is fully bespoke and made to measure.
View project
PAINTED WOODEN EXTERIOR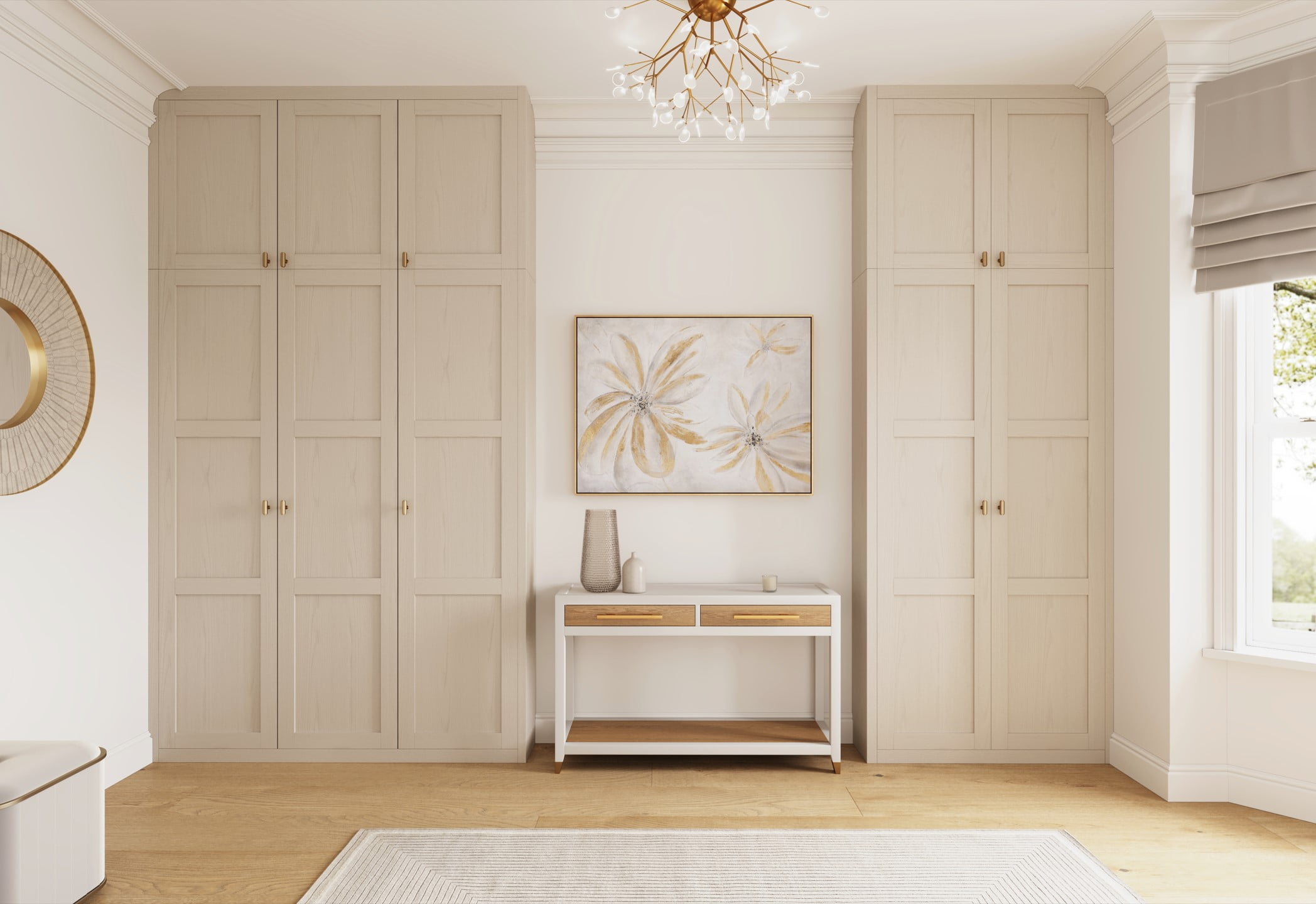 Lacquered real oak alcove wardrobes
Lacquered wooden alcove bedroom wardrobes provide a beautiful and durable solution for storage needs. The exterior can be either painted or stained, delivering a bit different finish but keeping it looking beautiful for years to come.
The bespoke design ensures that the wardrobes fit perfectly in the alcove, maximizing storage space while creating a stylish addition to the room.
View project
built in cupboards for alcoves
Custom made built in alcove wardrobes, fitted  cabinets in alcoves
The main advantage of a fitted alcove wardrobe is its ability to maximise the space around the chimney breast. With the fully bespoke design service Urban Wardrobes provides, you can dramatically increase the room niches' storage potential.
Considering that most of the UK's walls are not straight, the importance of the alcove-fitted wardrobe can't be underestimated.
Tailor-made alcove wardrobes are one of the most popular orders at our factory in London, UK, as many Victorian house owners have recesses in the walls around the chimney breast.
Bespoke Alcove Wardrobes Questions
Storage solutions for your alcove wardrobe
We understand that each project is unique. That's why we offer complete flexibility in configuring your made-to-measure alcove wardrobes. All our storage solutions for bedroom alcoves are built from scratch, meaning all your special requirements will be considered during the design process.
Who we are
Why Choose Urban Wardrobes
With so many customers on the market of fitted bedrooms & kitchens at the moment it's really hard to choose the right one. Check below what make us different.
Our specialists put up significant amount of effort behind every design they come up with. From the contemporary walk in wardrobe, bespoke sliding wardrobe, or custom-made kitchen, we leave no stone unturned to make you feel satisfied with the overall project.
We offer straightforward quotation process with none of the 'discount smoke and mirror strategy'. We never "beat other quotes" simply because 'others' don't offer same quality & service.

Our sprayed and veneered doors with integrated handles look amazing. We produce classic & modern fitted furniture. Visit our showroom to check our finishes and discuss your project in greater depth.