Light & Dark grey bedroom wardrobes for large & small rooms
Project details
Location Nationwide
Space Bedrooms, Living room
Finish Spray painted MDF, Lacquered veneer
Price From £3,000+VAT per project incl. installation
Grey is considered a very versatile and adaptable colour. It is a neutral hue that can be quite sophisticated and reserved. This probably explains why grey wardrobes are becoming a popular alternative to white wardrobes. They can help interiors look less stark and clinical and work well with other colour schemes. Grey is still very much on-trend.
It can be put in different rooms: living room, bedroom, and other areas to organize living space with maximum benefit. Gray built-in wardrobes come in a variety of shapes and shades. For example, you can choose lighter and warmer shades. More flexible color options allow you to completely change and transform a space to suit individual preferences. You can also easily select the equipment that fully satisfies personal needs, opening up vast areas for design research.
Just remember, there are so many different shades of grey. The human eye can distinguish between 500 shades of grey which are pretty incredible. It all adds to the adaptability of this fantastic colour.
Grey can be considered a moody or dramatic colour. It can add warmth to rooms or make them appear more relaxed. You can even use the shade of grey to change the depth or focus of a room. This means going grey gives you plenty to think about.
Dark grey fitted wardrobes can make a room feel cosy and become more of a feature as the eyes are drawn to it. These wardrobes could be complemented with mustard or teal blue colour tones. Those colours stand out against a dark grey background. Darker grey interiors are considered more masculine and industrial. A light grey wardrobe can be more feminine, especially if it is teamed with pale pink shades. Barely grey cabinets can help rooms stay airy and spacious.
You can choose a grey wardrobe in a lighter colour and then have darker grey walls for a successful two-tone effect. This will also stop one shade from dominating the room. It's important in interiors to get that balance right. You can do this with texture or adding metal or natural wood elements. Opt for silver with lighter greys and brass for a darker grey. We can make a large or small grey wardrobe depending on your requirements and room size.
FEATURED PROJECT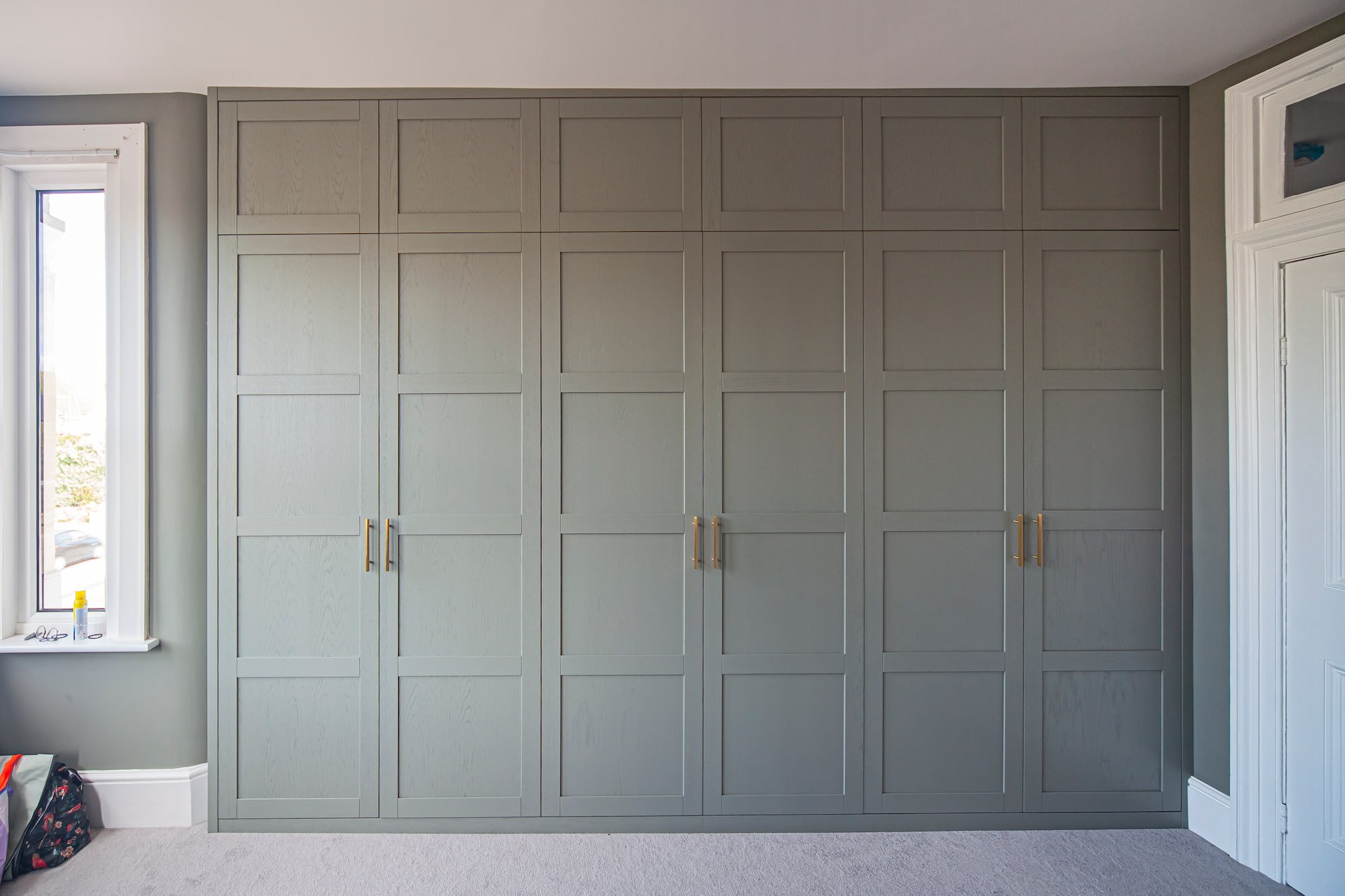 Grey Shaker style built in wardrobes.
Grey fitted wardrobe is of high-quality construction. Gray is the most versatile shade that can be easily used in the interior to optimize living space according to individual preferences and possibilities. Gray cabinets are an excellent alternative to black or colored designs, as they make it easy to find the right solution to optimize the interior according to individual tasks. This furniture set is combined with different styles, interiors, and colors.
FEATURED PROJECT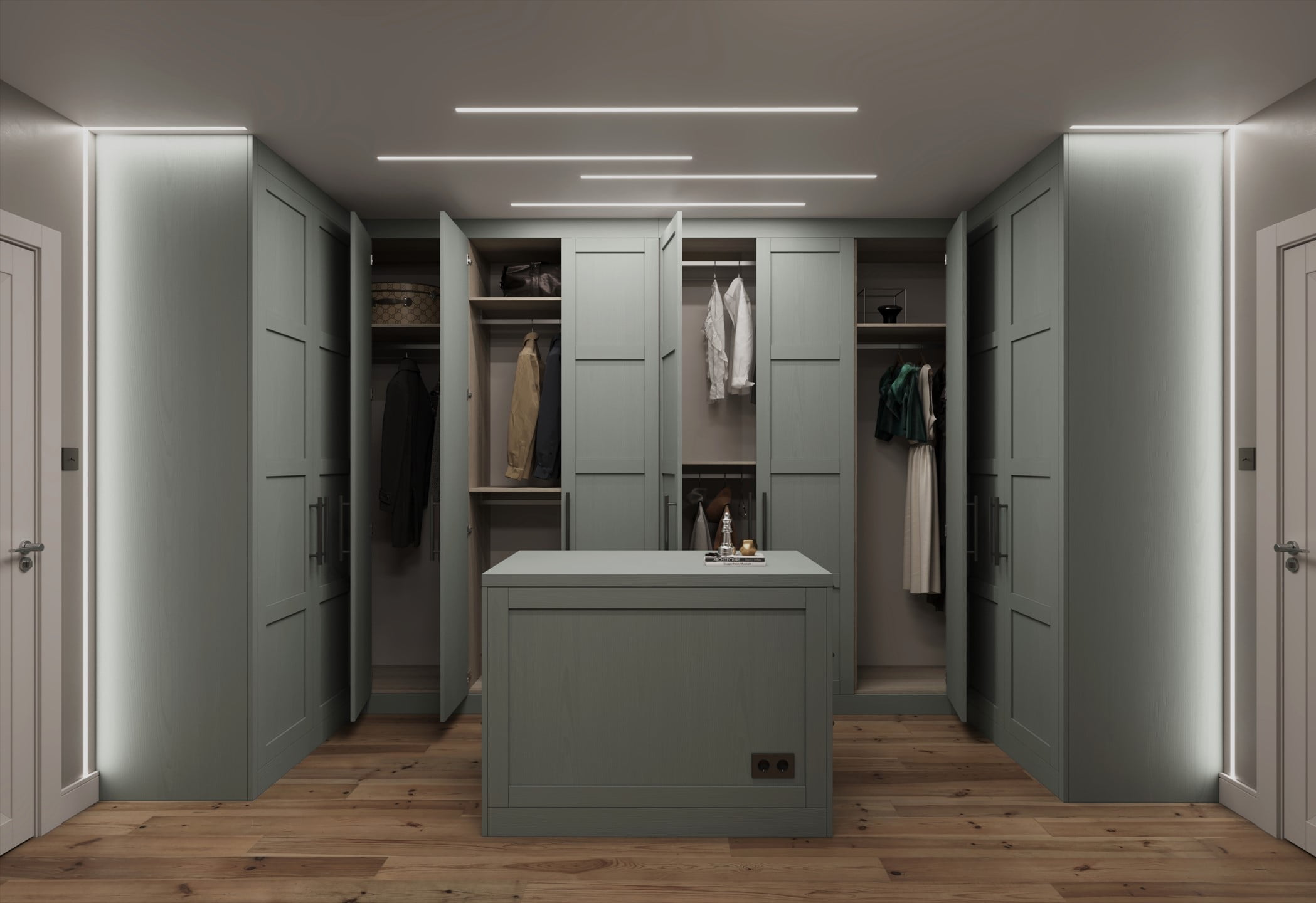 Grey bespoke walk in wardrobes
Gray built-in cupboards can go great with dark or warm hues. It can be operated as a fantastic indoor accent to visually expand the space, making it more comfortable and unique. Light wardrobes will help to make the room more spacious, add bright color, and significantly change the whole perception of the living space, using natural or artificial light sources in addition to the design of the living space
FEATURED PROJECT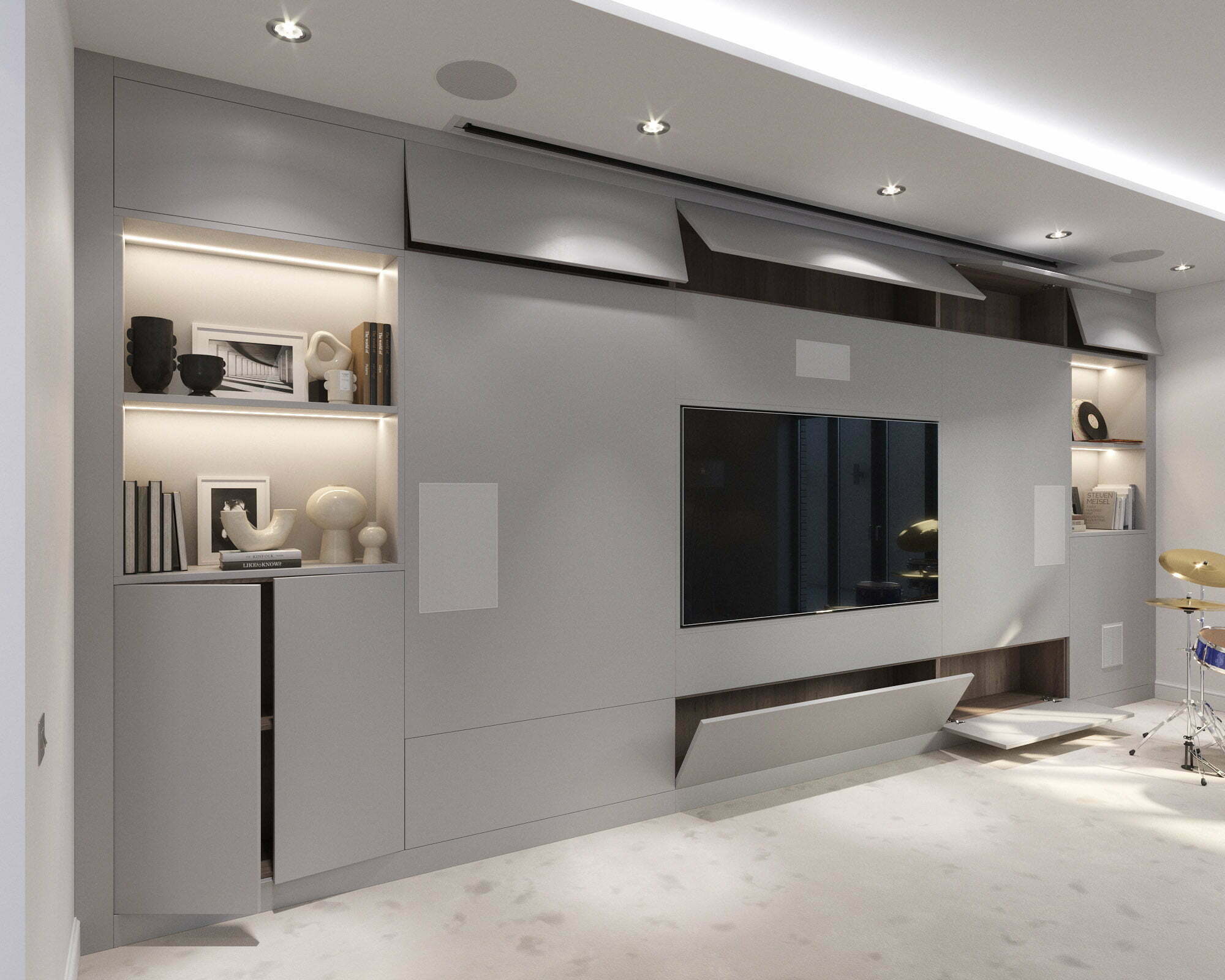 Grey built in TV units
You can choose monochrome models or products with several color options. All built-in gray cabinets provide ample space for complex design ideas, regardless of the features and tasks, so you can easily choose the best option according to individual preferences. You can take a silver cabinet with absorbing bright inserts. For example, as inserts, you can use golden or contrasting inserts that immediately catch your eye from the first minute, attracting everyone's attention. You can also take a small functional model that perfectly complements any space. Modern gray cabinets are a real find for any interior, which will help to realize tasks of any complexity. Create a custom design at a minimal cost with professional design services.
Storage solutions for your wardrobe
We understand that each project is unique that's why we are offering full flexibility of configuring your made to measure office cupboard. All our storage solutions for offices are built from scratch which means all your special requirements will be taken into consideration during the design process.
Who we are
Why Choose Urban Wardrobes
With so many customers on the market of fitted bedrooms & kitchens at the moment it's really hard to choose the right one. Check below what make us different.
Our specialists put up significant amount of effort behind every design they come up with. From the contemporary walk in wardrobe, bespoke sliding wardrobe, or custom-made kitchen, we leave no stone unturned to make you feel satisfied with the overall project.
We offer straightforward quotation process with none of the 'discount smoke and mirror strategy'. We never "beat other quotes" simply because 'others' don't offer same quality & service.

Our sprayed and veneered doors with integrated handles look amazing. We produce classic & modern fitted furniture. Visit our showroom to check our finishes and discuss your project in greater depth.