Built-in wardrobes with mirror doors, mirrored bespoke cupboards
Project details
Location We cover London fully and most locations within 2-3 hours drive.
Space Bedrooms
Finish Lacquered MDF, Veneer, Laminated wood
Price From £1,200 excl. VAT per linear meter (width)
Mirrored wardrobes help reflect light, so they can make rooms appear more spacious than they are. If your mirror wardrobes are placed opposite a window, you can also increase the room's depth.
Pretty dark rooms, typically with little natural light, soon brighten up with the addition of mirrors. Our photographs of previous instalments show that our mirrored wardrobes are installed near an artificial light source, whether spotlights or ceiling lights. This is done to maximise the light reflected into the room.
Mirrors give a room more energy. In feng shui, the shape of the mirror can bring different elements into a room. Round mirrors help with clarity and joy, whilst square mirrors are more about stability and self-care.
Depending on the position of your mirrored wardrobes, you might have more exciting frame views to reflect, like the scenery outside your window. It is essential to be happy about what will be reflected, so think about that. You could have a mirror in the centre of the wardrobe and leave solid wooden panels on either end to avoid skipping your whole room.
A wardrobe with mirror doors is efficient as they can be used as dressing mirrors. They replace the need for a standalone mirror which is good if you are short on wall space in your bedroom. Alternatively, you could add a mirror door cupboard in your living room. This might be beneficial when working out to check that your posture is okay and to prevent injuries.
We offer a wide selection of mirror wardrobes. You can choose to have a full length of glass or a series of panels. We have fretwork designs such as Luna with interlocking circles or the Prisma range if you want something more elaborate. These mirrored wardrobes can be a real focal point for the room as they are very ornamental.
FEATURED PROJECT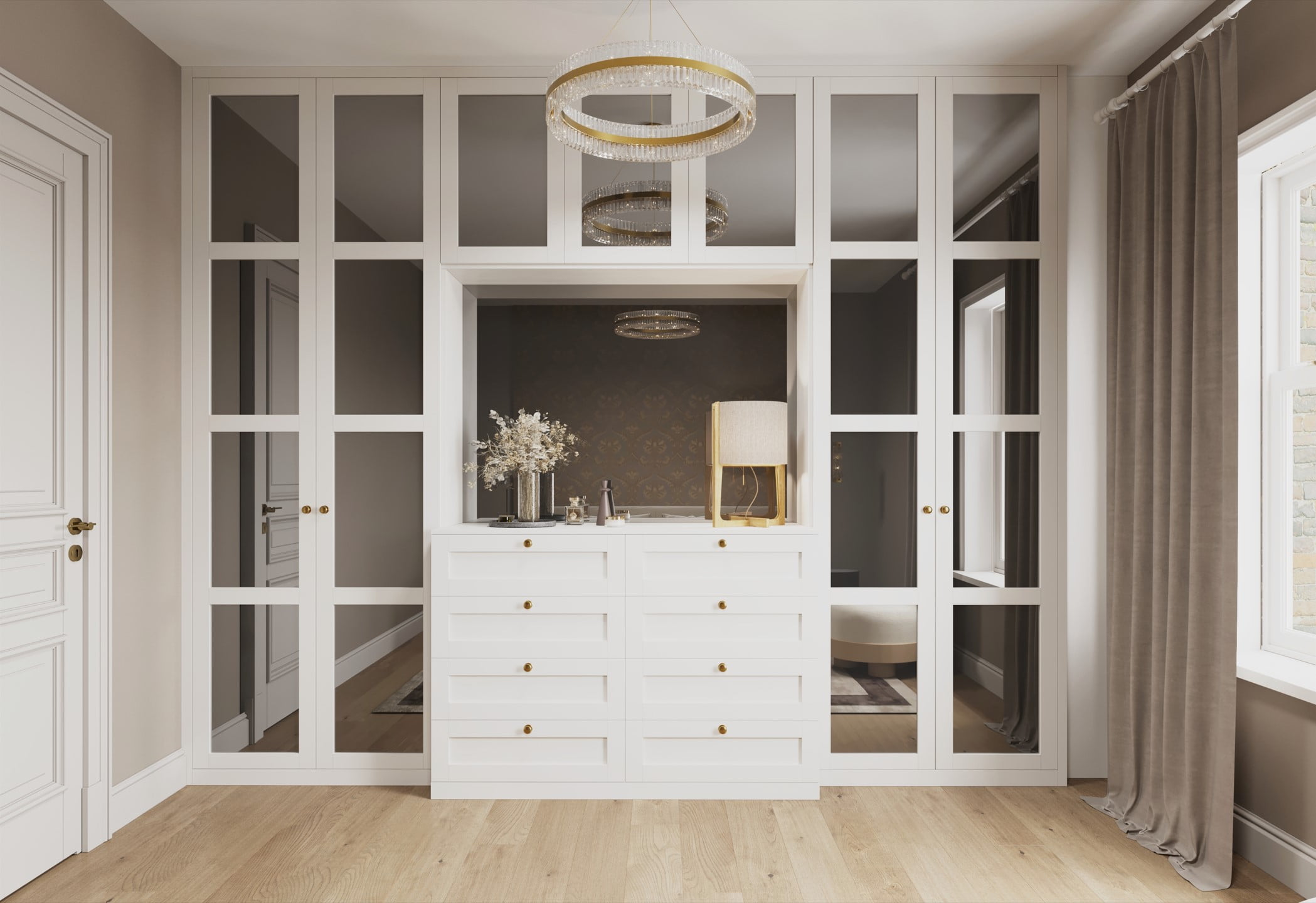 Classic lacquered mirrored wardrobes.
The mirrored fitted wardrobe has excellent reflective properties. Due to this reflection mechanism, it is possible to achieve better results and make the room visually lighter and more spacious. In particular, this effect is achieved if windows are placed opposite, which will provide natural light in the room.
Built-in cupboards with mirror doors enhance and expand the space's depth visually. Best of all, such furniture looks like compact rooms with limited free space. Lighting and light colors can also be added to achieve maximum reflection and improve the overall impression of the room's interior design.
FEATURED PROJECT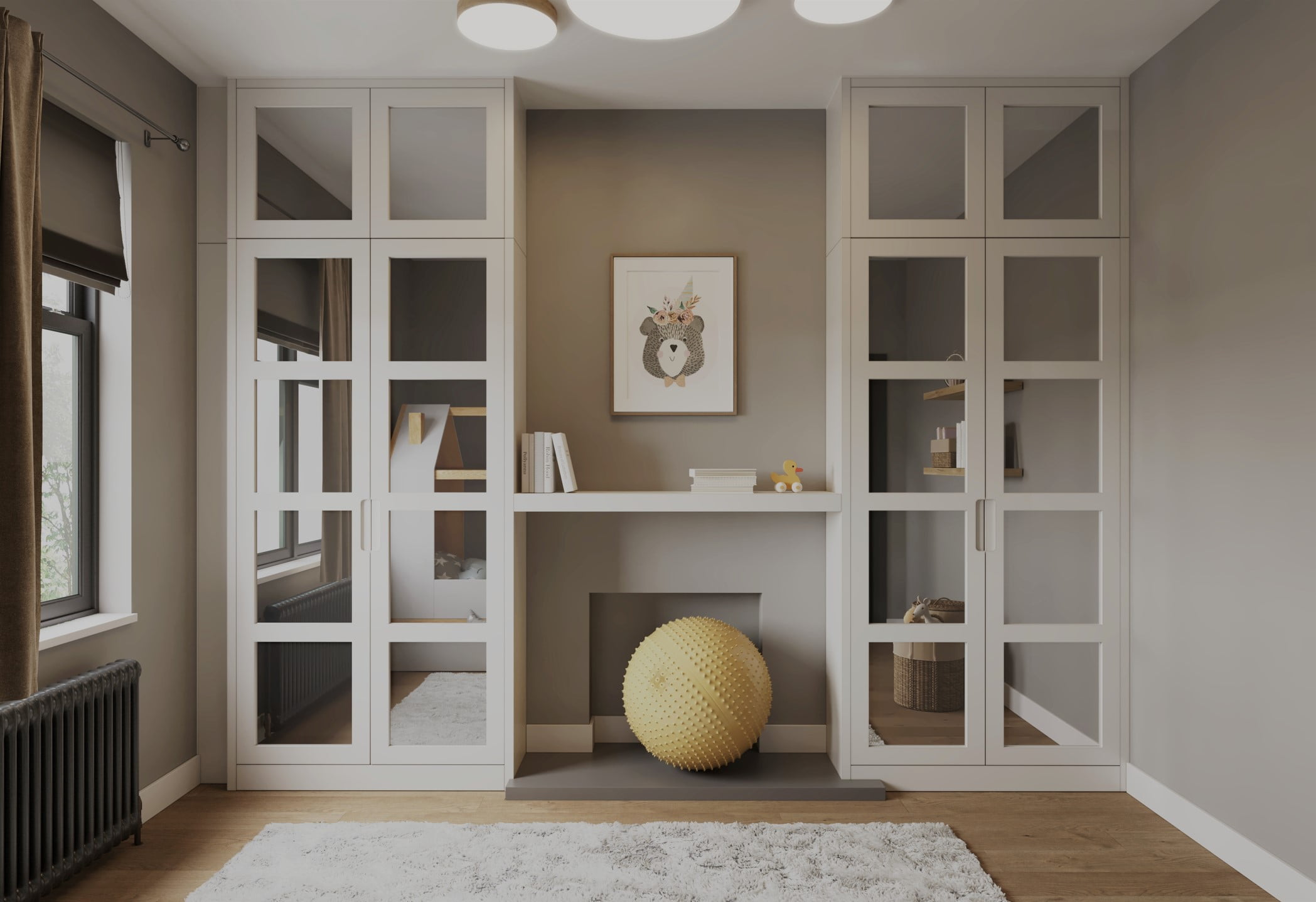 Mirrored alcove wardrobes
Mirrors help to give a certain charm to the room, making it more thoughtful and orderly. Round mirrors allow you to smooth out the forms, making them more straight and neat, eliminating all that is superfluous. It is essential to correctly design the location of all elements in such a way as to ensure maximum safety for each tenant and reduce the risk of injury from sharp features.
Cabinets with mirrored doors can be used in various rooms. This is an excellent solution for the living room, bedroom, and other rooms. It is essential to correctly design the entire space in compliance with the parameters of proportionality and reliability. Only then can an optimal result be achieved.
FEATURED PROJECT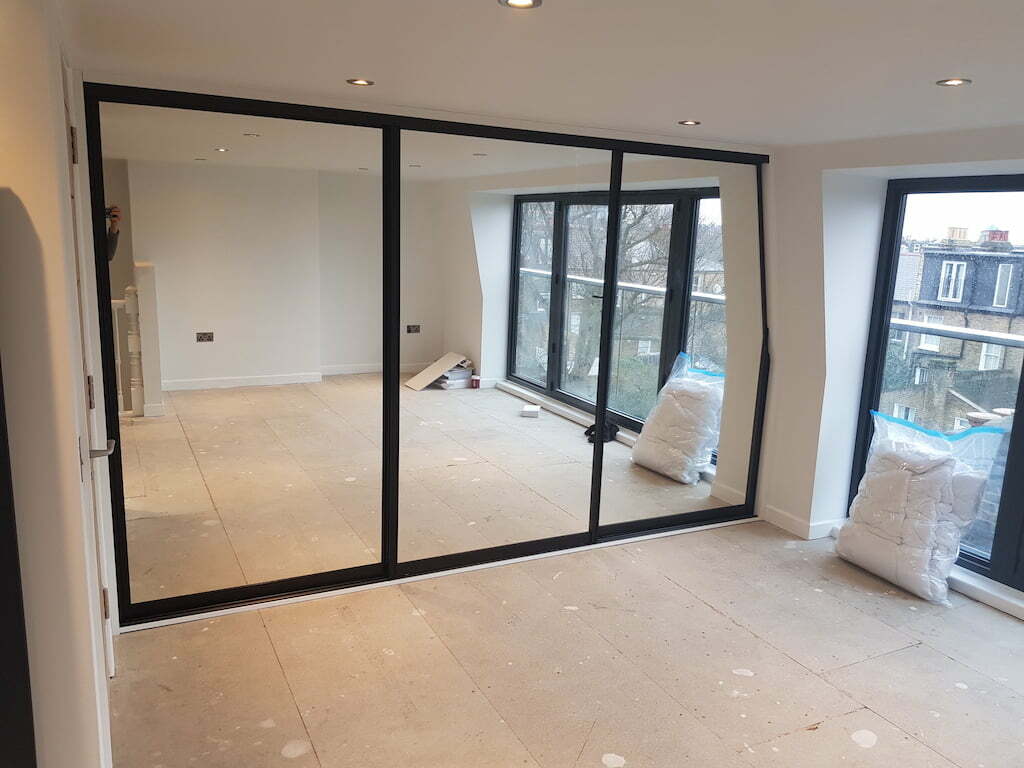 Sliding mirrored doors wardrobes
A beautiful bespoke mirror cabinet is the best choice for your home if you want to organize your space. You can use it as a vanity mirror or as a workout alternative. With such a mirror, you will always be able to maintain good physical shape and evaluate your appearance correctly. A large selection of design solutions allows everyone to choose the best option for the most profitable space planning. A mirror cabinet can be a beautiful decorative element that performs an essential functional task in planning a living space at a minimal cost to homeowners. Use only proven and high-quality materials to get a durable and beautiful design.
Storage solutions for your wardrobe
We understand that each project is unique that's why we are offering full flexibility of configuring your made to measure office cupboard. All our storage solutions for offices are built from scratch which means all your special requirements will be taken into consideration during the design process.
Fitted Mirrored Wardrobe Projects.
Who we are
Why Choose Urban Wardrobes
With so many customers on the market of fitted bedrooms & kitchens at the moment it's really hard to choose the right one. Check below what make us different.
Our specialists put up significant amount of effort behind every design they come up with. From the contemporary walk in wardrobe, bespoke sliding wardrobe, or custom-made kitchen, we leave no stone unturned to make you feel satisfied with the overall project.
We offer straightforward quotation process with none of the 'discount smoke and mirror strategy'. We never "beat other quotes" simply because 'others' don't offer same quality & service.

Our sprayed and veneered doors with integrated handles look amazing. We produce classic & modern fitted furniture. Visit our showroom to check our finishes and discuss your project in greater depth.