Fitted Wardrobes for Loft Conversions
Built-in fully bespoke attic room and loft conversion fitted furniture and cabinets.
Project details
Location South East England, Essex, London
Space Loft storage, loft conversions, attic bedrooms
Finish Lacquered MDF and real wood veneer, Laminated and Acrylic finishes.
Price From £3,500+VAT per project incl. installation (contact us for estimate)
When it comes to loft conversions, making the most of limited space while maintaining a stylish aesthetic can be a challenge. That's where custom fitted wardrobes come in. These tailor-made storage solutions offer a seamless integration into your attic space, transforming awkward corners and sloped ceilings into functional and beautiful storage areas. In this article, we'll explore the benefits and ideas for incorporating attic fitted wardrobes into your loft conversion, ensuring efficient use of space and a stunning interior.
Maximizing Space:
Lofts are often characterized by unique and challenging spaces, such as sloped ceilings and awkward corners. Custom fitted loft wardrobes are designed to make the most of every inch of your loft, providing intelligent storage solutions that are built to measure. By utilizing these bespoke wardrobes, you can optimize storage capacity and create a clutter-free environment.
Tailored to Your Needs:
Every loft conversion is unique, and your storage requirements may differ from others. Fitted wardrobes offer the flexibility to cater to your specific needs. From walk-in closets to built-in cabinets, you can customize the interior layout, shelves, drawers, and hanging rails to accommodate your wardrobe, accessories, and other personal belongings. The result is a storage space that fits your lifestyle perfectly.
Seamless Integration:
One of the greatest advantages of fitted wardrobes is their ability to seamlessly integrate with the architecture of your loft. Whether you have a sloped ceiling or irregular-shaped attic rooms, these wardrobes can be designed and built to complement the contours of the space. This ensures a cohesive and aesthetically pleasing look while optimizing storage capacity.
Stylish and Versatile Designs:
Fitted wardrobes offer a wide range of design options to suit your loft conversion's style and ambience. From sleek modern designs to classic and rustic finishes, you can choose from an array of materials, colours, and handles to create a personalized look. Whether you prefer a minimalist Scandinavian style or a luxurious built-in wardrobe, the possibilities are endless.
Clever Storage Solutions:
Loft conversions often require creative storage ideas, and fitted wardrobes excel in providing smart storage solutions. Utilize under-eave spaces with built-in cabinets or install pull-out drawers and shoe racks for efficient organization. Incorporate mirrored doors to create a sense of spaciousness and maximize natural light within the loft.
Enhancing Functionality:
Beyond their aesthetic appeal, fitted wardrobes enhance the functionality of your loft space. By neatly storing your belongings, they help maintain a clutter-free environment, promoting a calm and organized atmosphere. With easy access to your wardrobe essentials, getting ready in the morning becomes a breeze.
Incorporating custom fitted wardrobes into your loft conversion brings numerous benefits, from maximizing storage space to enhancing the overall style and functionality of the room. These tailor-made solutions make the most of awkward spaces, sloped ceilings, and irregular shapes, transforming them into elegant and efficient storage areas. Whether you're seeking a bespoke walk-in closet or built-in cabinets, bespoke wardrobes offer endless possibilities to create a personalized and organized loft space that complements your lifestyle.
Before & After
Fitted Slopping Ceiling Closets
Urban Wardrobes specialises in fit-for-purpose storage solutions for angled ceilings, loft rooms, slanted walls and under-eaves cupboards and bespoke sloping ceiling cabinets.
Our made-to-measure furniture is manufactured based on the measurements of your space and will be fitted to absolute perfection.
View Project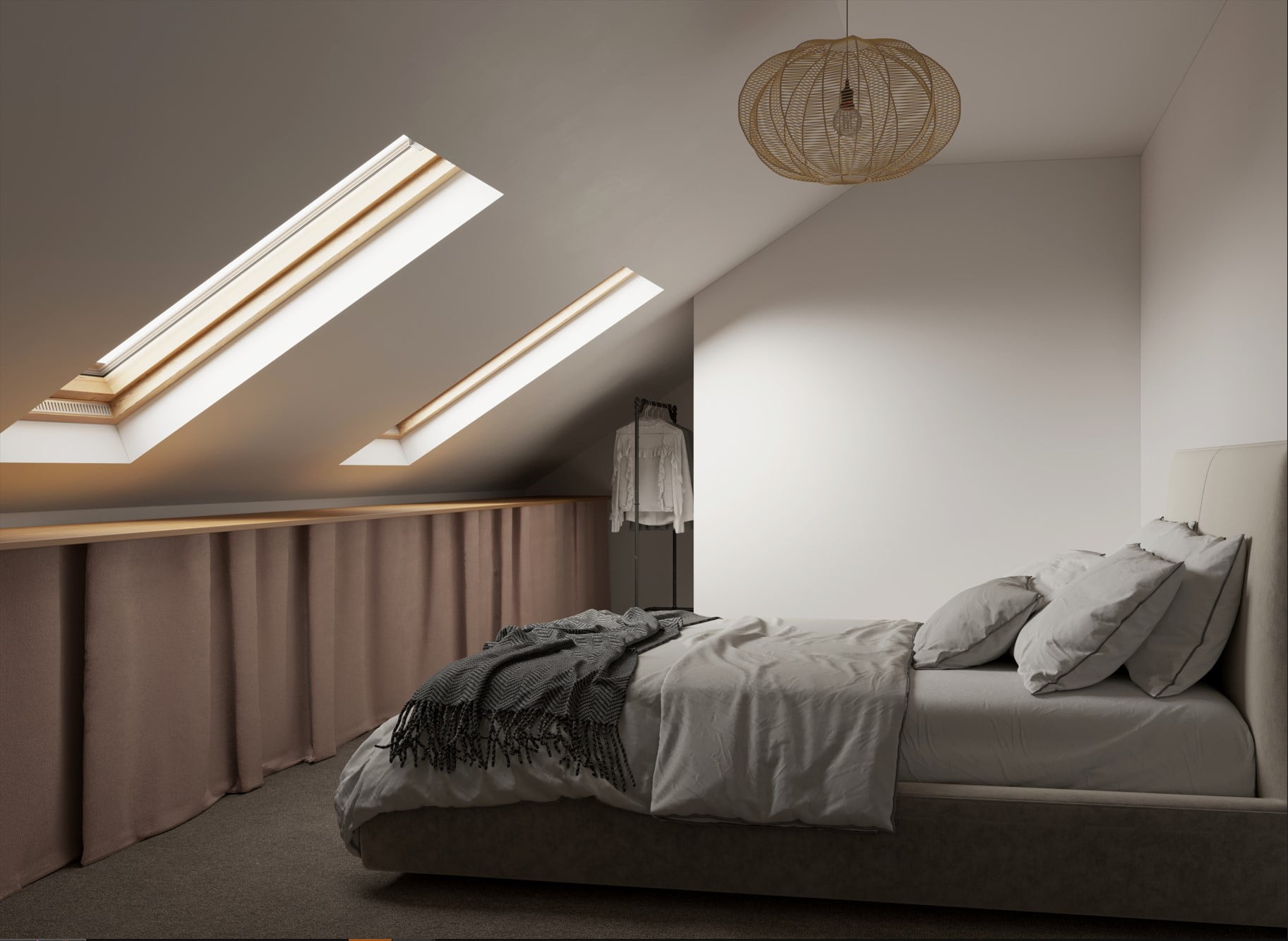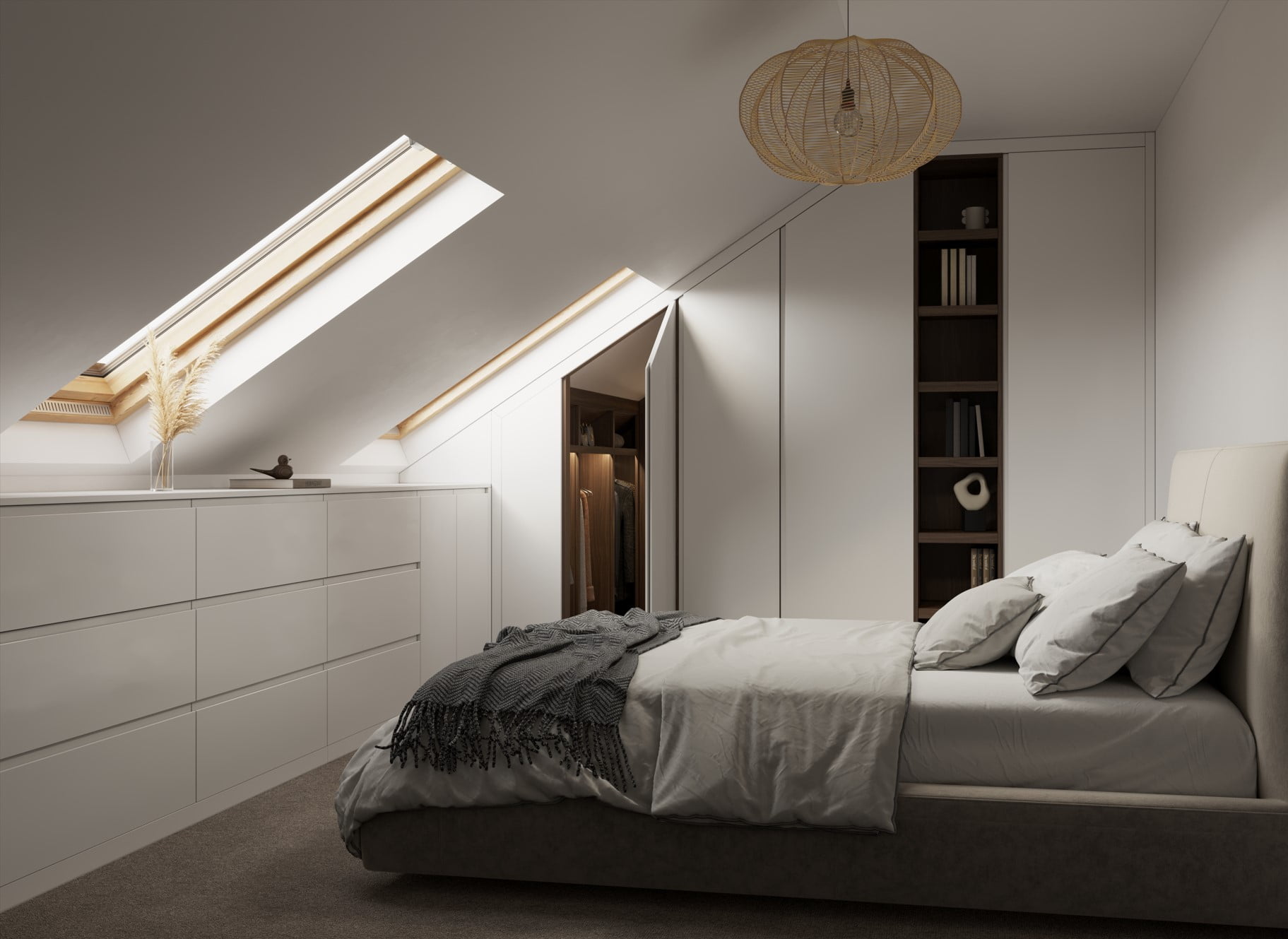 Fitted Loft Wardrobes Ideas
There are endless ways to customise your bedroom in your way
Attic Room Wall Beds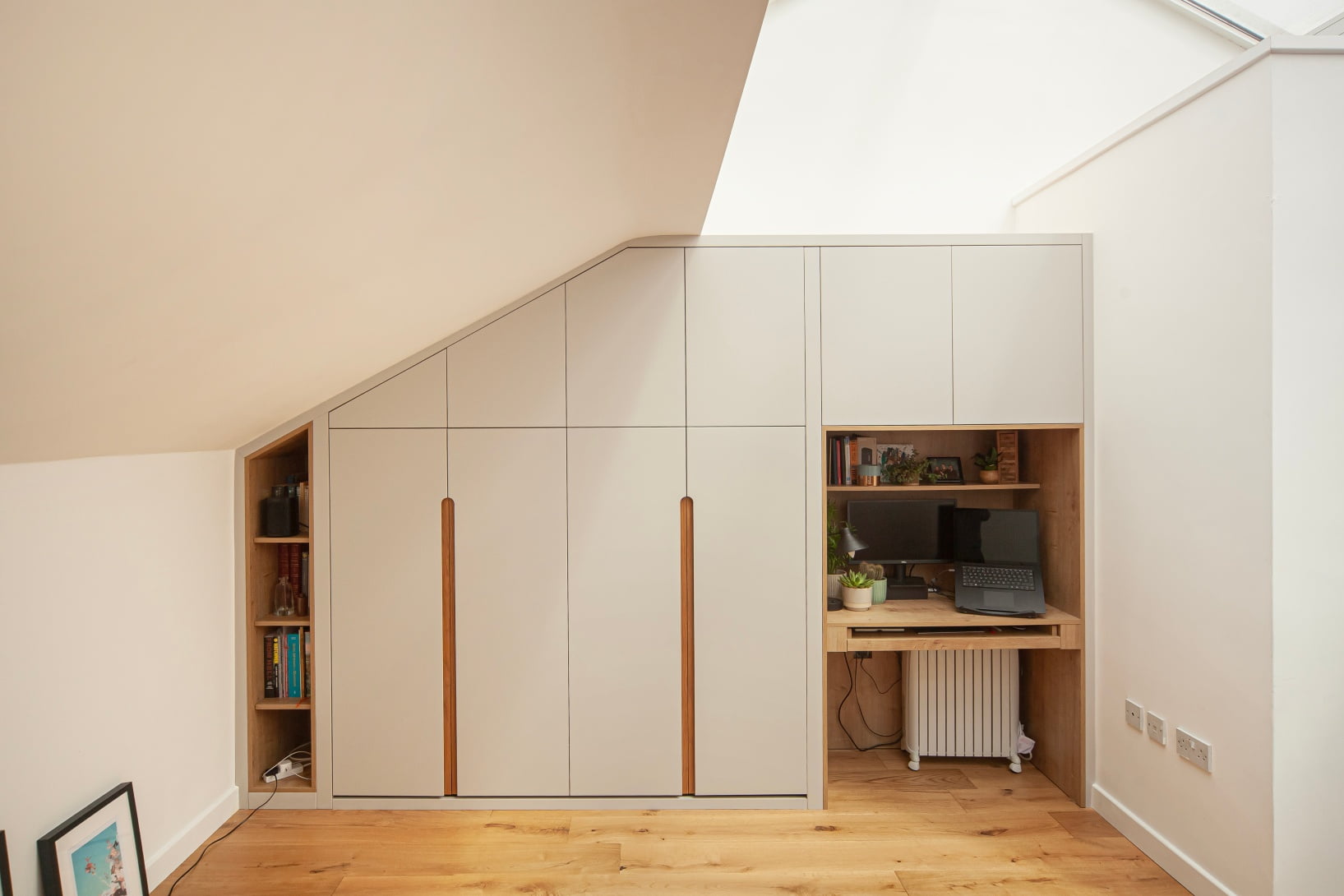 Fitted Loft Murphy Beds
Fitted Loft Murphy Beds offer a range of benefits for those looking to optimize space in their loft conversions. These innovative beds are designed to fold up and store vertically or horizontally against the wall, creating extra floor space during the day.
When needed, they easily fold down to provide a comfortable sleeping area. Fitted Loft Murphy Beds are custom-made to fit seamlessly into your loft, making the most of limited space while maintaining a stylish and functional design.
Check Project
Loft Storage ideas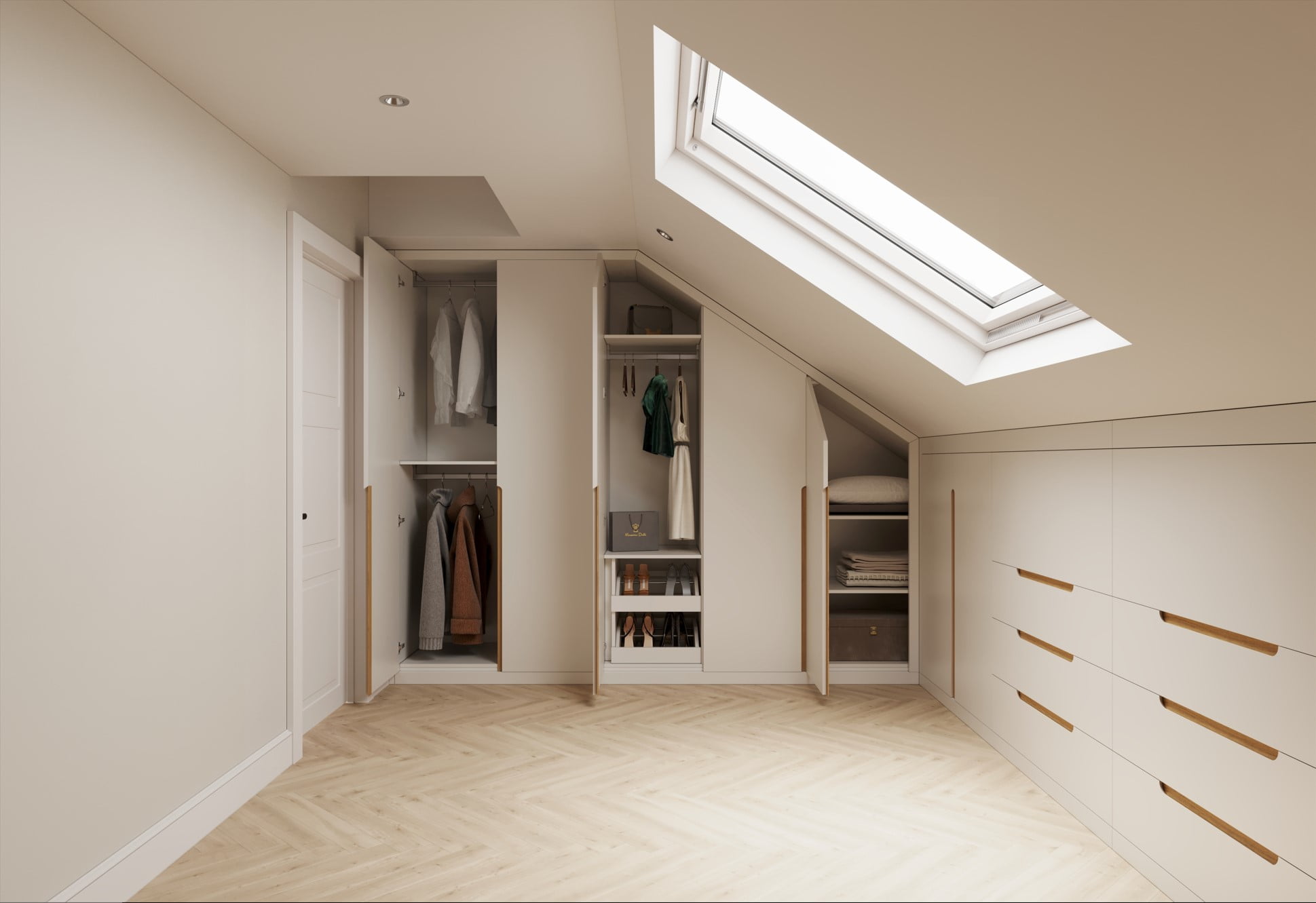 Attic Room built-in storage
Attic room built-in storage offers a range of benefits for maximizing the functionality and organization of your attic space. These custom storage solutions are designed to fit seamlessly into the unique architecture of your attic, making use of every available nook and cranny.
With built-in shelves, drawers, and cabinets, you can efficiently utilize the space to store your belongings, keeping them organized and easily accessible. Attic room built-in storage also helps to maximize floor space, allowing you to make the most of your attic room for various purposes such as a home office, bedroom, or playroom.
View Range
built in wardrobes loft conversion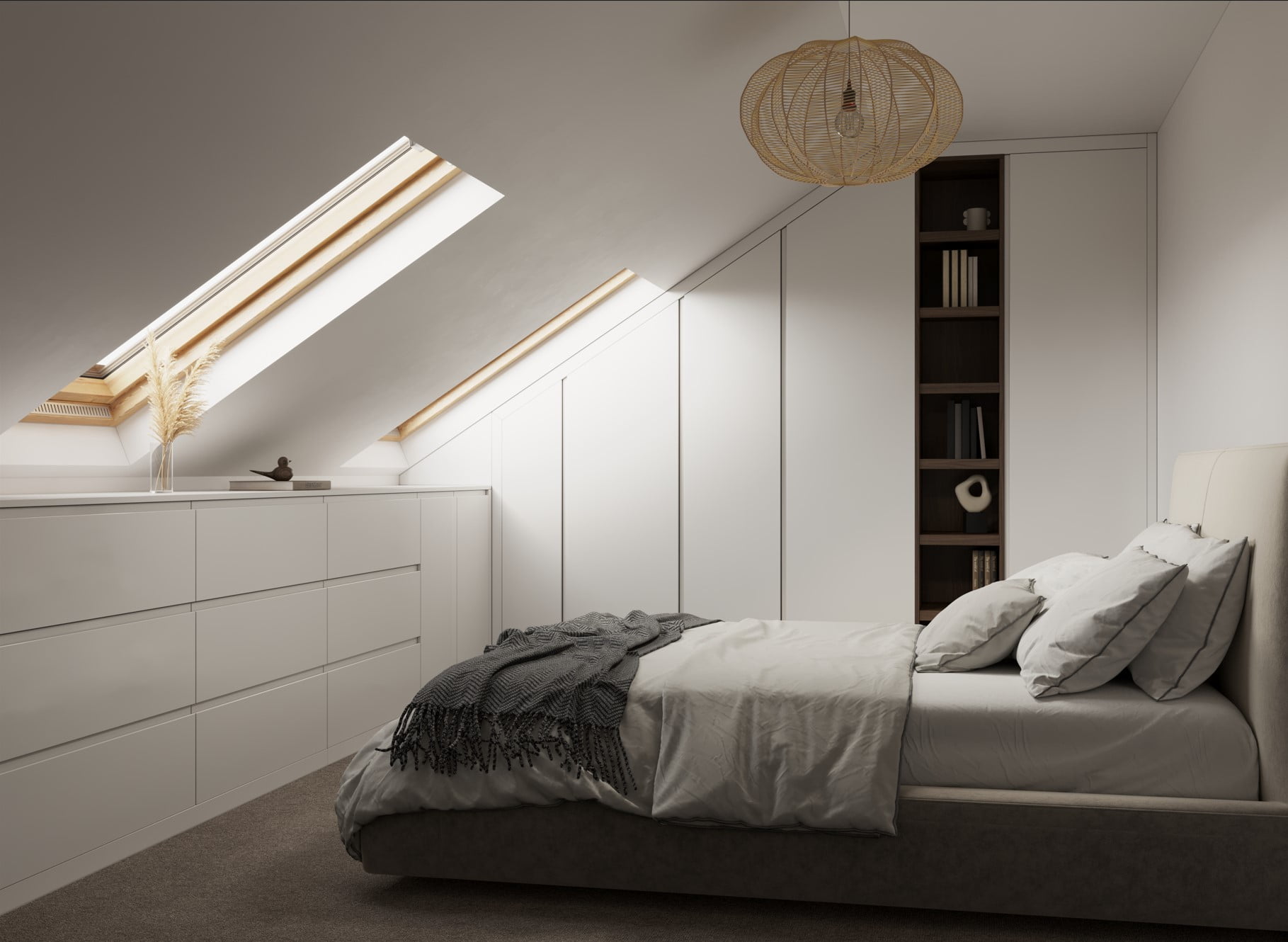 Modern loft wardrobes
Modern loft wardrobes are sleek, contemporary storage solutions designed to enhance the style and functionality of your loft space. These wardrobes feature clean lines, minimalist designs, and a modern aesthetic that seamlessly integrates with the overall look of your loft.
With a focus on simplicity and sophistication, they are available in a variety of finishes, colors, and materials, allowing you to customize the wardrobe to match your personal style and the design of your loft.
View project
Awkward spaces lofts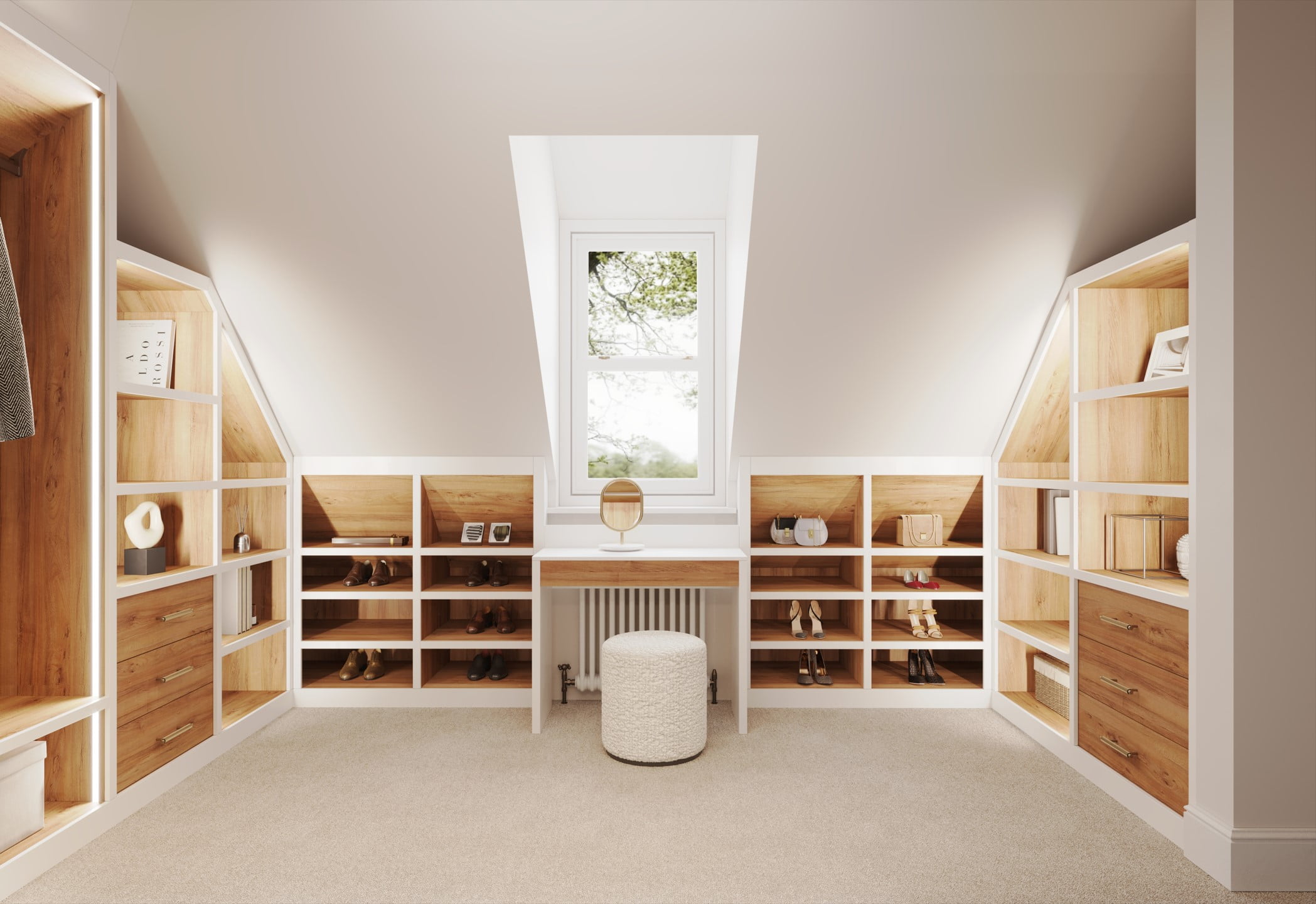 Walk in attic wardrobes
Walk-in attic wardrobes offer a range of benefits for those seeking stylish and spacious storage solutions in their attic spaces. These custom-designed wardrobes provide ample room to walk in and access your clothing, shoes, and accessories with ease. With strategically placed shelves, hanging rails, and drawers, walk in attic dressing rooms offer efficient organization and storage of your belongings.
By making use of the attic space, these wardrobes maximize storage capacity while keeping your items neatly arranged and easily accessible. Furthermore, walk in attic wardrobes can be customized to match your preferred style and design, creating a luxurious and functional storage area that complements the overall aesthetic of your attic room.
View Range
Sloped Ceiling Cupboard Loft Ideas
Fitted loft wardrobes in London, UK
Our customized attic room wardrobes are specifically designed to fit seamlessly into the unique architecture and dimensions of loft rooms in London. With expert craftsmanship and attention to detail, fitted loft wardrobes maximize storage capacity while maintaining a sleek and tailored look.
They are available in a range of styles, finishes, and configurations to suit different tastes and requirements. Whether you need built-in cabinets, shelves, or hanging rails, fitted loft wardrobes provide efficient organization for your clothing, accessories, and personal items.
Fitted Cupboards Questions
While we offer the best loft conversion wardrobes on the market, we also ensure that our prices provide exceptional value for money. We believe that quality and affordability can go hand in hand, and we strive to offer competitive prices without compromising on the excellence of our products.

Loft spaces often have sloped or angled ceilings, which can make fitting wardrobes more complex. The design and construction of the wardrobe need to account for these sloped ceilings to ensure a proper fit and maximize available storage space. As a result, wardrobes fitted in Loft conversions and attic bedrooms will be always around 10-20% more expensive compared to standard shape bedrooms.
It's really up to you but our fully bespoke loft wardrobes will help you to increase every inch of your space. From our experience customers mainly use attic rooms for dressing rooms, master bedrooms, guest bedrooms with pull down Murphy beds or combination of office/wall bed/storage.  
Bespoke configuration for loft wardrobes
We understand that each project is unique. That's why we are offering complete flexibility in configuring your made-to-measure loft wardrobes. All our storage solutions for loft conversions are built from scratch, meaning all your special requirements will be considered during the design process.
Who we are
Why Choose Urban Wardrobes
With so many customers on the market of fitted bedrooms & kitchens at the moment it's really hard to choose the right one. Check below what make us different.
Our specialists put up significant amount of effort behind every design they come up with. From the contemporary walk in wardrobe, bespoke sliding wardrobe, or custom-made kitchen, we leave no stone unturned to make you feel satisfied with the overall project.
We offer straightforward quotation process with none of the 'discount smoke and mirror strategy'. We never "beat other quotes" simply because 'others' don't offer same quality & service.

Our sprayed and veneered doors with integrated handles look amazing. We produce classic & modern fitted furniture. Visit our showroom to check our finishes and discuss your project in greater depth.