Fitted Hallway wardrobes and entrance storage
Built-in hallway wardrobes ideas
Project details
Location London, 100 miles outside London
Space Hallways, Entrances
Finish Spray painted MDF, Lacquered veneer, Laminated wood
Price From £3,000+VAT per project incl. installation
It is crucial to get the hallway right, it should not appear cluttered and messy as first impressions matter when you and your visitors walk through the door. However, more often than not, hallways are overlooked mainly because we spend less time in them than in other rooms.
Nonetheless, they should remain a priority. A hallway can be transformed into a practical and functional space with built-in storage. Making the entrance more welcoming, clean and tidy.
Built-in hallway wardrobes will provide ample storage. They are a valuable area to store outerwear and shoes. Additionally, adding shelves with baskets will help keep smaller items safely to hand, such as house and car keys. Each family member could have their basket, so they are more organised. It will make leaving the house in the morning less stressful as everything you need is easy to find.
Another hallway cupboard idea you could consider is incorporating a seated nook. Then you have the option to sit down when putting on your shoes. If accessibility is important to you when looking for hallway storage wardrobe ideas, one option is to have hallway storage without doors.
Regarding hallway storage, ideas for small spaces sliding doors will be better than hinged doors that fill up narrow hallways. If you have a wide hallway, you could have to pull out organisers to make the most of the depth.
When thinking of hallway wardrobe ideas, consider the furniture's colour. Certain colours will make your entryways look bigger. Ideally, choose white or light grey to make the space look wider. Pale colours are more reflective. If you want darker furniture, you could paint the hallway all the same colour. This is called colour drenching and gives the impression that the space does not end.
TAILOR-MADE HALLWAY CUPBOARD IDEAS
There are endless ways to customise your hallway closet in your way
SPRAY PAINTED FACADES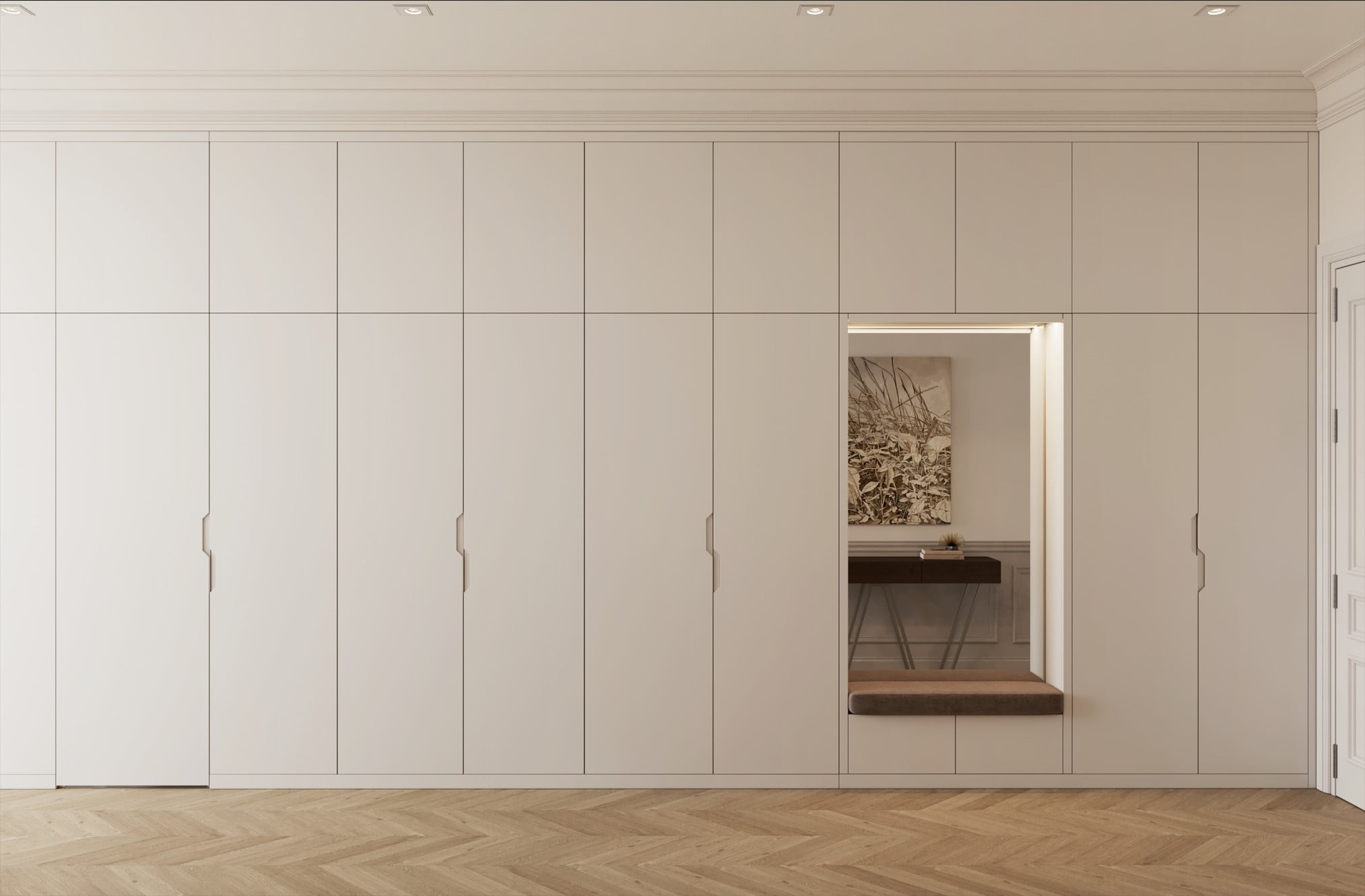 Modern Lacquered Hallway Wardrobes
Our contemporary lacquered hallway wardrobes with a modern design and high-quality lacquered finish. This built-in hallway wardrobe has plenty of room for storing your clothes, shoes and accessories.
The bathroom is a small room that can be accessed from the outside and act as your private sanctuary. The available space limits its use as a storage space, so how you organise your possessions here can significantly affect how easy it is to access them.
Check range
BUILT IN HALLWAY STORAGE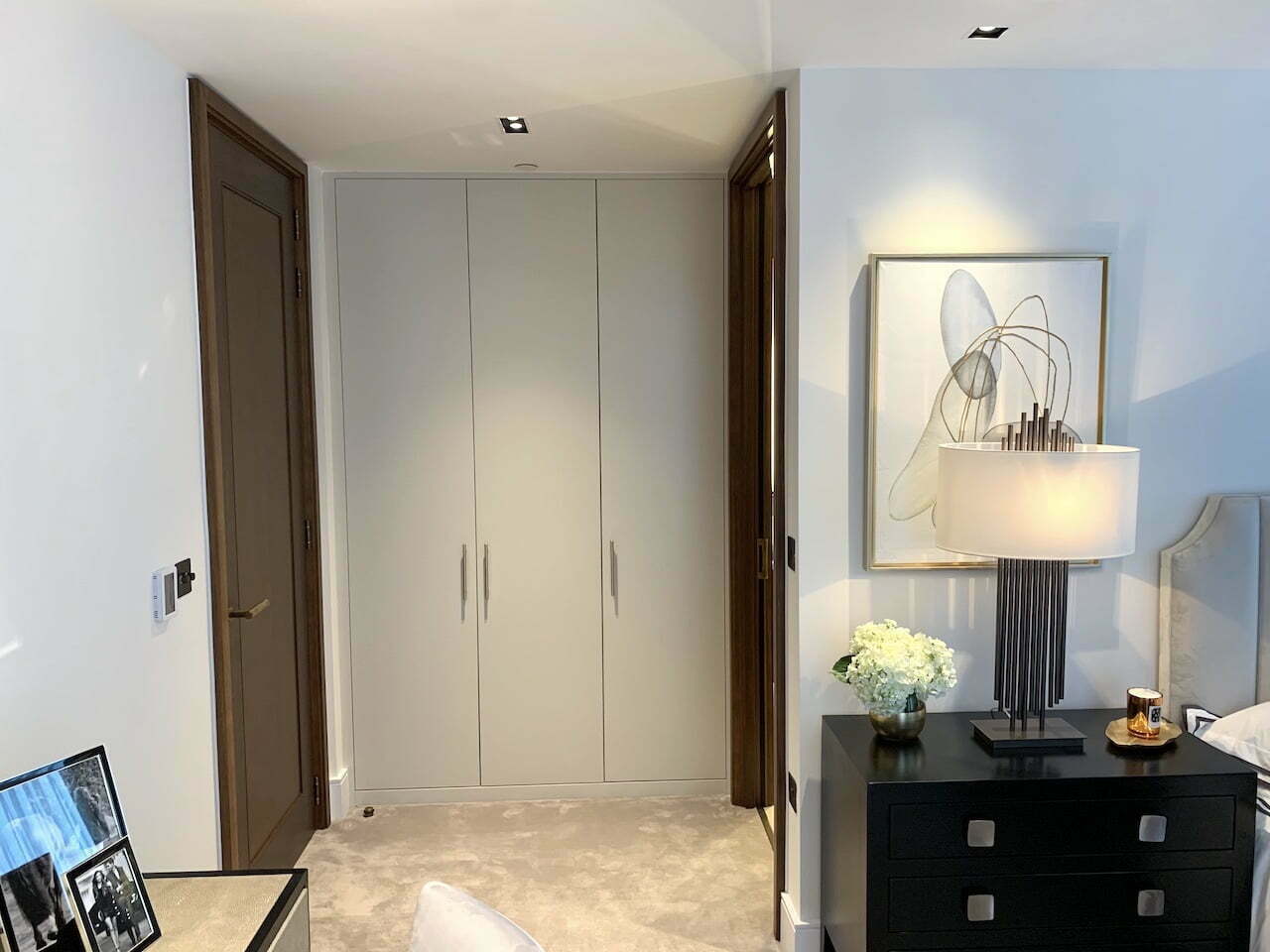 Floor-to-ceiling hallway cabinets
Our hallway cabinets' customisable design allows them to be fitted into your hallway with no ugly visible fixings. Its lightweight properties and minimal depth allowing it to be installed in tight places. This wardrobe is manufactured based on the measurement in your house or flat, meaning it will be a smooth and efficient installation process.
CUSTOM HALLWAY FURNITURE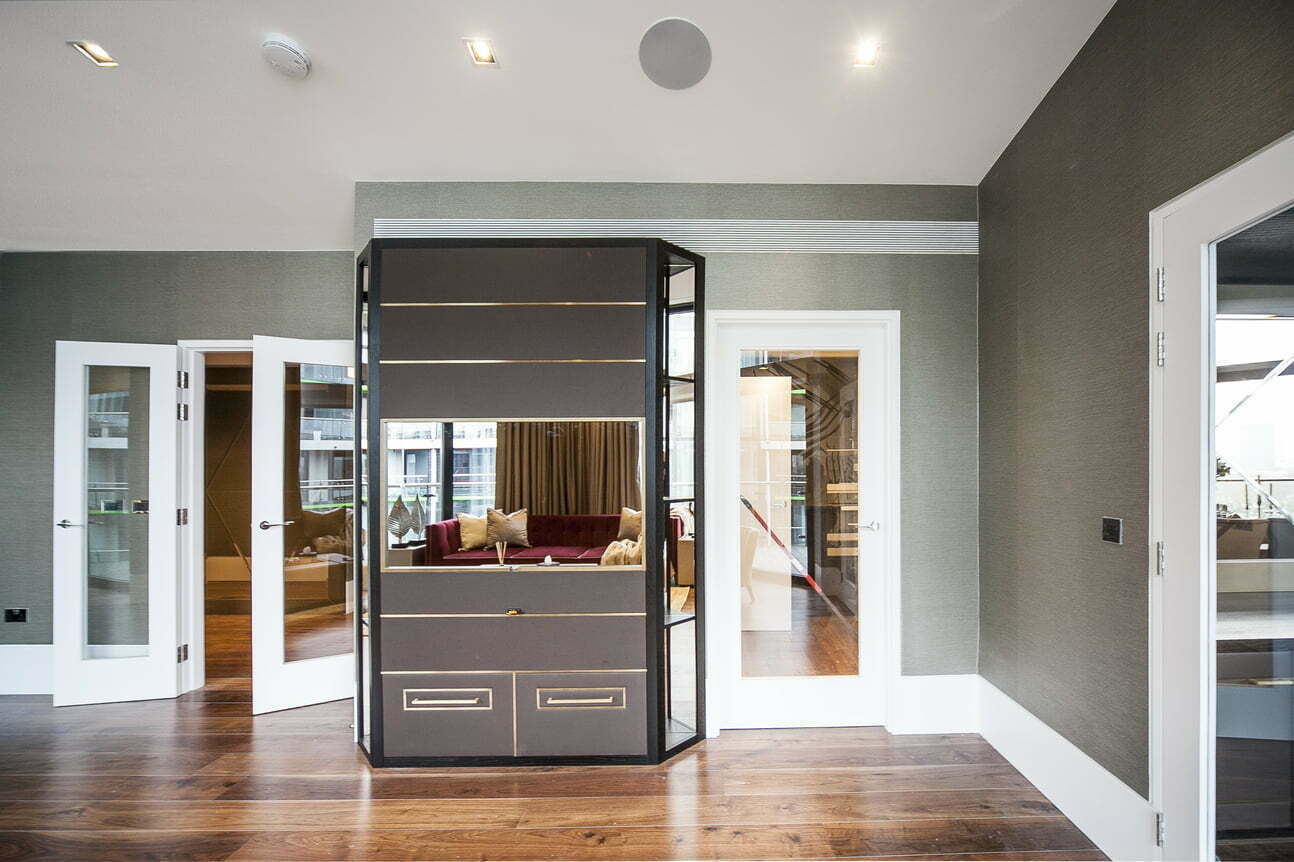 Luxury hallway storage solutions
Our made-to-measure hallway furniture is the perfect way to showcase your style. Our luxury ranges of Hallway Wardrobes offer various styles and sizes to suit any home, with both modern and traditional options available. Our vast range of colours and finishes makes it easy to find something that fits right in with your home décor.
We also offer several optional extras that can be added on, such as mirrored doors, drawers and additional shelves, making them even more versatile.
Storage solutions for your wardrobe
We understand that everyone has different storage needs, so we have created various storage options. Choose a pull-out trouser rack for your work trousers, a counterbalance hanging rail or a shoe rack for simply more shoe storage. Our internal systems offer flexible storage solutions to suit your needs.
Who we are
Why Choose Urban Wardrobes
With so many customers on the market for fitted bedrooms & kitchens at the moment it's tough to choose the right one. Check below what makes us different.
Our specialists put up a significant amount of effort behind every design they come up with. From the contemporary walk-in wardrobe, bespoke sliding wardrobe, or custom kitchen, we leave no stone unturned to satisfy you with the overall project.
We offer a straightforward quotation process with none of the 'discount smoke and mirror strategy'. We never "beat other quotes" simply because 'others' don't offer the same quality & service.

Our sprayed and veneered doors with integrated handles look amazing. We produce classic & modern fitted furniture. Visit our showroom to check our finishes and discuss your project in greater depth.