Fitted Handleless Door Wardrobes
Tailor made doors with routered handles, handleless door fitted cabinets
Project details
Location London, Sussex, Essex, Oxford, Coventry, Worcester, Kent
Space Dressing rooms, Bedrooms, Hallway, Loft conversions, Attic Rooms, Home office etc.
Finish Sprayed, veneered, laminated
Price From £3,000+VAT per unit incl. installation
The Seamless Integration of Handleless Wardrobes in Contemporary Interiors
The heart of London, known for its dynamic blend of history and innovation, has been witnessing an interior design evolution. Amidst the iconic brick row houses and modern apartments, a design trend is making a noteworthy impact – the handleless wardrobe.
Working with interior designers in London for the last 15 years we noticed a trend – most of the customers would like their closets effortlessly blend with the room. That's why our lacquered MDF or real oak veneer cupboards became such a popular choice for many designers. The beauty of handleless cupboards lies in their seamless integration.
Routered, recessed, or with a grip profile, the designs of handleless closets offer diverse choices for London's discerning homeowners. Whether it's a chic flat in Soho or a renovated townhouse in Chelsea, these wardrobes can be tailored to fit any space perfectly.
In terms of customizability, cabinets with flush handles can be customized in terms of depth, length, and position. Those recessed parts can be painted in different colours, or even be manufactured from different materials, like our Scandi range with integrated real stained oak handles.
Safety is another important benefit of handless cupboards because, without any protruding elements, there's a reduced risk of accidentally bumping into or getting snagged on handles. This feature can be especially beneficial in households with children or in tighter spaces.
Sleek. Seamless. Sophisticated.
Handleless Wardrobe Doors
The absence of protruding handles in your bedroom gives the wardrobe a clean and unbroken facade, making the room feel less cluttered and more spacious.
Routered door designs are meticulously crafted with channels carved into the door, allowing easy grip and pull action. This design ensures a sleek appearance and provides an ergonomic experience for the user.
The recessed handle design of the door is an ideal solution for those who prefer contemporary bedroom interiors.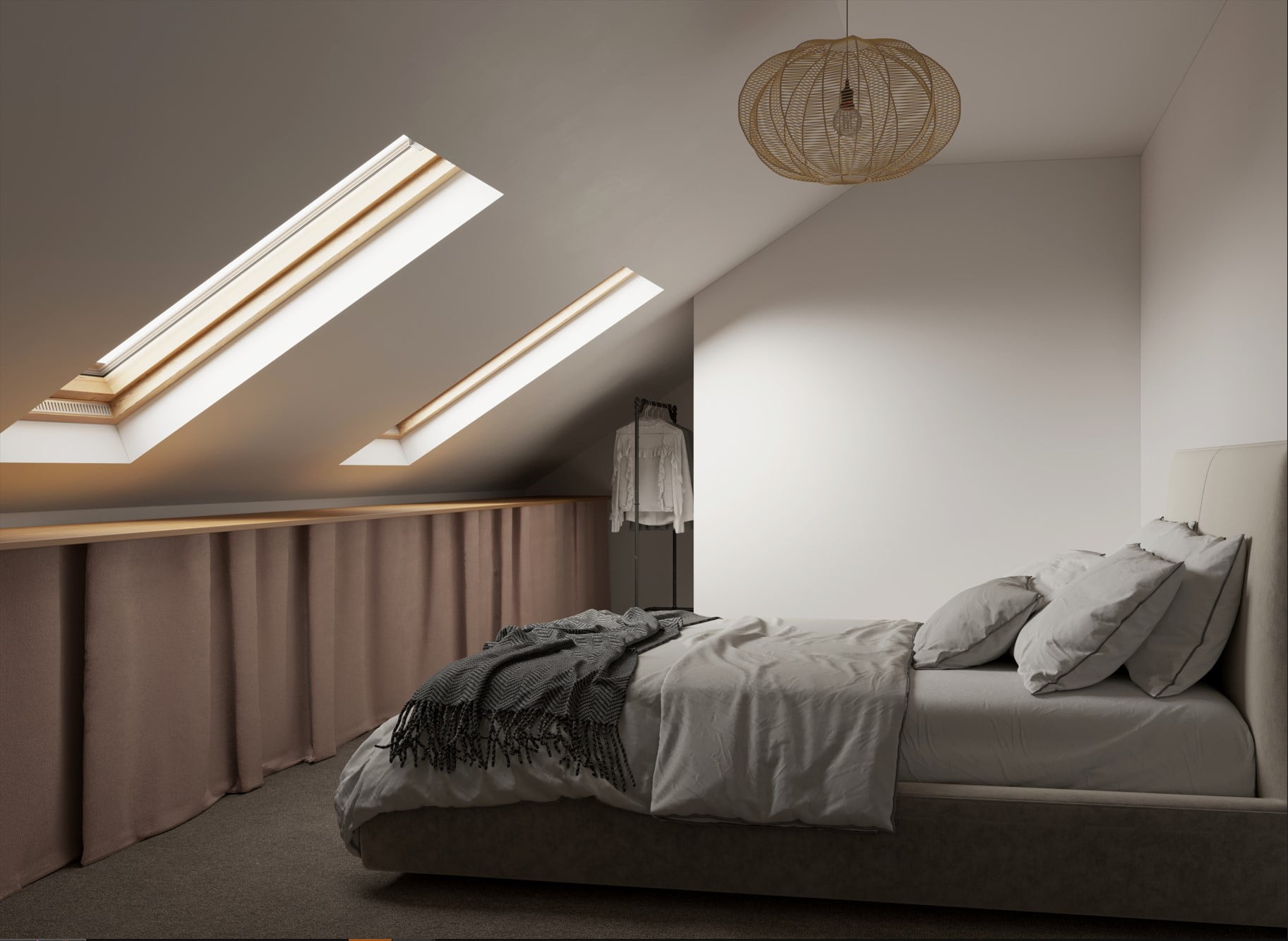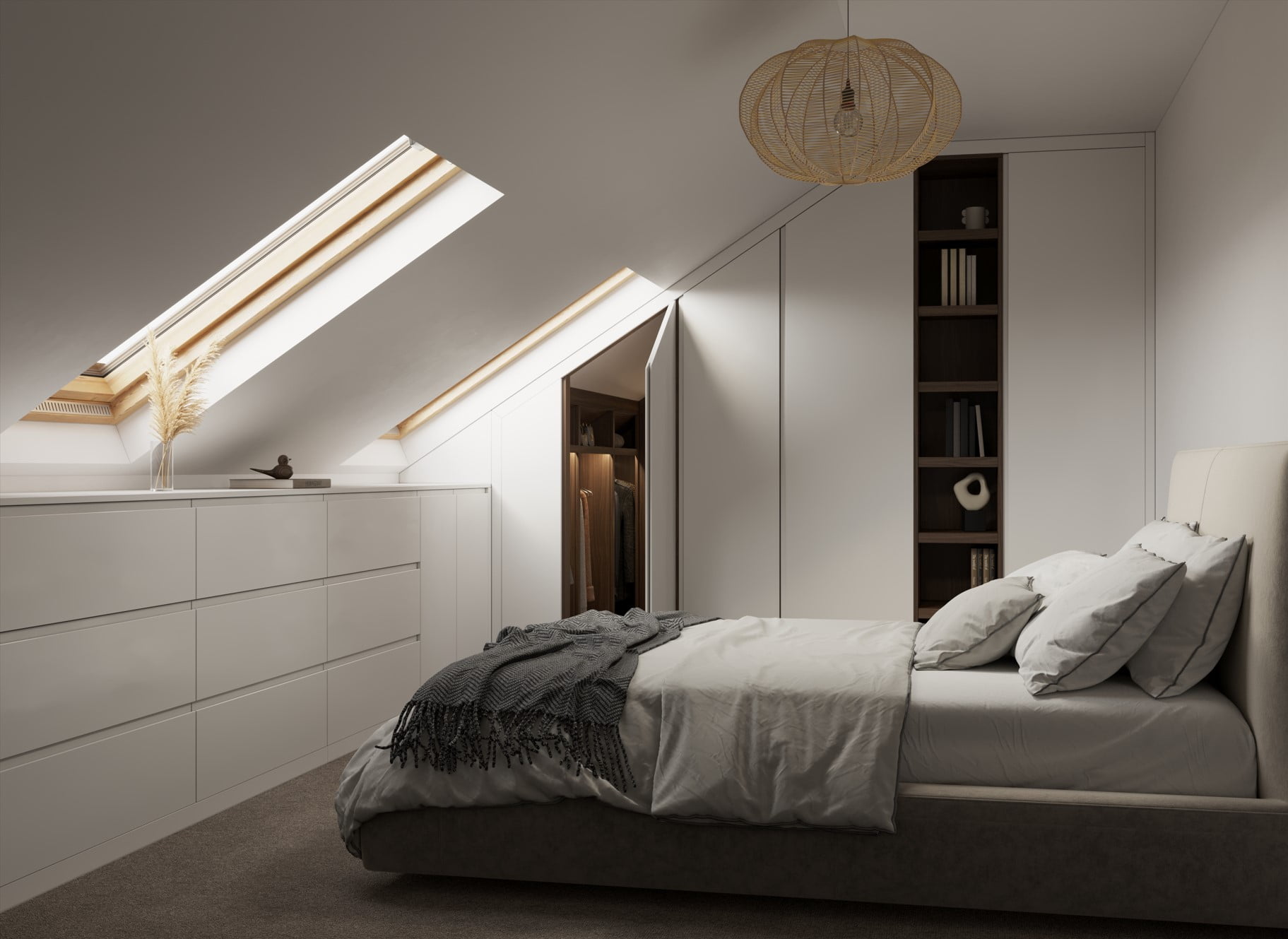 Handleless doors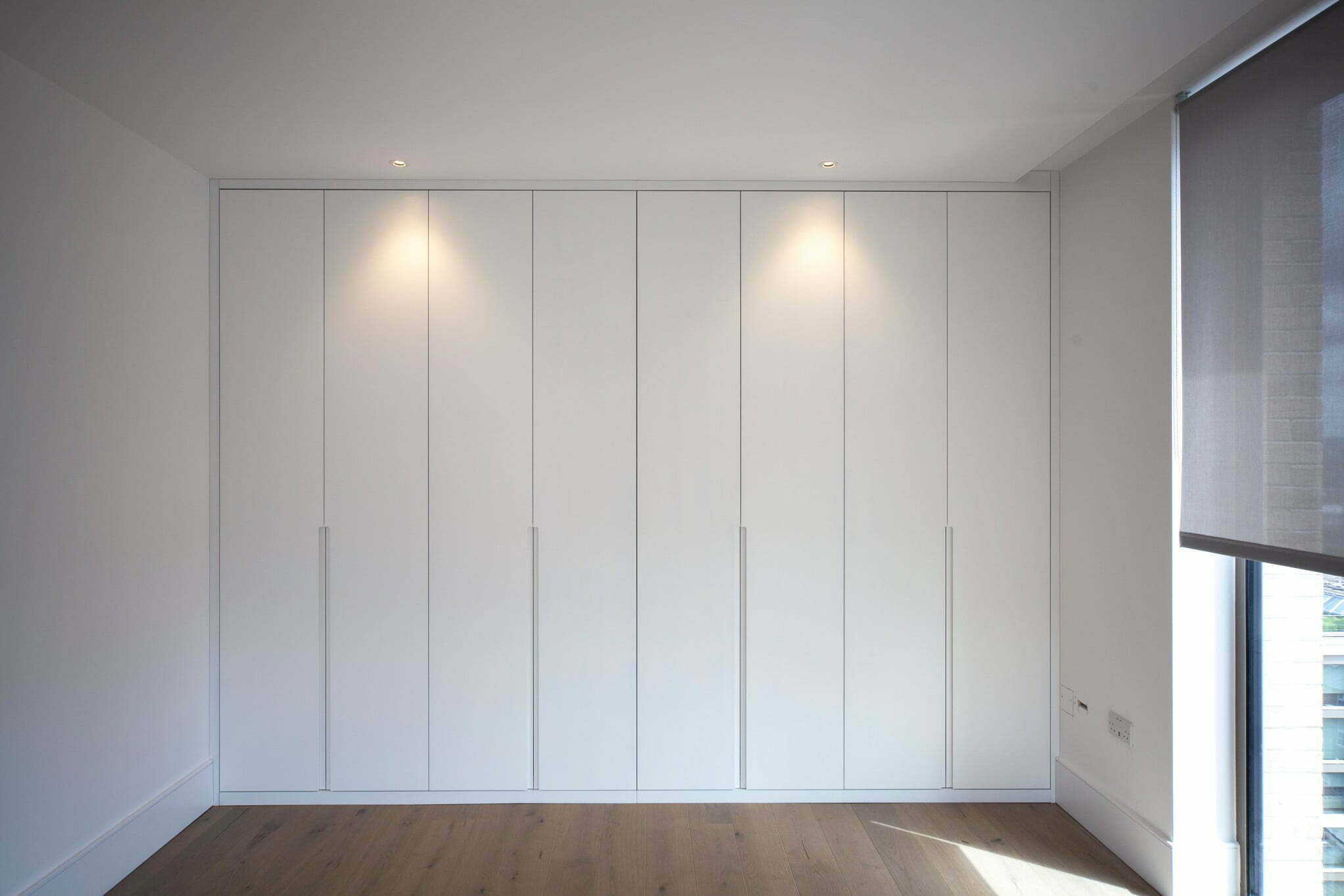 Handleless door fitted cupboards
Made-to-measure handleless wardrobes with routered door handles offer a cleaner, more streamlined look. Handleless designs aren't just aesthetically pleasing but also functional.
The handleless trend became quite popular in recent years as more and more customers would like to achieve a more contemporary look for their fitted bedroom furniture.
Recessed handles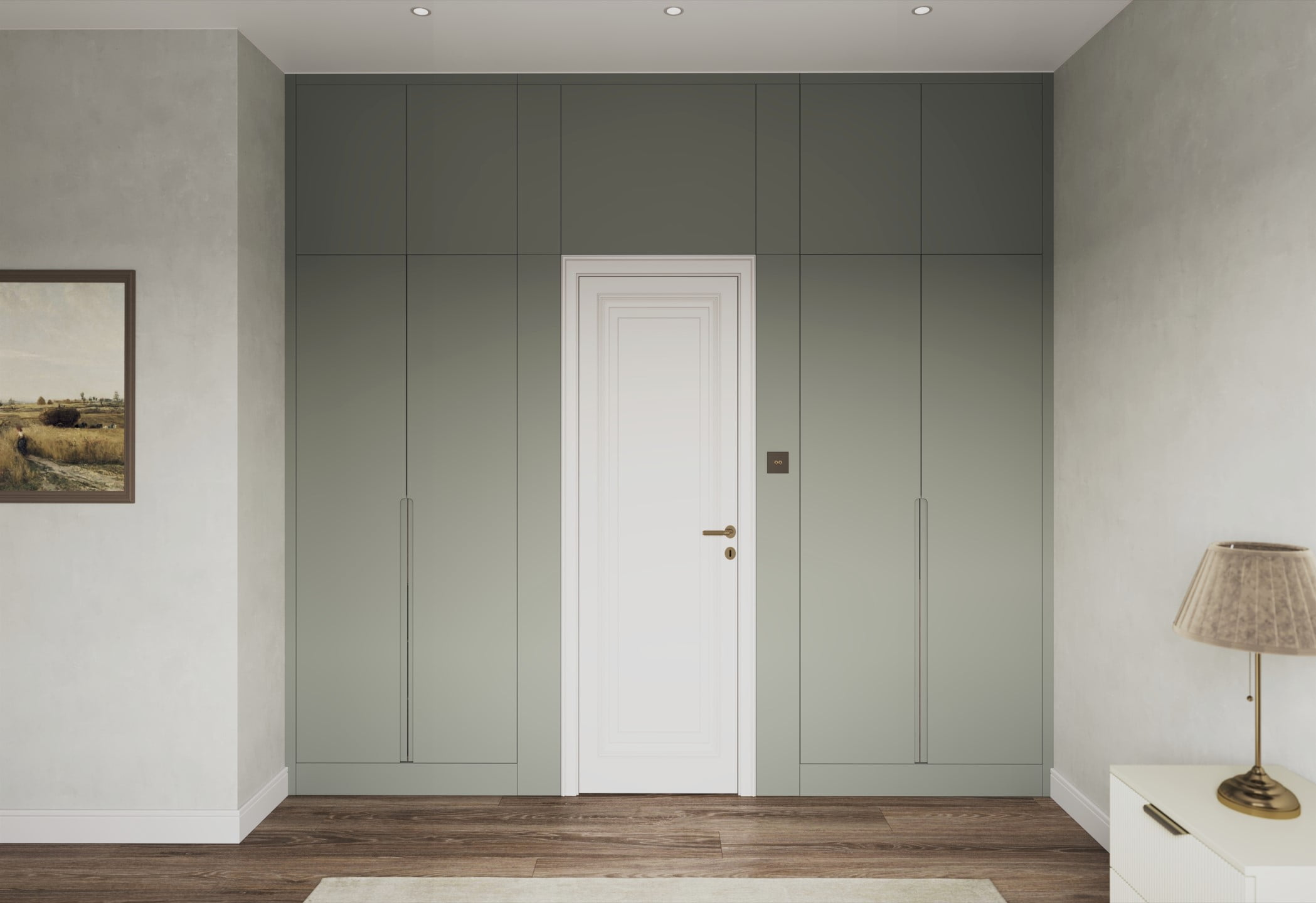 Recessed Handle Fitted Wardrobes
The recessed door handles trend pushed many bespoke joinery companies to introduce new wardrobe ranges with routered handles. And Urban is not an exemption.
In our portfolio, you can find such ranges as Carina, Tempo, Blaze and Scandi but they are just the most popular solutions to have grooved handles for your cupboard doors.
Routered door design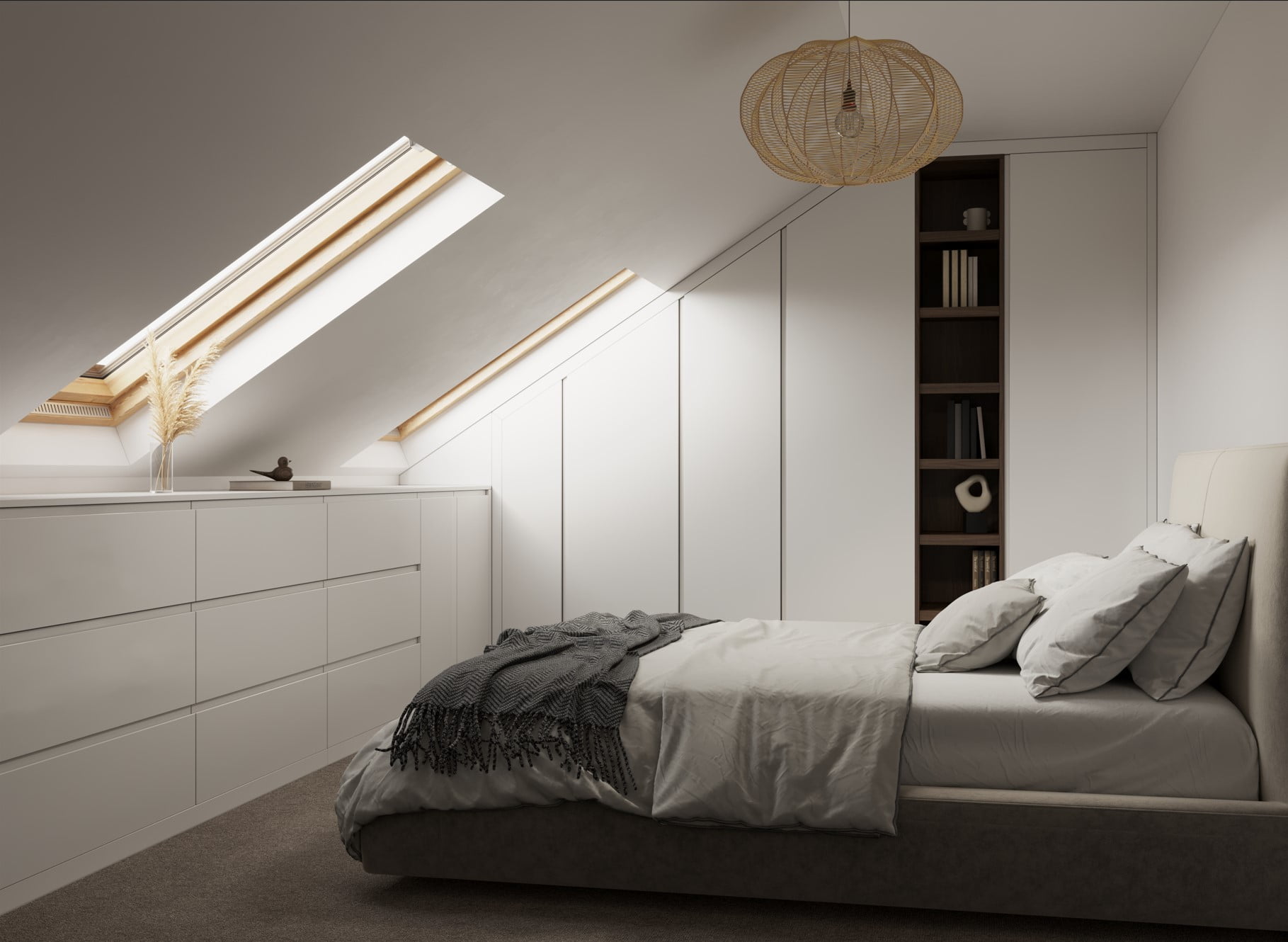 Routered handles designs for rooms with sloping ceilings
During the last 10 years or so we found out that routered handles complement the aesthetic of rooms with angular designs, bedrooms with sloped ceilings, loft conversions, attic rooms and awkward spaces.
The main benefit of these handles in rooms with challenging architecture is the ability to use the different shape handles and achieve the required proportion.
Benefits of doors with Grip ledge or Grip profile
The main benefit of the grip ledge/profile door design is its durability because the external handle can come loose or fall off over time. In terms of maintenance, it's easier to clean the doors with integrated handles.
Wardrobe doors with integrated grip will definitely increase the value of your property, appealing to buyers looking for contemporary and stylish interiors. It's also a great solution for rooms with limited space, as grip profile handles don't take up additional space.
If you are looking for the best way to customise your modern cupboard, and looking to achieve a flush exterior for your storage, you are in the right place. Please contact us to get a free estimate.
Storage solutions for your handleless cabinet
We understand that each project is unique. That's why we offer flexibility in configuring your fully bespoke handless wardrobe. All our storage solutions for fitted handleless cupboards are built from scratch, meaning all your special requirements will be considered during the design process.
Who we are
Why Choose Urban Wardrobes
With so many customers on the market of fitted bedrooms & kitchens at the moment it's really hard to choose the right one. Check below what make us different.
Our specialists put up significant amount of effort behind every design they come up with. From the contemporary walk in wardrobe, bespoke sliding wardrobe, or custom-made kitchen, we leave no stone unturned to make you feel satisfied with the overall project.
We offer straightforward quotation process with none of the 'discount smoke and mirror strategy'. We never "beat other quotes" simply because 'others' don't offer same quality & service.

Our sprayed and veneered doors with integrated handles look amazing. We produce classic & modern fitted furniture. Visit our showroom to check our finishes and discuss your project in greater depth.