Fitted Under Eaves Wardrobes Storage
Bespoke Cupboards fitted in under eaves storage space
Project details
Location South East England
Space Loft rooms with sloped ceilings, under eaves storage spaces
Finish Lacquered MDF, Laminated wood
Price From £1,300 excl. VAT per linear meter (width)
What is eaves storage?
The eaves in a loft are the space where the ceiling slopes in. Given its apparent limitations, getting the most out of this space can be challenging. But try not to see it as dead space; instead, read on for creative ways to make the most out of your eaves storage. Needless to say, by getting fitted furniture for under Velux windows, you can efficiently double your storage space.
Under eaves wardrobe. An eaves wardrobe can work either with a diagonal hanging rail, or you can choose to have cupboards and shelves inside your fitted wardrobe as the ceiling begins to slant. A third option to consider is an eaves pull-out wardrobe. Drawer runners will enable you to pull your wardrobe contents into the room. With this choice, you need to consider your available floor space. So, make sure you contemplate that when choosing your eaves wardrobe solutions.
Eaves storage cupboard. Eaves storage cupboards are an ideal way to utilize this awkward space. Having an attic cupboard will give you more options for storing your belongings. Floor space can be limited in a loft room, so making the most of the eaves cupboard will stop belongings from being stacked up on the floor. The good thing about eaves cupboards is that they are multifunctional. So, they will work in either case if you decide to use your loft conversion for a home office or bedroom. In both cases, you can personalise fitted cupboards for under eaves of Velux windows as you like by adding extra drawers, open shelving, hanging rails, and more.
Eaves Shelves. You could choose to have built-in shelves in the eaves. Adding under eaves storage boxes can help ensure your belongings are readily displayed and located.
Eaves Desk. You are not just limited to having under-eaves storage units. You could choose a desk or a dressing table in that space. When seated, the height of the slanted ceiling is not an issue. So those are other efficient and functional ways to utilize the area in the eaves.
Built-in cornice shelves and nightstands allow you to customize the living area to suit your needs. Adding various drawers and storage systems looks attractive in any interior and only takes up a little usable space. At the same time, all the necessary things will always be at hand, so you can easily find them if necessary. Take advantage of comfortable and exciting solutions. For example, you can build a work desk or dressing table for personal care. Create an individual functional space under the eaves, which you can use for your purposes.
FEATURED PROJECT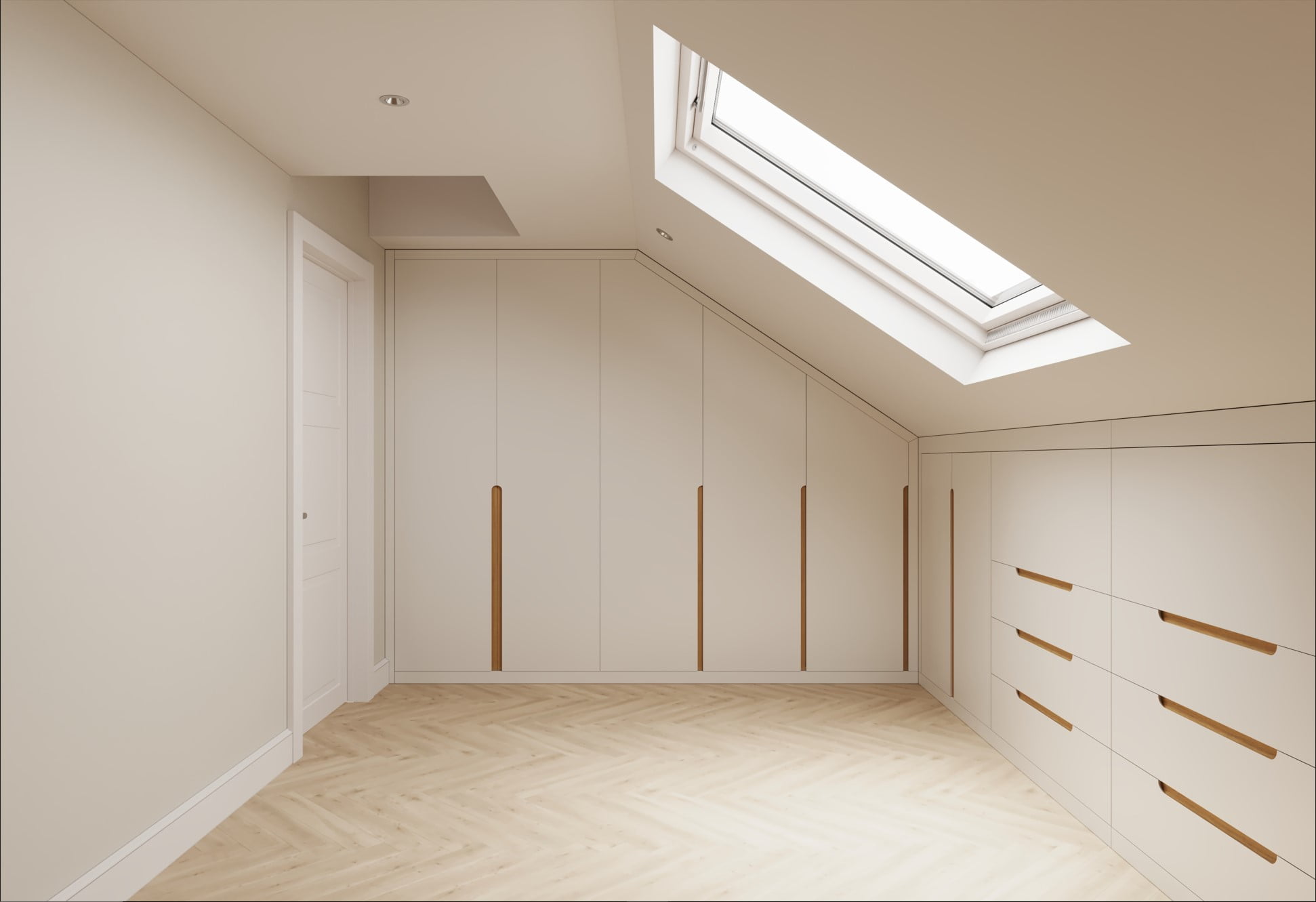 Contemporary fitted wardrobes in eaves
Fitted wardrobes in the eaves are an exciting opportunity to organize free space right in your home, using a minimum set of features. With the help of unique built-in structures, you can use that awkward space at home, considering all the restrictions and features.
At the same time, it is essential to correctly plan the location of all elements to maximize the use of the living area, using only valuable details.
FEATURED PROJECT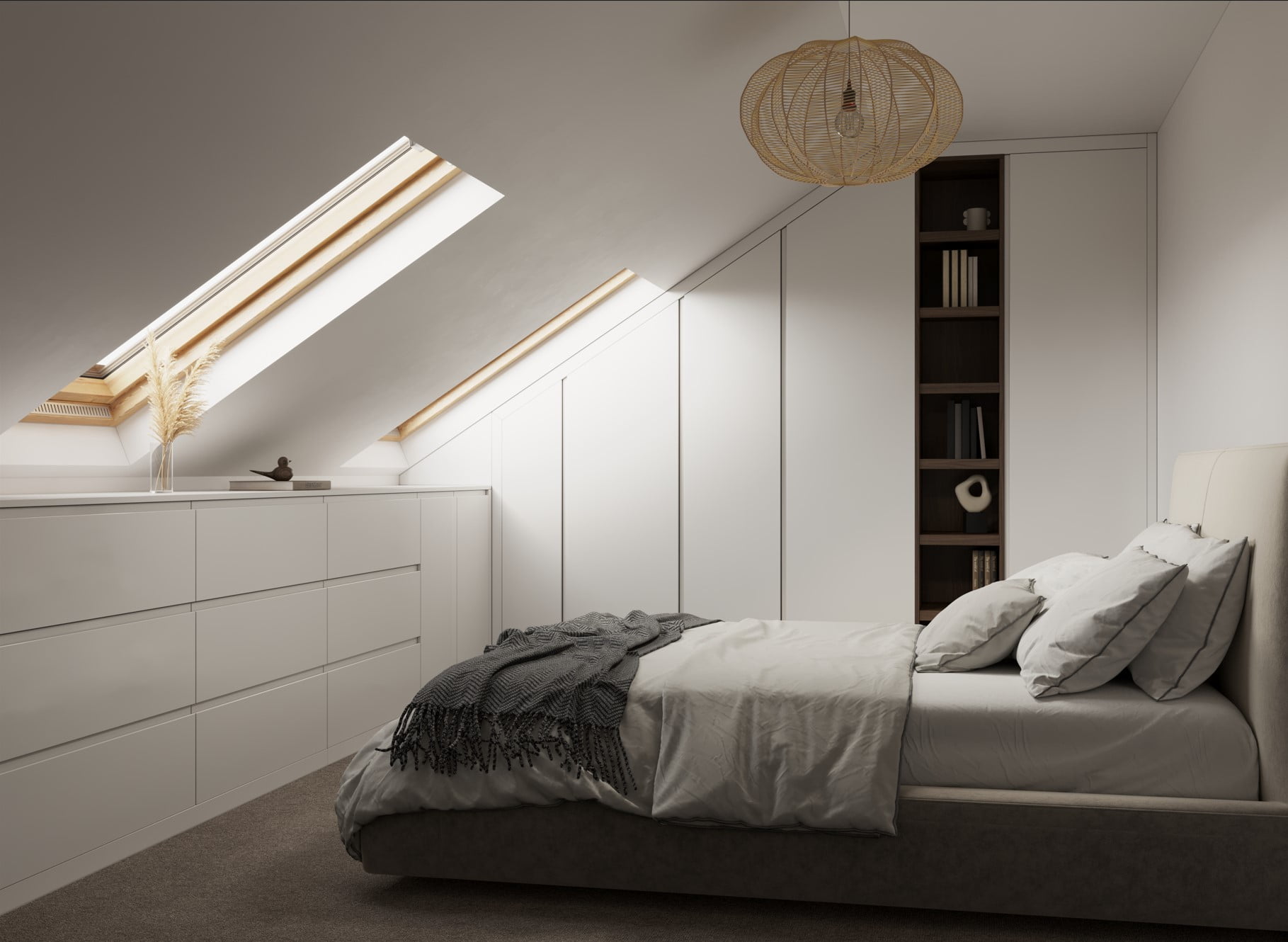 Handleless built in eaves wardrobes
Cupboards built into eaves have exciting functionality. You can place the structure directly below the bar or choose other structure placement options to tailor the space. You can also use retractable designs to minimize unusable space and use it with maximum benefit in everyday life.
You should also consider free space availability to distribute the living zone to ensure ultimate convenience optimally. It is essential to evaluate design solutions when organizing living space and optimizing the storage system.
FEATURED PROJECT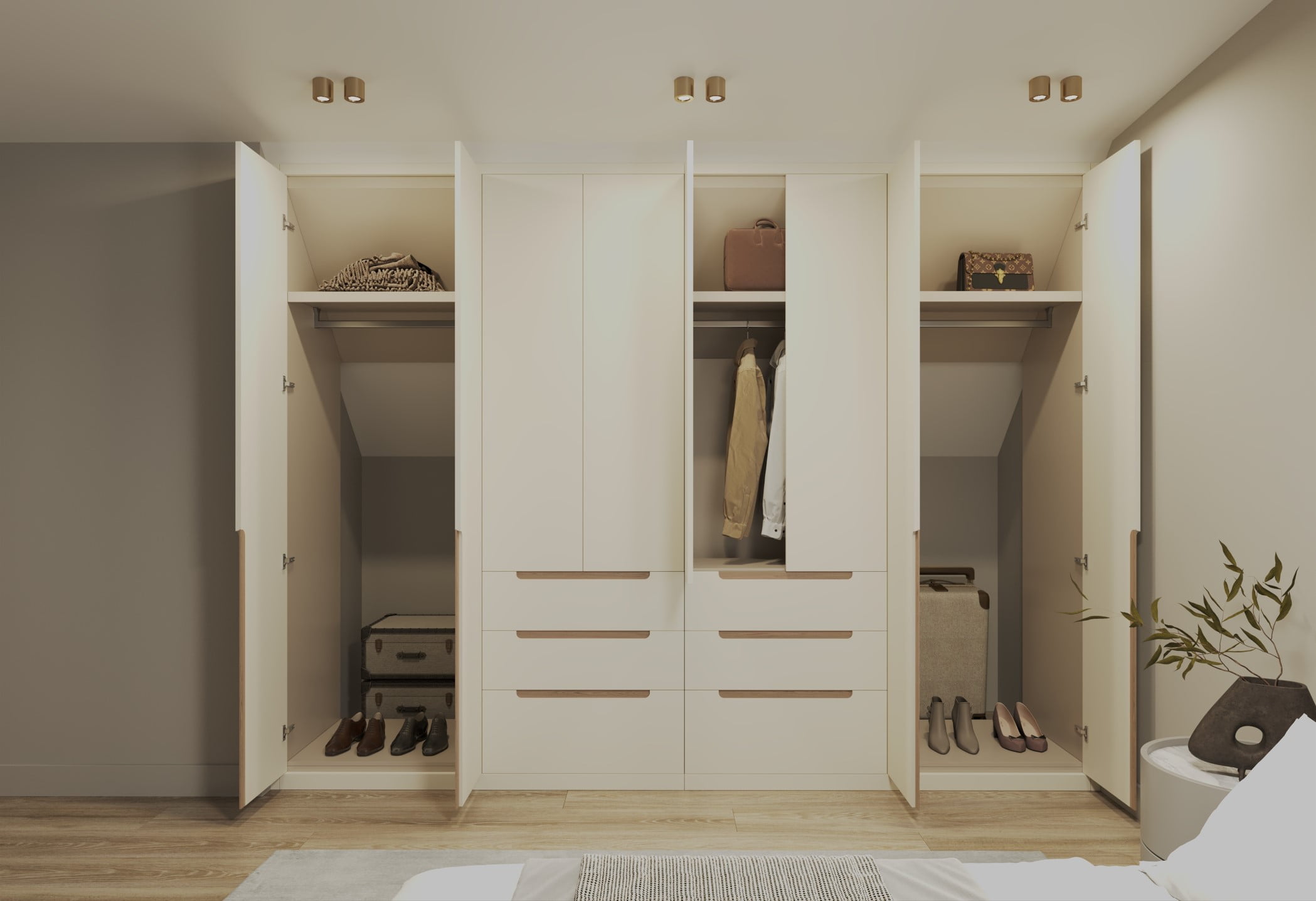 Scandinavian fitted wardrobes under eaves .
Built-in eaves storage is an excellent opportunity to take advantage of the empty area and reduce the likelihood of storing all things on the floor or in open spaces.
Such cabinets are multifunctional. You can choose the best filling option for yourself, depending on what you plan to use it for. In any case, you can use the attic or attic to suit your needs. For example, you can create a comfortable relaxation area or a personal office for working from home.
Storage solutions for your wardrobe
We understand that each project is unique that's why we are offering full flexibility of configuring your made to measure office cupboard. All our storage solutions for offices are built from scratch which means all your special requirements will be taken into consideration during the design process.
Who we are
Why Choose Urban Wardrobes
With so many customers on the market of fitted bedrooms & kitchens at the moment it's really hard to choose the right one. Check below what make us different.
Our specialists put up significant amount of effort behind every design they come up with. From the contemporary walk in wardrobe, bespoke sliding wardrobe, or custom-made kitchen, we leave no stone unturned to make you feel satisfied with the overall project.
We offer straightforward quotation process with none of the 'discount smoke and mirror strategy'. We never "beat other quotes" simply because 'others' don't offer same quality & service.

Our sprayed and veneered doors with integrated handles look amazing. We produce classic & modern fitted furniture. Visit our showroom to check our finishes and discuss your project in greater depth.