Built-in media and TV units
We can use lacquered, veneered, hand-painted or laminated finish for your fitted bookcase or TV wall
Project details
Location South East England, Essex, London
Space Any room
Finish Sprayed or veneered exterior
Price From £2,500+VAT per project
Benefits of Fitted TV Units: Why Customization is Key
When it comes to designing your living room and the furniture inside it, one of the biggest challenges is finding built in furniture that fits your specific needs and interior of your living room. This is especially true when it comes to bespoke TV units, as you want a unit for the TV that is functional, stylish, and fits seamlessly into your space. That's where fitted TV units come in – they offer a range of benefits that make them a great option for any home.
Customization Options
One of the biggest advantages of fitted TV units is the range of customization options available. Whether you're looking for a specific size or style, a bespoke TV wall unit can be designed to fit your exact needs. This means you can choose from a range of materials (sprayed MDF, lacquered Veneer or laminated wood), colors (we work with Farrow and Ball, Little Green, Dulux etc), and finishes (matt, satin, gloss) to match your existing decor and create a unit that truly fits your space.
Maximizing Space
Fitted TV units are designed to maximize your space, making them ideal for smaller or awkwardly shaped rooms. Unlike standalone units, fitted units can be designed to fit snugly into any space, from alcoves to corners. This means you can make the most of your available space while also ensuring that your TV unit is a stylish and functional addition to your room.
In conclusion, fitted TV units offer a range of benefits that make them a great option for any home. From customization options to maximizing space and adding a stylish touch, a bespoke TV wall unit can transform your living space into a functional and personalized oasis. So why settle for a generic TV unit when you can have a fitted unit that is perfectly tailored to your needs and style preferences? Choose a fitted TV unit for a truly unique and functional addition to your living space.
FEATURED PROJECT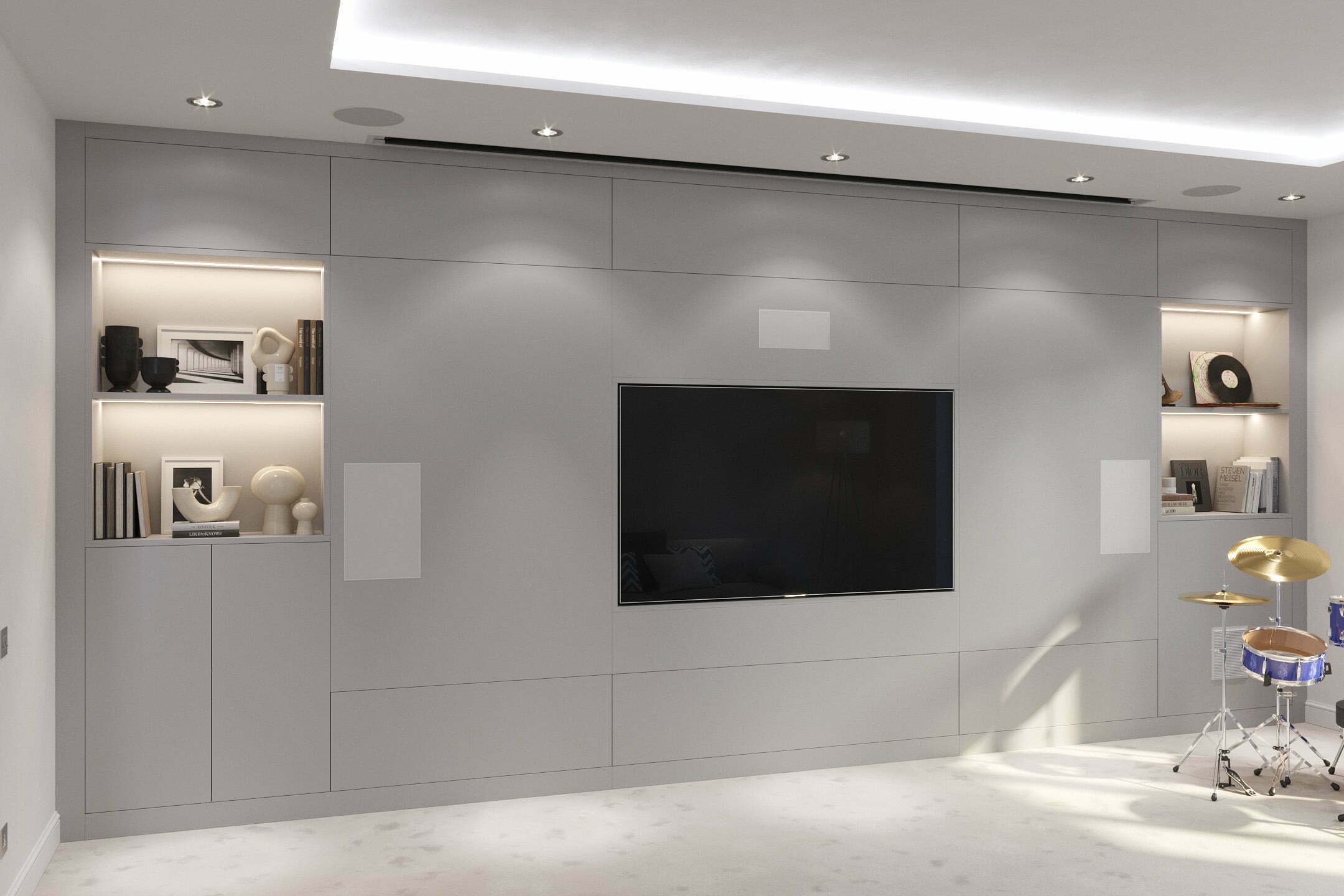 Contemporary TV wall units
Fitted TV units are also an excellent way to add a stylish and modern touch to your living space. By choosing a bespoke TV wall unit, you can create a unit that perfectly matches your style preferences, whether you prefer a minimalist or more traditional look. Additionally, fitted units can include additional features like built-in shelving or storage, giving you a truly personalized and functional TV unit.
FEATURED PROJECT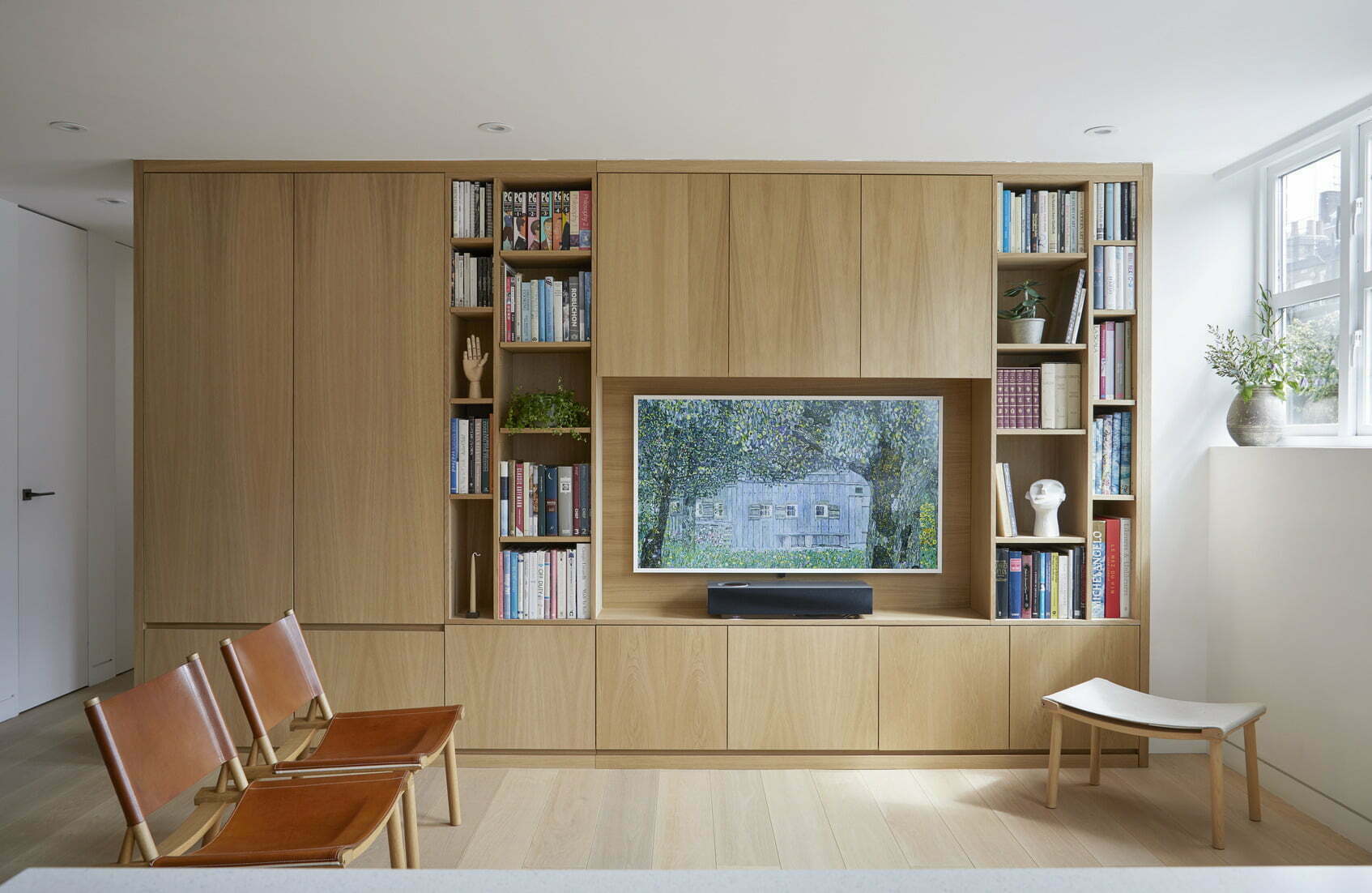 High End wooden fitted TV cupboards
Fitted TV units require professional installation to ensure that they fit seamlessly into your space and function properly. This means you can trust that your TV unit will be installed safely and securely, without any gaps or wobbles that can be common with standalone units.
FEATURED PROJECT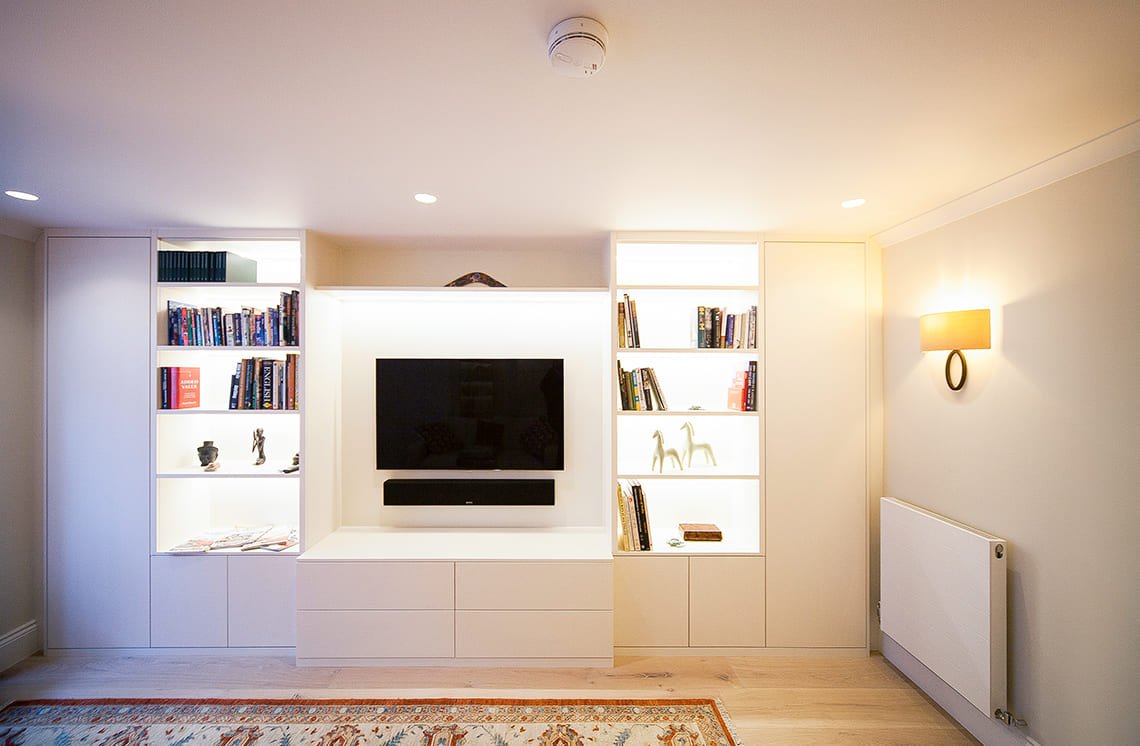 Modern lacquered built in tv cabinets
Finally, fitted TV units are designed to be durable and long-lasting. With high-quality materials Urban Wardrobes is offering and professional installation by our team, you can be confident that your TV unit will withstand daily use and last for years to come. This means you can enjoy a functional and stylish addition to your living space without worrying about frequent replacements or repairs.
Storage solutions for your wardrobe
We understand that each project is unique that's why we are offering full flexibility of configuring your made to measure office cupboard. All our storage solutions for offices are built from scratch which means all your special requirements will be taken into consideration during the design process.
Who we are
Why Choose Urban Wardrobes
With so many customers on the market of fitted bedrooms & kitchens at the moment it's really hard to choose the right one. Check below what make us different.
Our specialists put up significant amount of effort behind every design they come up with. From the contemporary walk in wardrobe, bespoke sliding wardrobe, or custom-made kitchen, we leave no stone unturned to make you feel satisfied with the overall project.
We offer straightforward quotation process with none of the 'discount smoke and mirror strategy'. We never "beat other quotes" simply because 'others' don't offer same quality & service.

Our sprayed and veneered doors with integrated handles look amazing. We produce classic & modern fitted furniture. Visit our showroom to check our finishes and discuss your project in greater depth.