Under Stairs Storage Solutions
Fitted under-the-stairs storage cupboards & bespoke understairs wardrobes
Project details
Location South East England, Essex, London
Space Understairs
Finish Lamainted, sprayed, veneered
Price From £3,000+VAT per project incl. installation
Installing under stairs storage makes the most of your available space. It can banish hallway clutter and help your house become more organised. Traditionally under the stairs was always an awkward, often under-utilised space. However, we can remedy that with our tailor-made storage solutions because the area is often at a premium. So naturally, you will want to make the most of every inch of your home.
For families with busy lifestyles, stairs storage makes everything easy to find. The shoes, bags and accessories are all neatly arranged. It can be a real time saver in a rush to get to work and school in the morning. The hallway is the first thing visitors see. It's the gateway to our home, so it needs to make a good impression. You want visitors to feel welcomed, not overwhelmed with the chaos. Utilising the dead space under your stairs will transform your home. It will also improve the flow as everyone can walk comfortably rather than navigate around the household clutter. Many hallways are dumping grounds, your children throw down their bags and cast off their shoes, and it soon becomes a mess.
Our designs for fitted understairs wardrobes blend in perfectly with your home. We can ensure they work with your current décor. The choice of colour will match seamlessly, our design can be as classic or as contemporary as you like. We work with your vision to make it a reality. This is a practical installation with drawers, cupboards and even hanging space to store your coats. Working with your requirements, we will find a storage solution that works for you. Without built-in under-stairs storage, the space under your stairs can soon get out of control. Rather than just housing hallway essentials, it becomes a state of disarray.
FEATURED PROJECT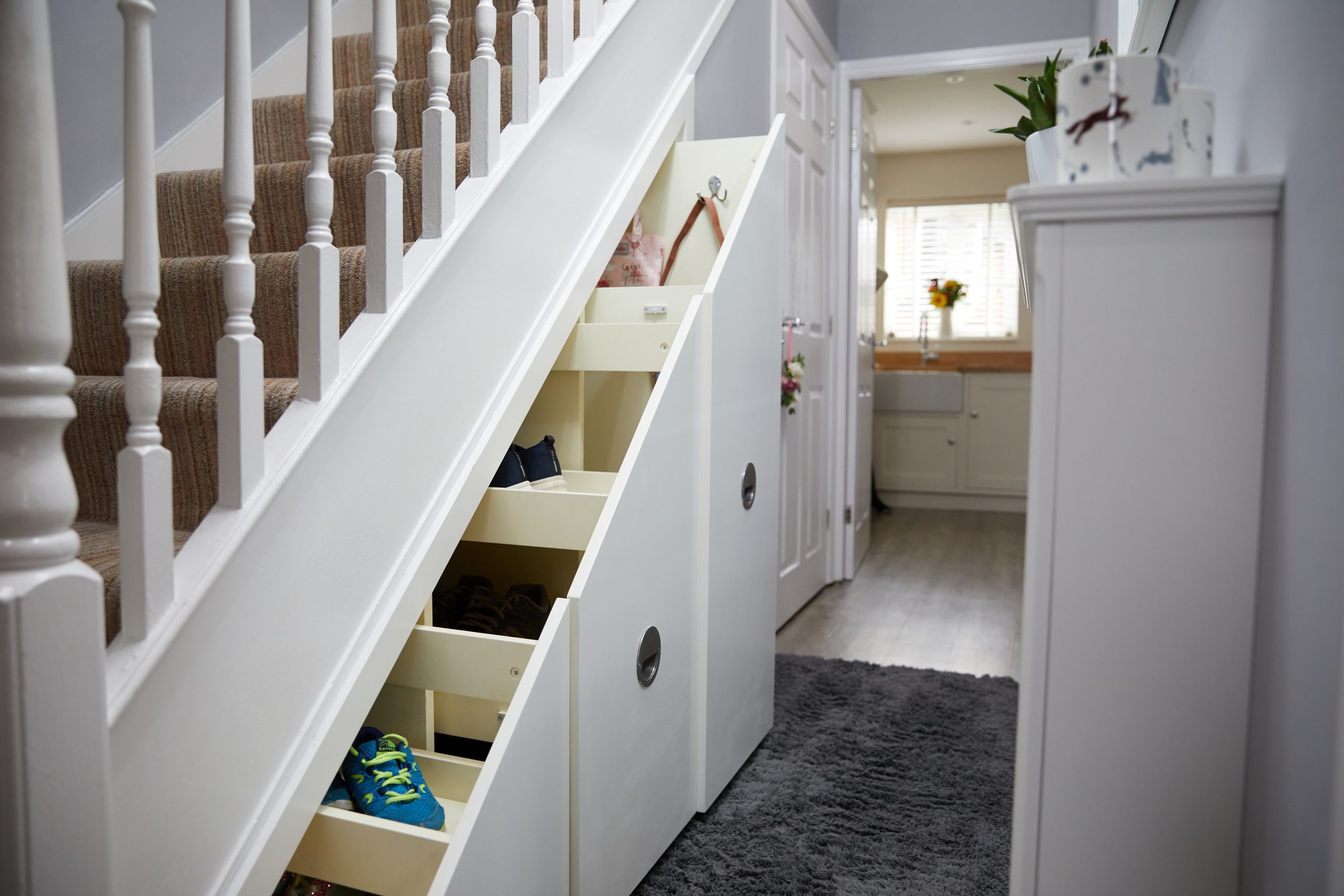 Bespoke under stair storage
Built-in under-stair storage is an efficient, modern solution that is versatile and easy to use. Fitted wardrobes under stairs can make the most of awkward free space, eliminate the clutter of boxes and unnecessary items, and make your home more organized, functional, and inviting in everyday life.
As a rule, a painful area under the stairs causes many trouble and problems for the owners. Of course, you can use professional services in such a residential area comfortably; everyone can get high-quality service with minimal effort and cost.
FEATURED PROJECT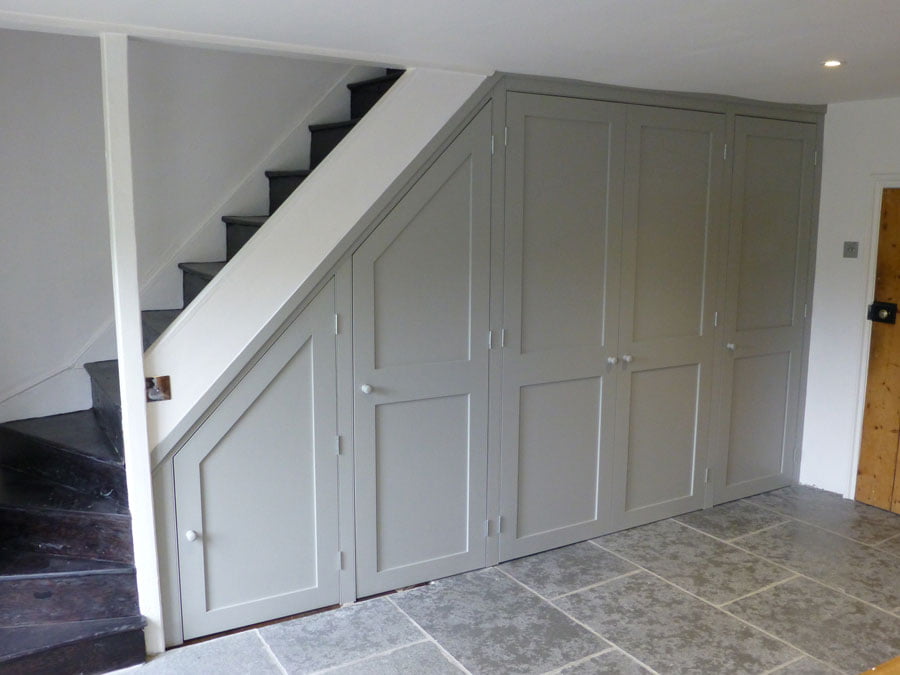 Made to measure understair storage
Bespoke staircase cabinets can be easily used to store everything you always need at hand. Here you can organize space for storing various things, accessories, and bags. You can also use this place with even more significant benefits to achieving your goals. An entrance hall is a place that requires maximum control and proper organization to provide a high level of comfort for everyone.
The use of space and its ordering will make it possible to simplify and organize everyday life as much as possible and reduce potential costs and problems in the process. As a result, the corridor will be orderly and beautiful. You no longer have to think about where to put all your outerwear or shoes.
FEATURED PROJECT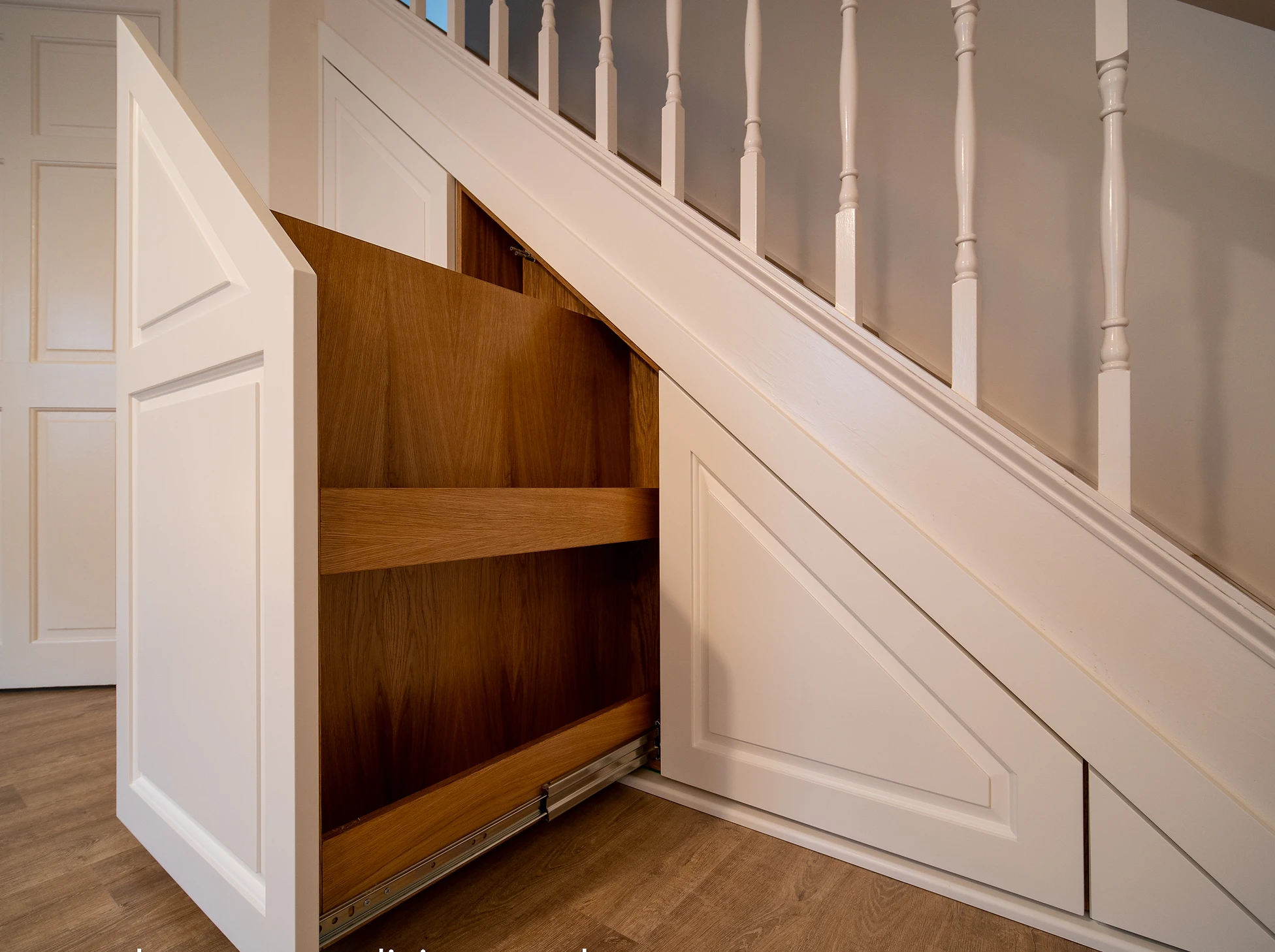 Fitted wardrobes under stairs
Bespoke staircase cupboards have many features. They can perfectly complement any living space, as they are easily combined with different decor and furniture in the interior. Everyone can choose other filling options, shades, and functional details necessary for the maximum optimization and organization of the living area and storage system for various things right at hand. You can easily store your items in the hallway to deal with the clutter.
Bespoke staircase closets allow you to organize a living area. They fit into almost any style. They look great with minimalist decor, loft, or high-tech. Choose only high-quality furniture sets from proven and reliable materials.
Storage solutions for your wardrobe
We understand that each project is unique that's why we are offering full flexibility of configuring your made to measure office cupboard. All our storage solutions for offices are built from scratch which means all your special requirements will be taken into consideration during the design process.
Who we are
Why Choose Urban Wardrobes
With so many customers on the market of fitted bedrooms & kitchens at the moment it's really hard to choose the right one. Check below what make us different.
Our specialists put up significant amount of effort behind every design they come up with. From the contemporary walk in wardrobe, bespoke sliding wardrobe, or custom-made kitchen, we leave no stone unturned to make you feel satisfied with the overall project.
We offer straightforward quotation process with none of the 'discount smoke and mirror strategy'. We never "beat other quotes" simply because 'others' don't offer same quality & service.

Our sprayed and veneered doors with integrated handles look amazing. We produce classic & modern fitted furniture. Visit our showroom to check our finishes and discuss your project in greater depth.