Fitted Wardrobes with built-in dressing tables
Bespoke dressing tables and desks inside made to measure wardrobes
Project details
Location London, Essex, Sussex
Space Bedrooms, Walk in wardrobes
Finish Spray painted MDF, Lacquered veneer, Laminated wood
Price From £3,000+VAT per project incl. installation
A dressing table gives you a proper space to pamper yourself. It can also help you keep your beauty products well-organized. Otherwise, they might be dotted around your bedroom, making the room and the floor look cluttered.
A built-in wardrobe with a dressing table can add valuable surface space. You can also incorporate shelves or drawers to keep everything orderly and easy to find. However, a few things to consider when planning your wardrobe with a dressing table built in.
Mirror
Adding a mirror is one essential of your built-in wardrobes with a dressing table. Some choose a flip-up mirror with storage underneath for their makeup and face creams. This means the dressing table is more multifunctional. You could use it as a desk instead when you need to work from home.
The mirror is one of the main elements of custom wardrobe with built in vanity unit that catches the eye. Such a system allows you to store various tiny things, cosmetics, and accessories right at hand but folded neatly not to take up much space. High functionality rates, reliability, and resistance to adverse influences distinguish such a design.
Cut-out Design
Your dressing table in your wardrobe can be a cut-out design. This approach seamlessly fits into the overall look of the cabinet. You could even locate it closest to a window, as natural light will help you avoid eye strain during your morning routine. Or, if you have good artificial light, you could place your wardrobes with a dressing table in the middle. This then becomes more of a focal point for the room.
Hidden Dressing Table
You could choose to have a wardrobe with a dressing table inside. Selecting a dressing table inside your cabinet does help hide the clutter of your beauty products away. When it comes to sleep time, you might not want too many distractions in your bedroom.
Seat
When it comes to your modern wardrobe with a dressing table built in, consider the type of seat you want. Some dressing table seats have hidden compartments to store more beauty or styling products. It is about maximizing the available storage in your home.
FEATURED PROJECT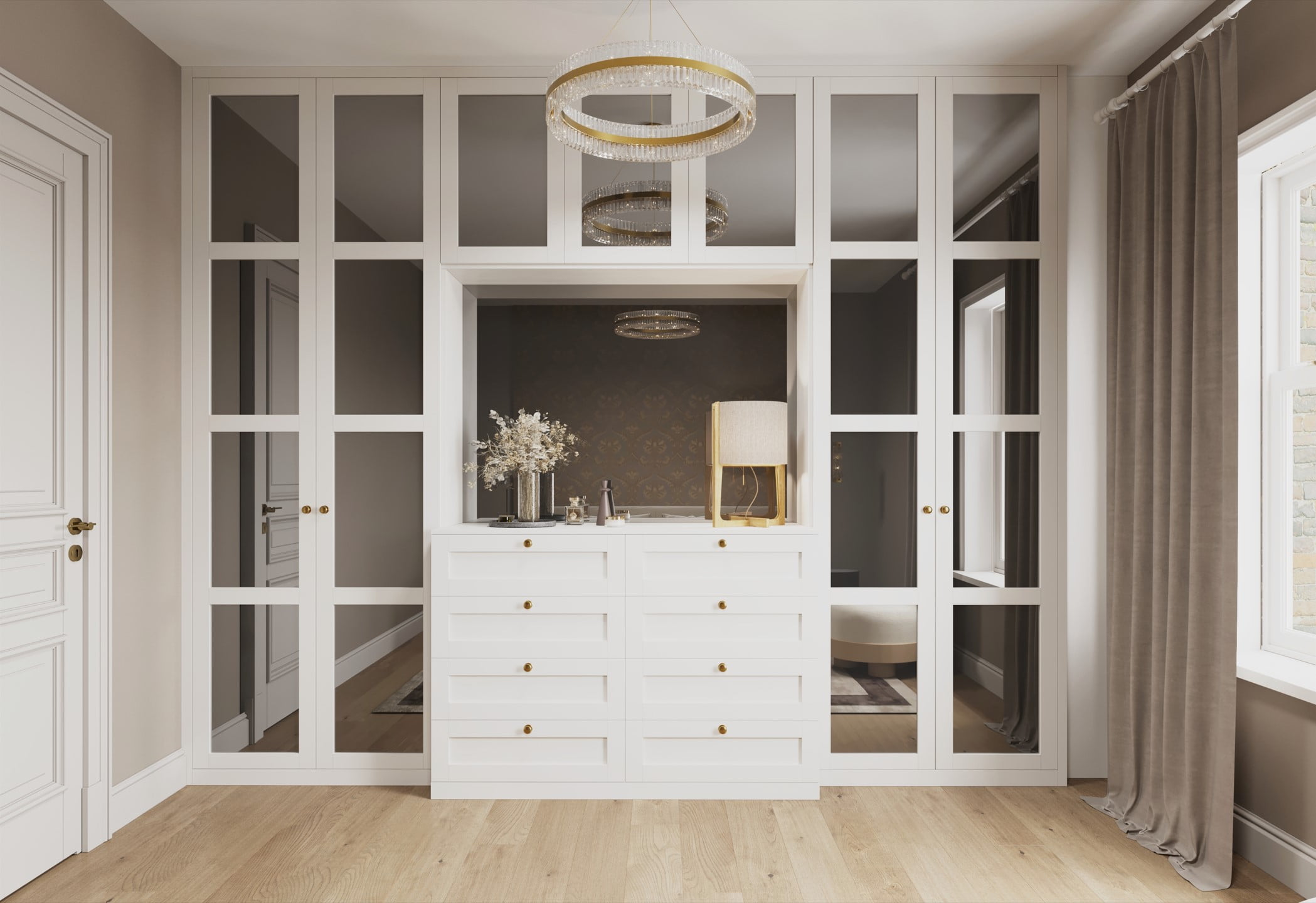 Mirrored wardrobes with built in dressing tables
A fitted wardrobe with a built-in dressing table is an excellent opportunity to use a high-quality headset at home to get all the necessary functional parameters to solve your tasks. With an organized storage system, it will be possible to provide optimal results. The room will be cluttered, and you won't be able to care for yourself properly.
FEATURED PROJECT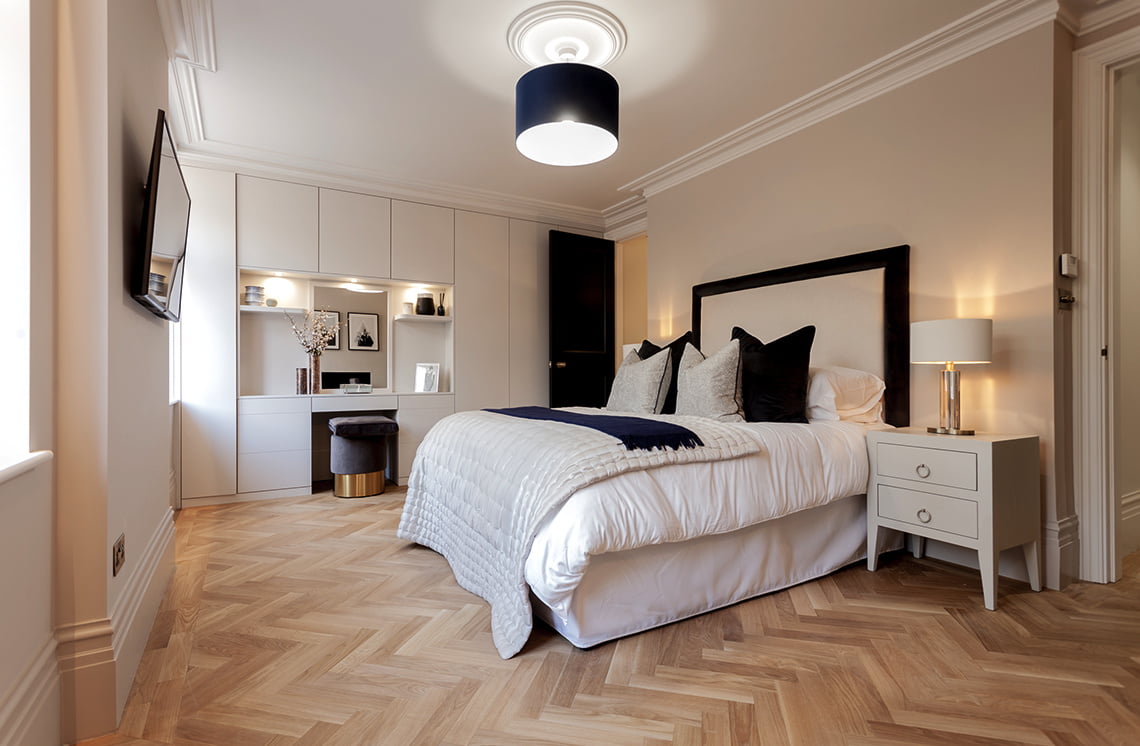 Lacquered fitted wardrobes with integrated dressing tables
A fitted tailor-made wardrobe with a built-in vanity is an excellent opportunity to visually make the living room space feel more spacious and easier to manage. You can easily use the numerous bedside tables and shelves to organize the storage system of household items that should always be at hand. A dressing table is usually suitable for the orderly storage of various small things and items that you always want to keep at hand.
FEATURED PROJECT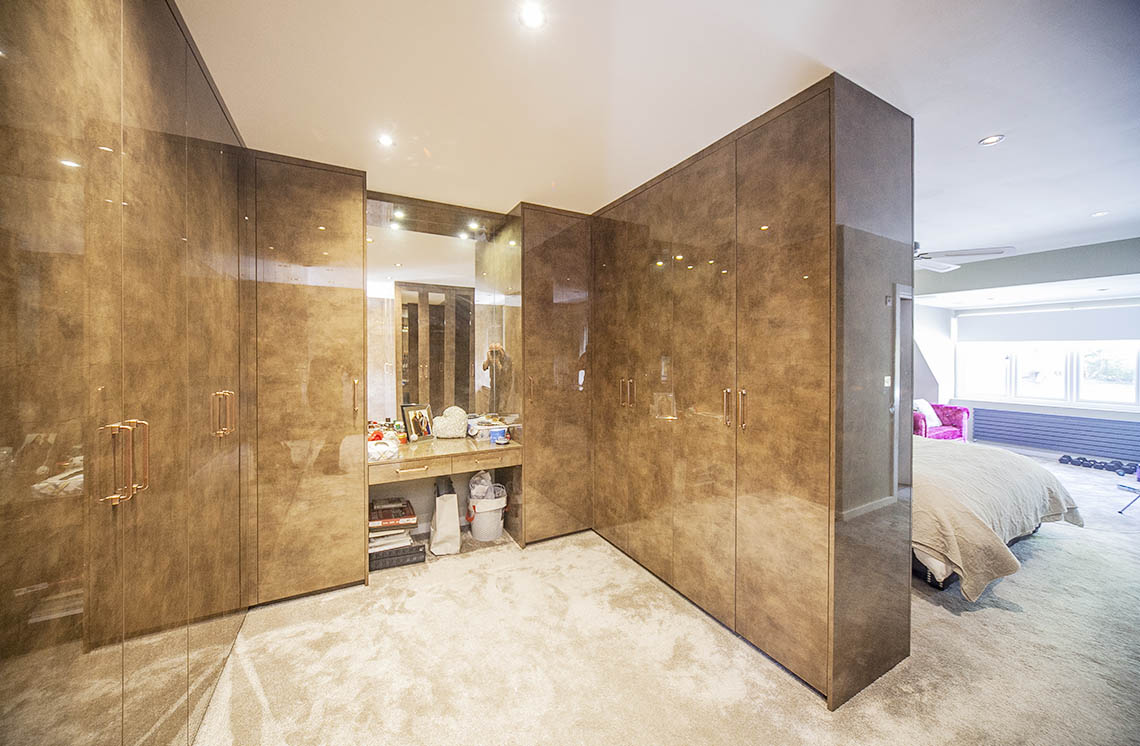 Walk in wardrobes with built-in dressing tables
You can choose different dressing table designs for your wardrobe. For example, it may be a design with cutouts. You can also use the built-in lighting system to create certain focal elements and details, to focus on specific lighting elements.
A hidden dressing table in the closet allows you to hide unnecessary functionality from prying eyes. Now you can focus on the comfort of everyday life. You can also plan the location of the seating compartments, where you can sit comfortably while dressing or doing makeup. Such a solution allows the most adaptive and competent use of the living area, following each individual's individual preferences and tasks. Use qualified space planning tools for the particular design of the room.
Storage solutions for your wardrobe
We understand that each project is unique that's why we are offering full flexibility of configuring your made to measure office cupboard. All our storage solutions for offices are built from scratch which means all your special requirements will be taken into consideration during the design process.
Who we are
Why Choose Urban Wardrobes
With so many customers on the market of fitted bedrooms & kitchens at the moment it's really hard to choose the right one. Check below what make us different.
Our specialists put up significant amount of effort behind every design they come up with. From the contemporary walk in wardrobe, bespoke sliding wardrobe, or custom-made kitchen, we leave no stone unturned to make you feel satisfied with the overall project.
We offer straightforward quotation process with none of the 'discount smoke and mirror strategy'. We never "beat other quotes" simply because 'others' don't offer same quality & service.

Our sprayed and veneered doors with integrated handles look amazing. We produce classic & modern fitted furniture. Visit our showroom to check our finishes and discuss your project in greater depth.