Fabric panels inside lacquered frame. At display in showroom.
Project details
Location South East England, Essex, London
Space Hinged or sliding doors wardrobes, bedside tables, walk in wardrobes etc.
Finish Fabric in sprayed or veneered frames
Price from £1,600+VAT per meter width incl. installation (excl. fabric cost)
Tela is our luxury range of cabinets with real fabric inserted in lacquered frames. We can also wrap the back panel in fabric. There is a popular trend at the moment to bring more textiles into our homes in an attempt to soften our interiors. Opting for a fabric insert is an ideal way to reduce the hard lines of a wardrobe. It can make the room feel cosier and more welcoming. Different textures can really transform a room.
Textiles are widely used as they also make our interiors feel warmer. Usually, that warmth is achieved with rugs, cushions and tapestries. But we pride ourselves in being innovative with the fitted furniture designs we offer. We think our real fabric insert cabinets will help with the contrast of your room and add a lot of visual appeal. If you want to feel more comfortable in your bedrooms, then this tactile aesthetic is the ideal way to soften bedroom furniture. There is a sense of harmony in this room, brought together by the softer wardrobe and the use of a bed runner, blankets and curtains for cohesion.
This fabric look is very stylish and sophisticated. The fabric shown is a very neutral colour, so modern and minimalistic. It helps make for a restful sleeping place. Muted earth-tone colours are considered very tranquil and relaxing. Colours are very important when trying to improve your sleep quality. However, we do also have a wide range of patterned fabrics to pick from. These are ideal if you want to have something bolder to fit in with your décor theme.
The room is very fresh, clean and well organised. Built in wardrobes add so much storage space to a room. If you want to create a peaceful bedroom environment having adequate storage is a must. These fitted wardrobes have lots of hanging space, shelves and drawers so you can keep the chaos behind closed doors and get to sleep without distraction.
Linen, cotton, velvet
Textile Doors Fitted Cabinets
Using textile doors for your fitted furniture gives you a unique aesthetic appeal and complete personalisation of your bedroom. Common textiles include linen, cotton, velvet, and even leather. The choice often depends on the desired look, from casual or rustic with linen to luxurious with velvet.
Fabrics can also have sound-absorbing properties. Linen doors can help dampen noises, creating a quieter environment, which is especially valuable in open spaces or homes with hard flooring that can echo sound.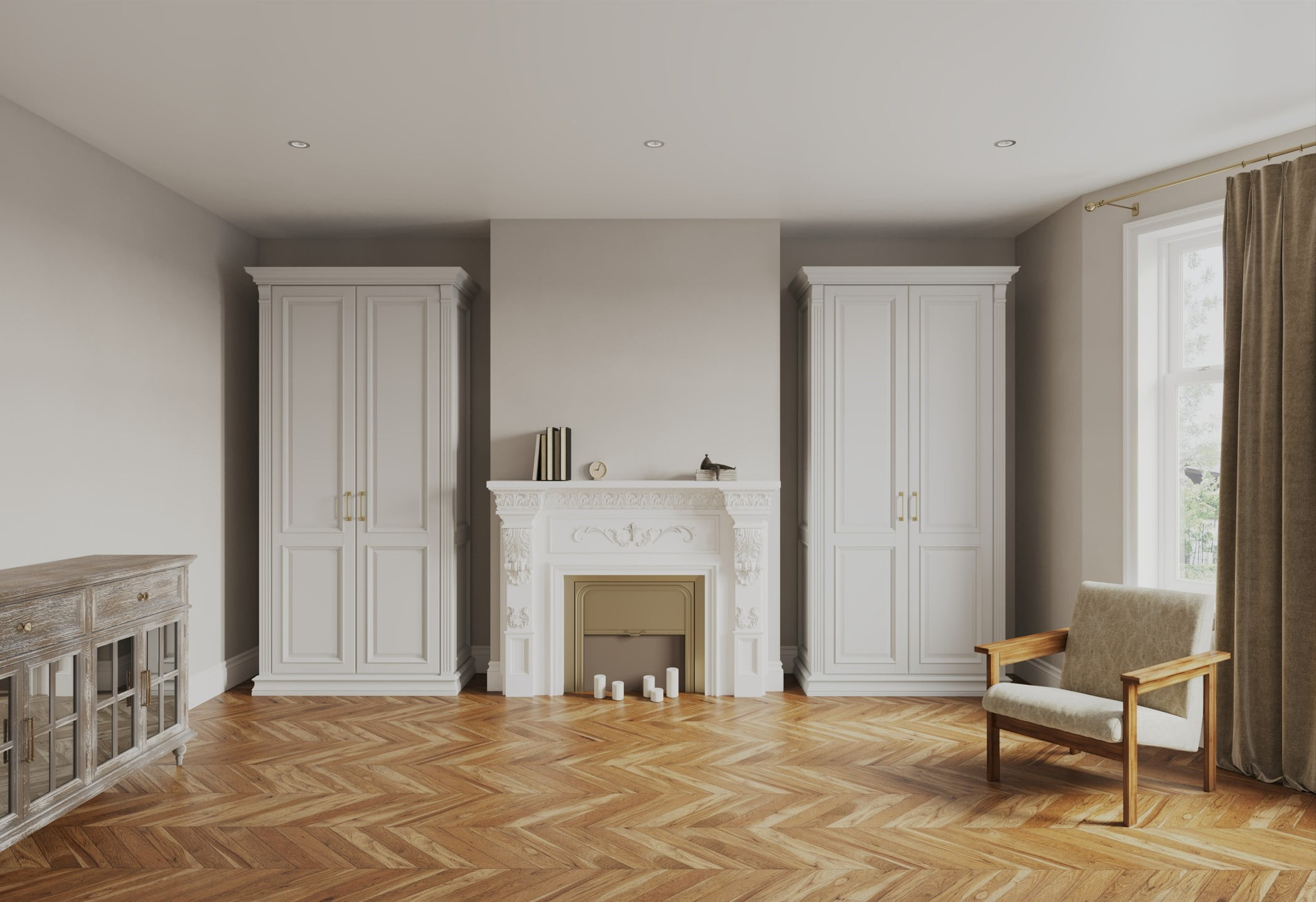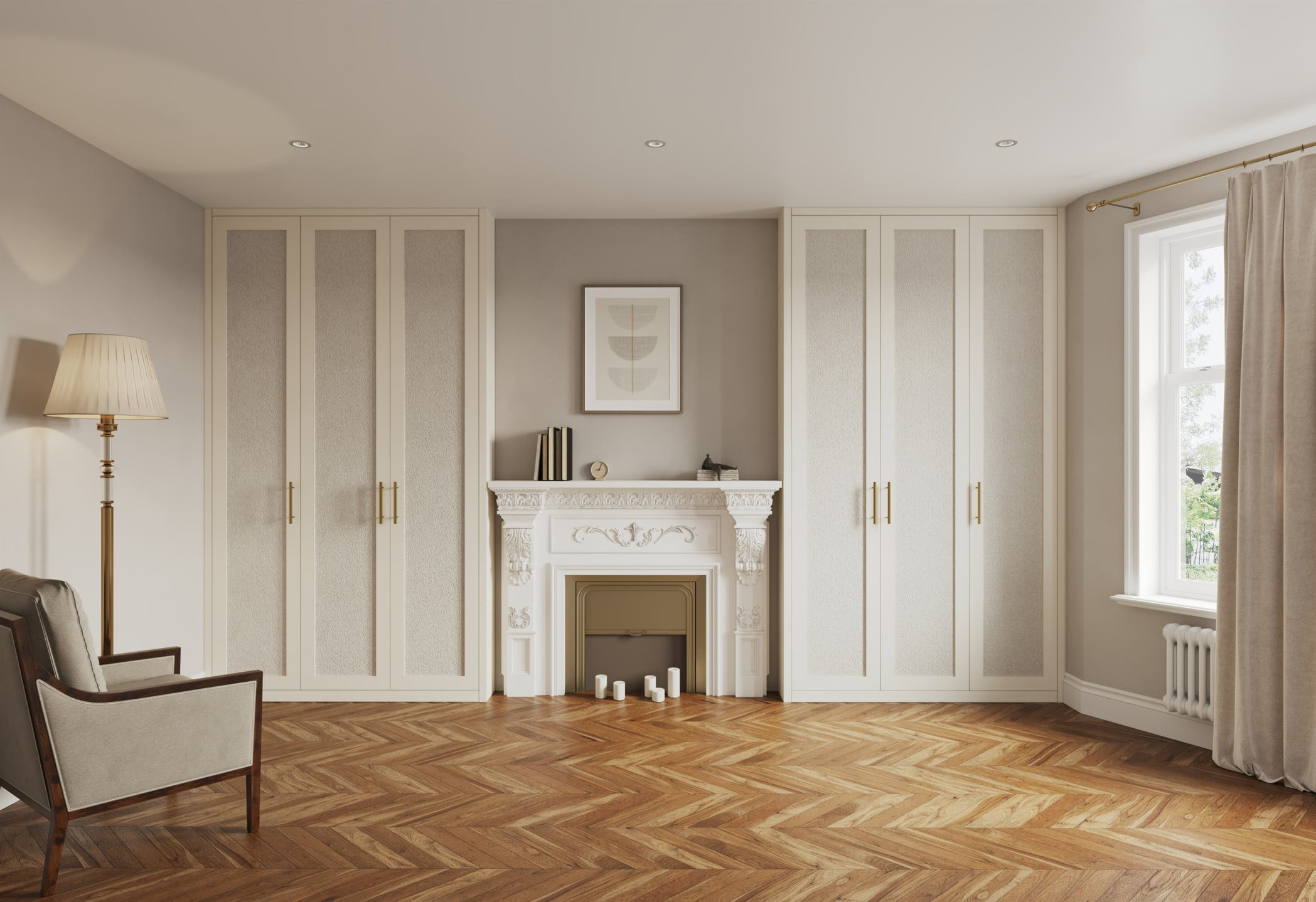 Various material options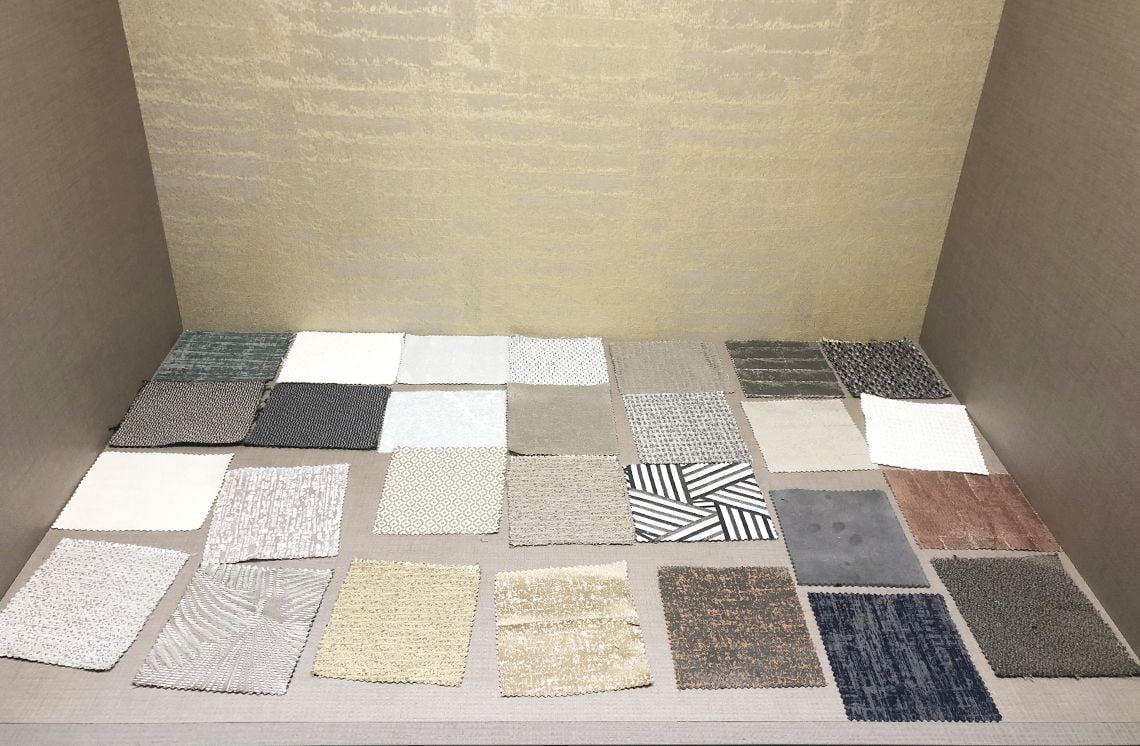 Natural and Eco-friendly Fabrics
Designers can choose different fabrics and textiles when considering fitted wardrobe doors. Each material offers a unique texture, appearance, and functional quality.
We mainly use natural fabrics for our cupboards: cotton, linen, silk, wool, hemp, bamboo, jute, sisal and cashmere. But can also use speciality fabrics such as velvet, chenille and leather.
Woven Textile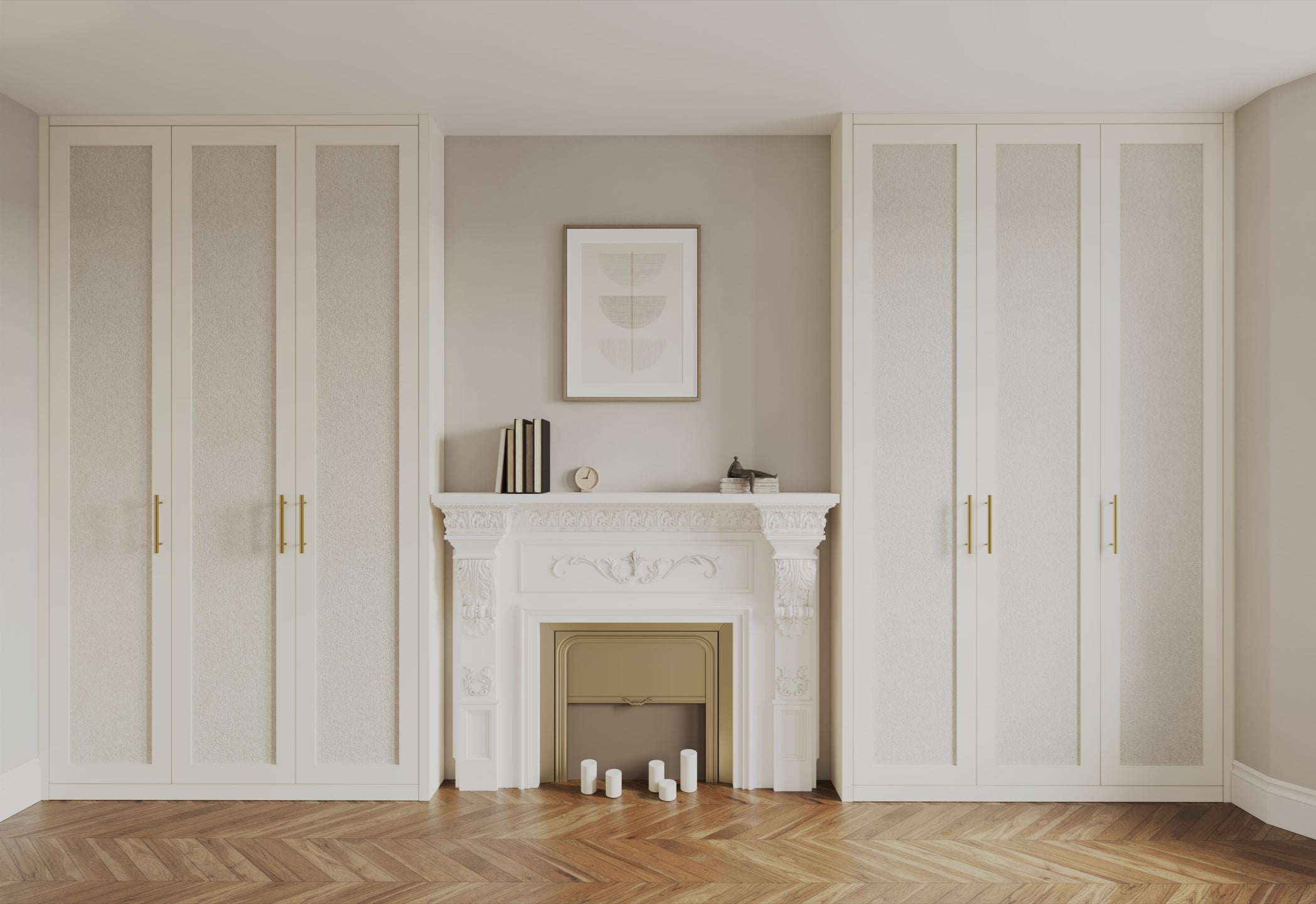 Woven Fabric Alcove Cabinets
If you are looking to create a cosy environment inside your bedroom, woven fabric is a great option for you, as it introduces a tactile element that can break the monotony of flat, and add depth and visual interest to the space.
Woven fabrics come in various patterns, materials, and colors, offering a plethora of design possibilities.
Sound Dampening material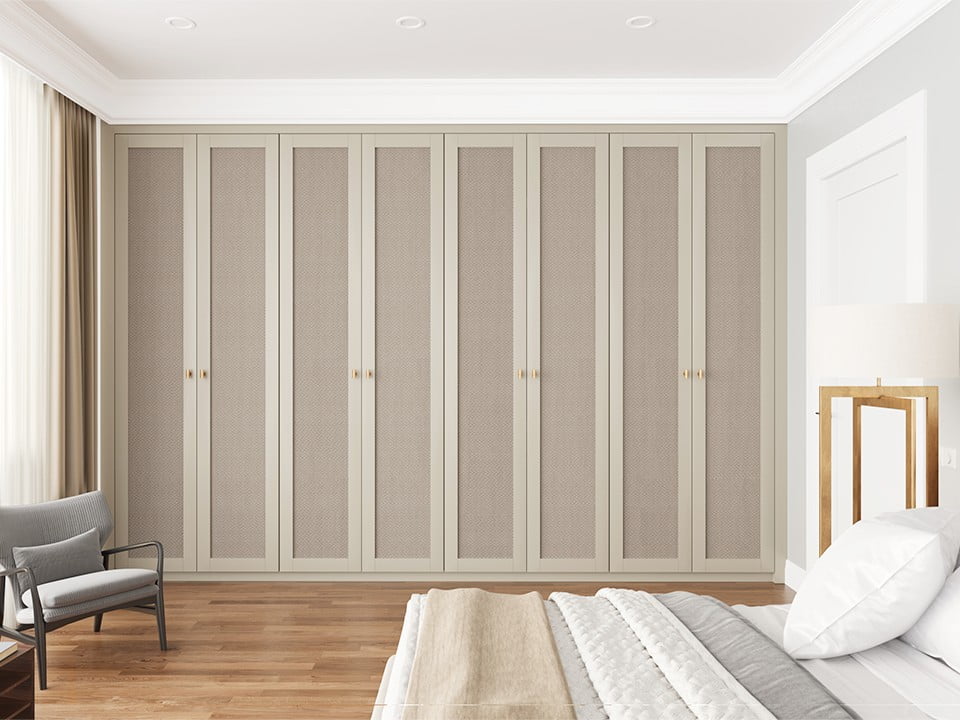 Linen Door Cabinets
Linen is a natural fibre and has a smaller environmental footprint compared to many synthetic materials. So it's a great idea to use this eco-friendly material for your cupboard doors.
You can clean linen wardrobe doors with ease. Should they become dirty, linen doors can often be spot cleaned with mild detergent, retaining their look without much hassle.
Who we are
Why Choose Urban Wardrobes
With so many customers on the market of fitted bedrooms & kitchens at the moment it's really hard to choose the right one. Check below what make us different.
Our specialists put up significant amount of effort behind every design they come up with. From the contemporary walk in wardrobe, bespoke sliding wardrobe, or custom-made kitchen, we leave no stone unturned to make you feel satisfied with the overall project.
We offer straightforward quotation process with none of the 'discount smoke and mirror strategy'. We never "beat other quotes" simply because 'others' don't offer same quality & service.

Our sprayed and veneered doors with integrated handles look amazing. We produce classic & modern fitted furniture. Visit our showroom to check our finishes and discuss your project in greater depth.