Fitted Home Office Furniture
Fitted home offices, bespoke study furniture, office fitted wardrobes
Project details
Location We cover London fully and most locations within 2-3 hours drive.
Space Home office, Study Furniture
Finish Lacquered MDF, Veneer, Laminated wood
Price Minimum project price £3,000+VAT incl. installation
If you are working from home fitted office furniture is essential. It can help maximise storage space. Urban Wardrobes can help you make your office very functional, working with you to ensure ease of access for any items you need to hand in. Open shelves can also help with the décor. You can add colourful baskets to lift the expanse of white. Whilst paperwork can be kept neatly out of sight behind closed doors.
Keeping clutter out of sight can help you focus on the work. With built-in office furniture, everything has a place, so you do not have as many distractions. Unattractive cables can be tucked out of the way. Plus, the floor-to-ceiling height means no space is wasted. The highest shelves can still be utilised just for the folders you do not have to access as frequently.
A bespoke home office can be made to the height that suits you best. This can improve ergonomics which is better for your health and can reduce workplace injuries. Doing this will reduce your discomfort whilst working from home. Sitting at a desk for hours can soon take its toll on your body, leading to pain in your back and joints. However, bespoke office furniture at the right height is better for your posture and overall productivity.
Fitted home office furniture can help you make a dedicated area for work. It's a good idea to separate work and home space. A clear boundary helps protect your mental health and safeguard your relationships. You want to be able to switch off and relax in other parts of your home. Doing this can reduce anxiety and work-related stress.
A fitted office can look very professional. If clients visit your house, you will want your home office fitted furniture to enhance the image you want to portray.
Fitted study furniture can help children revise and complete homework more effectively. The right furniture can improve your child's concentration and memory recall. Comfortable children are likelier to be engaged in their work and do well in school.
Wide variety
Made to Measure Home Office.
Can be installed around the chimney breast, in a loft conversion, room with high ceilings or any other type of space.
All our bespoke office furniture is built from scratch, which allows you to customise the final look of the cabinet and internal layout in the way you want.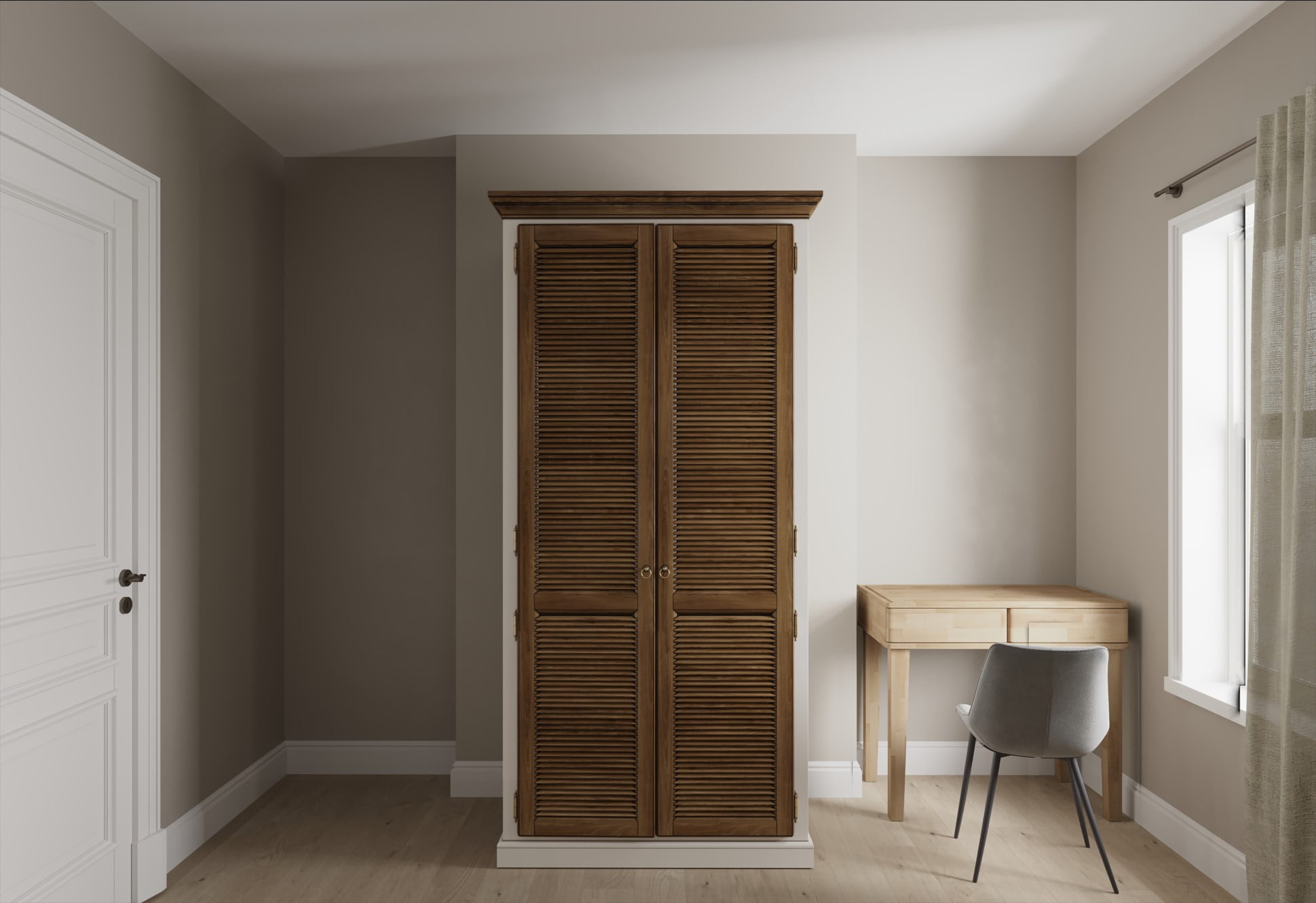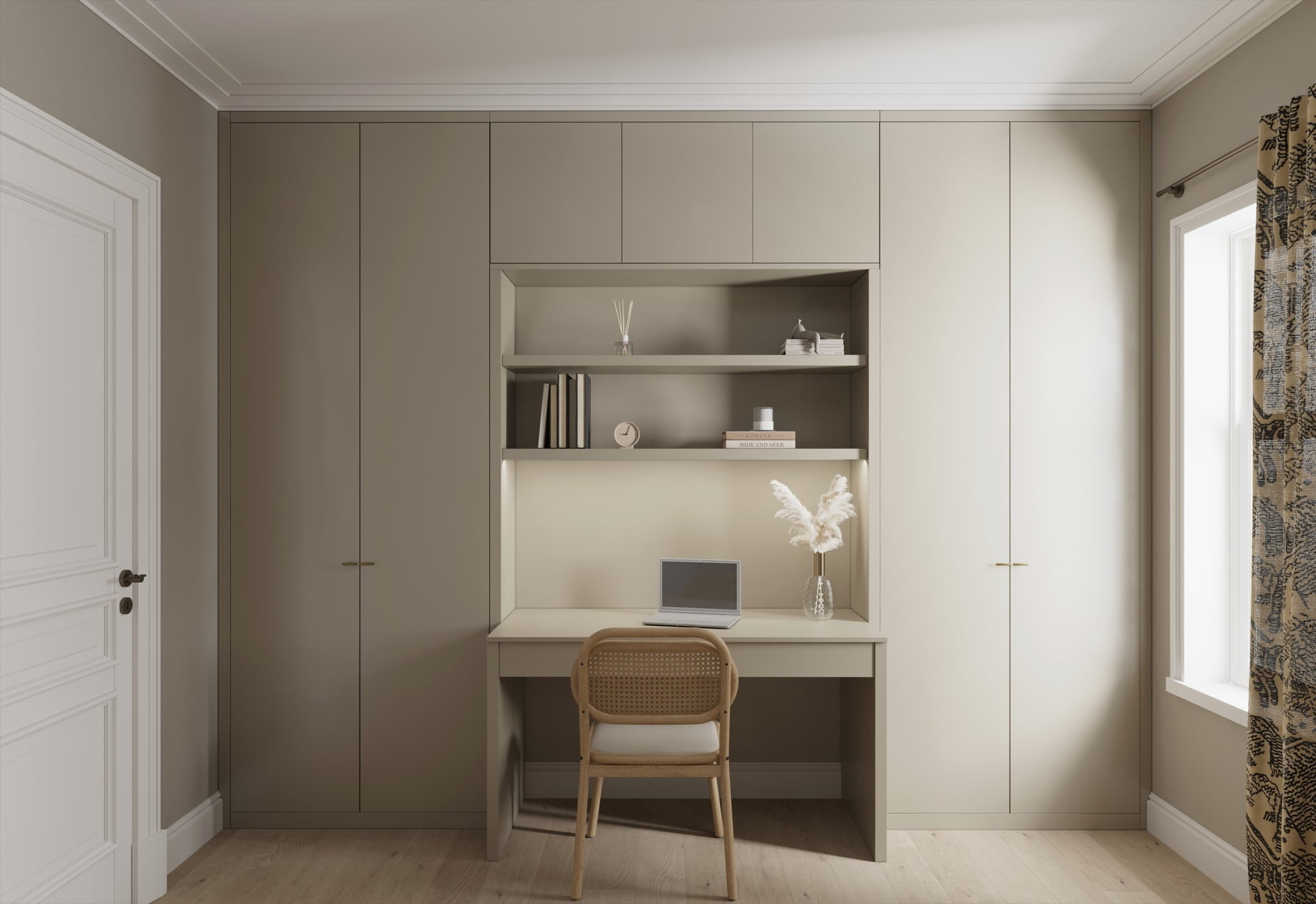 TAILOR-MADE BEDROOM CUPBOARD IDEAS
There are endless ways to customise your bedroom in your way
TRADITIONAL HOME OFFICES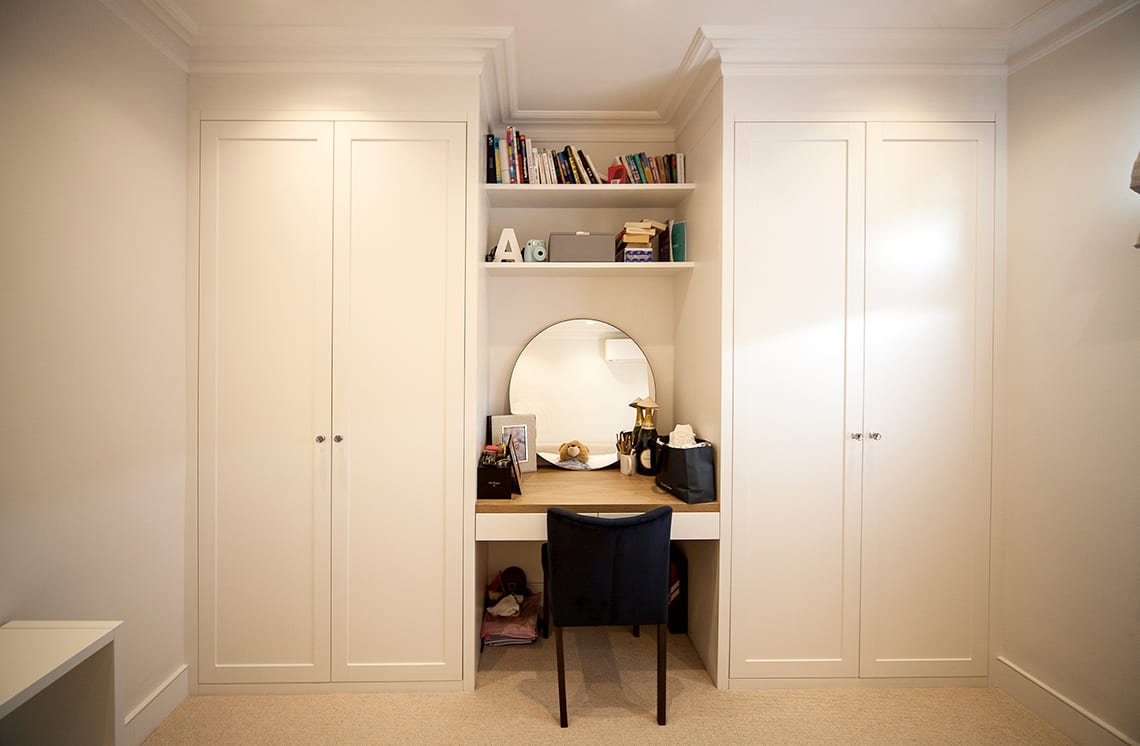 Victorian-style lacquered home offices
If you are looking for traditional shaker-style doors style for your home office, we can offer that.
Our shaker-fitted home office's exterior can be sprayed with a full bespoke interior in any RAL colour.
View project
BUILT IN OFFICE CABINETS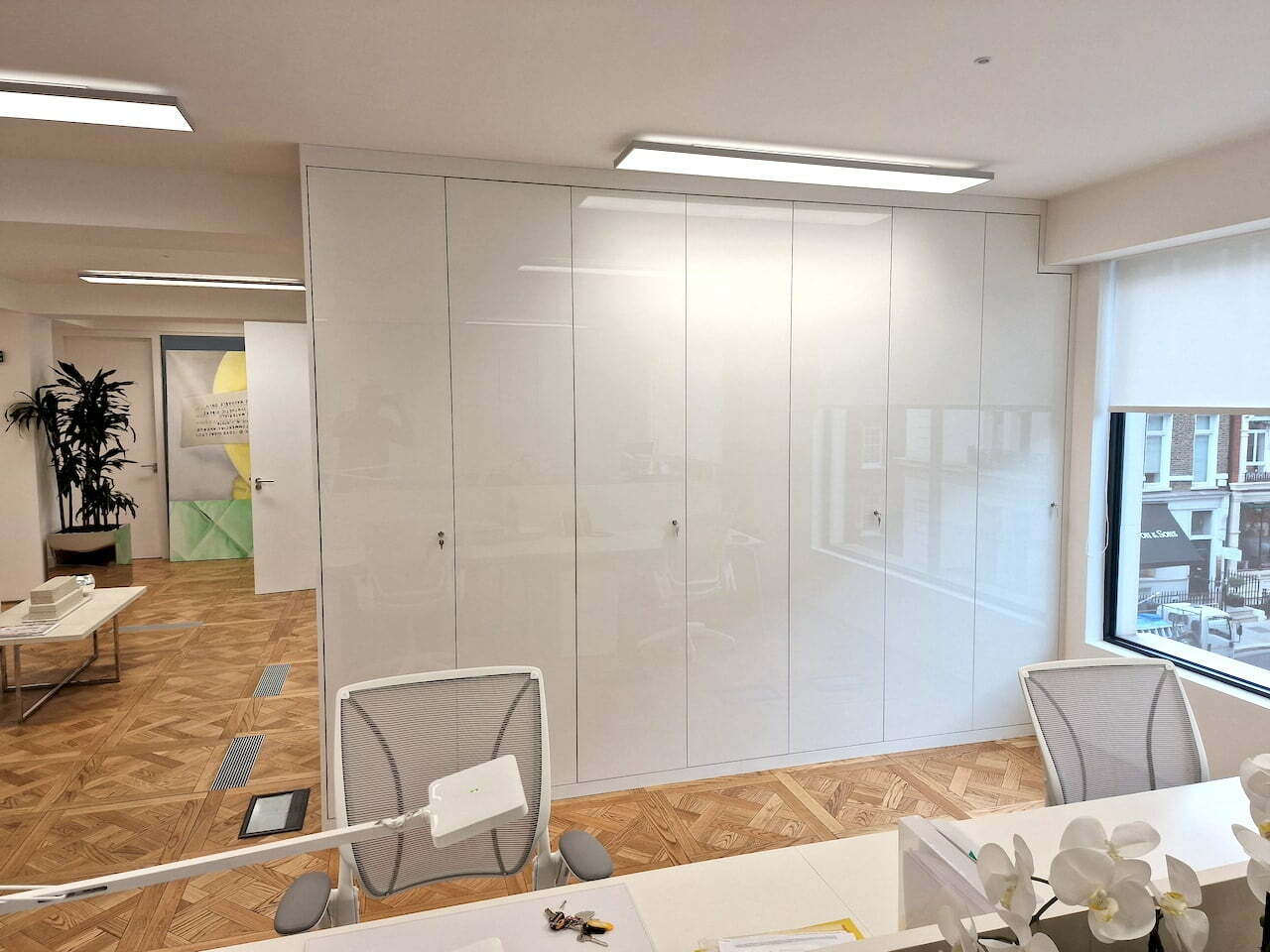 Fitted commercial office cupboards
Custom office storage cabinets with high gloss or matt doors designed and built from scratch precisely on the dimension of your space.
View project
MODERN OFFICE FURNITURE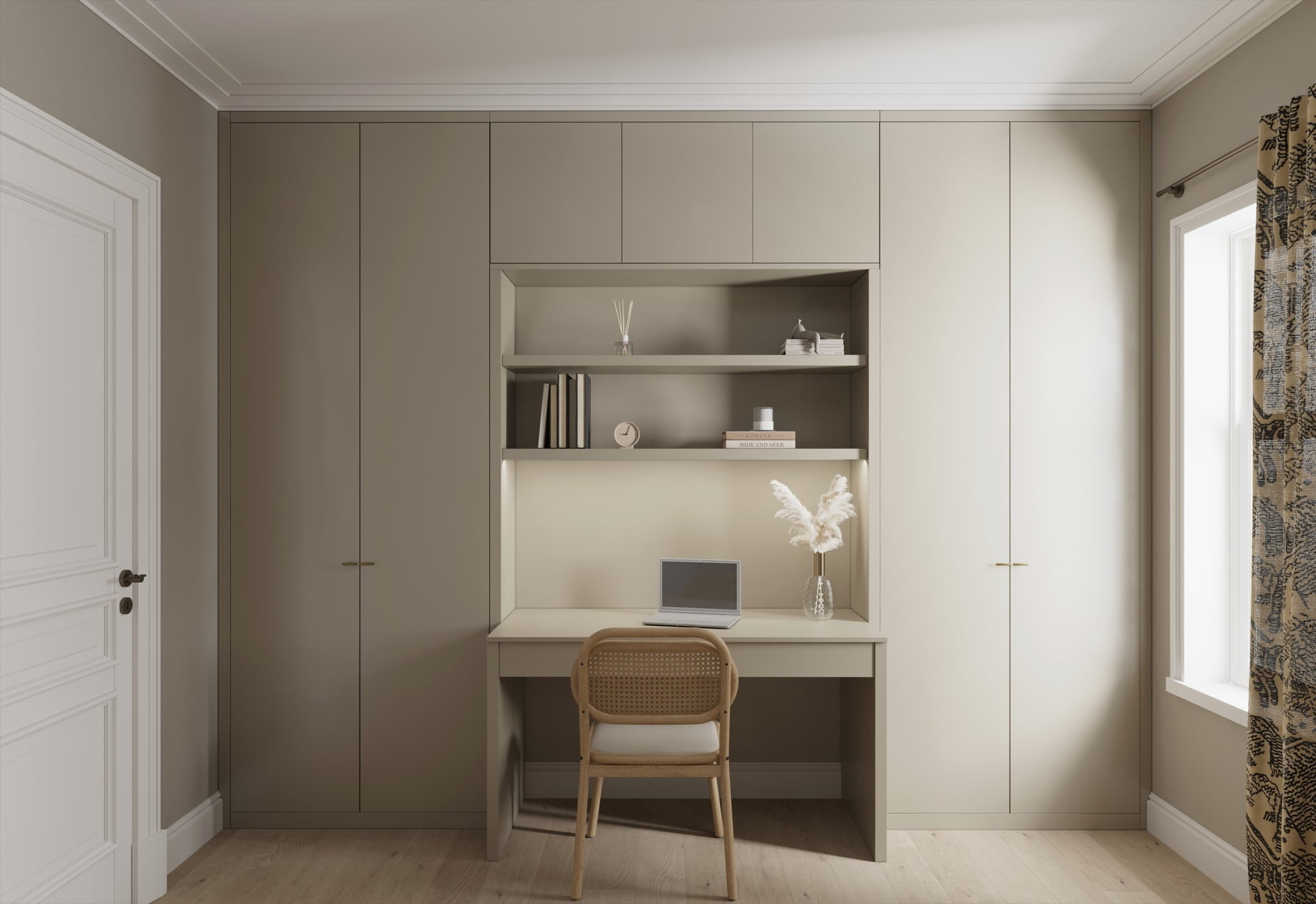 Contemporary fitted home offices
If you are looking for a custom-made home office designed based on your requirements, send us rough measurements of your space and the exterior finish you are after, and you will be provided with a free estimate.
The modern built-in home office allows you to simultaneously work from home and maximise the storage space.
View project
Built-in home office wardrobes, custom study room fitted furniture
In the last couple of years, how people work has changed dramatically. Customers often ask for made-to-measure fitted home offices installed in guest bedrooms or study rooms.
Built-in home office furniture cabinets will maximise the space inside the room and allow you to design your fitted workspace the way you want – using the preferable materials and internal layout.
Customised Office Furniture Questions
We understand that each project is unique. That's why we offer complete flexibility in configuring you're made to measure office cupboard. All our storage solutions for offices are built from scratch, meaning all your special requirements will be considered during the design process.
Who we are
Why Choose Urban Wardrobes
With so many customers on the market of fitted bedrooms & kitchens at the moment it's really hard to choose the right one. Check below what make us different.
Our specialists put up significant amount of effort behind every design they come up with. From the contemporary walk in wardrobe, bespoke sliding wardrobe, or custom-made kitchen, we leave no stone unturned to make you feel satisfied with the overall project.
We offer straightforward quotation process with none of the 'discount smoke and mirror strategy'. We never "beat other quotes" simply because 'others' don't offer same quality & service.

Our sprayed and veneered doors with integrated handles look amazing. We produce classic & modern fitted furniture. Visit our showroom to check our finishes and discuss your project in greater depth.