Bespoke Spray Painted Wardrobes
Fitted Lacquered cupboards in traditional or contemporary style
Project details
Location London, Sussex, Essex, Oxford, Coventry, Worcester, Kent
Space Bedrooms, Hallways, Loft conversions, Home offices, Understairs cabinets etc.
Finish Sprayed matt or satin, Lacquered high gloss finishes
Price From £3,000+VAT per unit incl. installation
Here at Urban, most of our furniture facades are made from spray-painted/ lacquered MDF or real oak veneer materials. Clients can specify door design, including the shapes of integrated handles, to match their preferences. Once the shape of the doors is selected our CNC machine will do the job within 10 minutes so the doors can move to our spray booth.
We start the painting process by applying the primer evenly across the surface of the door. The spray gun is used for this procedure. Then we need to allow the primer to dry, which usually takes 1 working day. Once the priming is completed we move to the next stage and spray the paint in even, linear motions, overlapping each pass slightly. Depending on the paint's opacity and desired finish, we usually need to apply 5-6 coats. Allow drying time between coats.
The whole process is quite time-consuming, hence the sprayed finishes are not cheap. However, tailor-made lacquered wardrobes offer a blend of custom design and refined aesthetic appeal.
Another great advantage of spray-painted closets is consistency in the finish. The sprayed finish can be evenly applied across surfaces of all shapes, giving a consistent look. This feature makes lacquered facades a great choice for attic rooms and loft conversions.
Precision Painted, Perfectly Fitted
Aesthetically Pleasing Bedroom Furniture
Spray finish provides endless opportunities to customise your bespoke furniture. This is the ideal instrument for interior designers to achieve the required atmosphere in bedrooms, lofts, dressing rooms etc.
Spray paints are available in various finishes, from matte to glossy, giving designers the flexibility to choose the perfect sheen for each project.
With the help of lacquered oak or MDF finishes, we can achieve effects that might be challenging with traditional methods.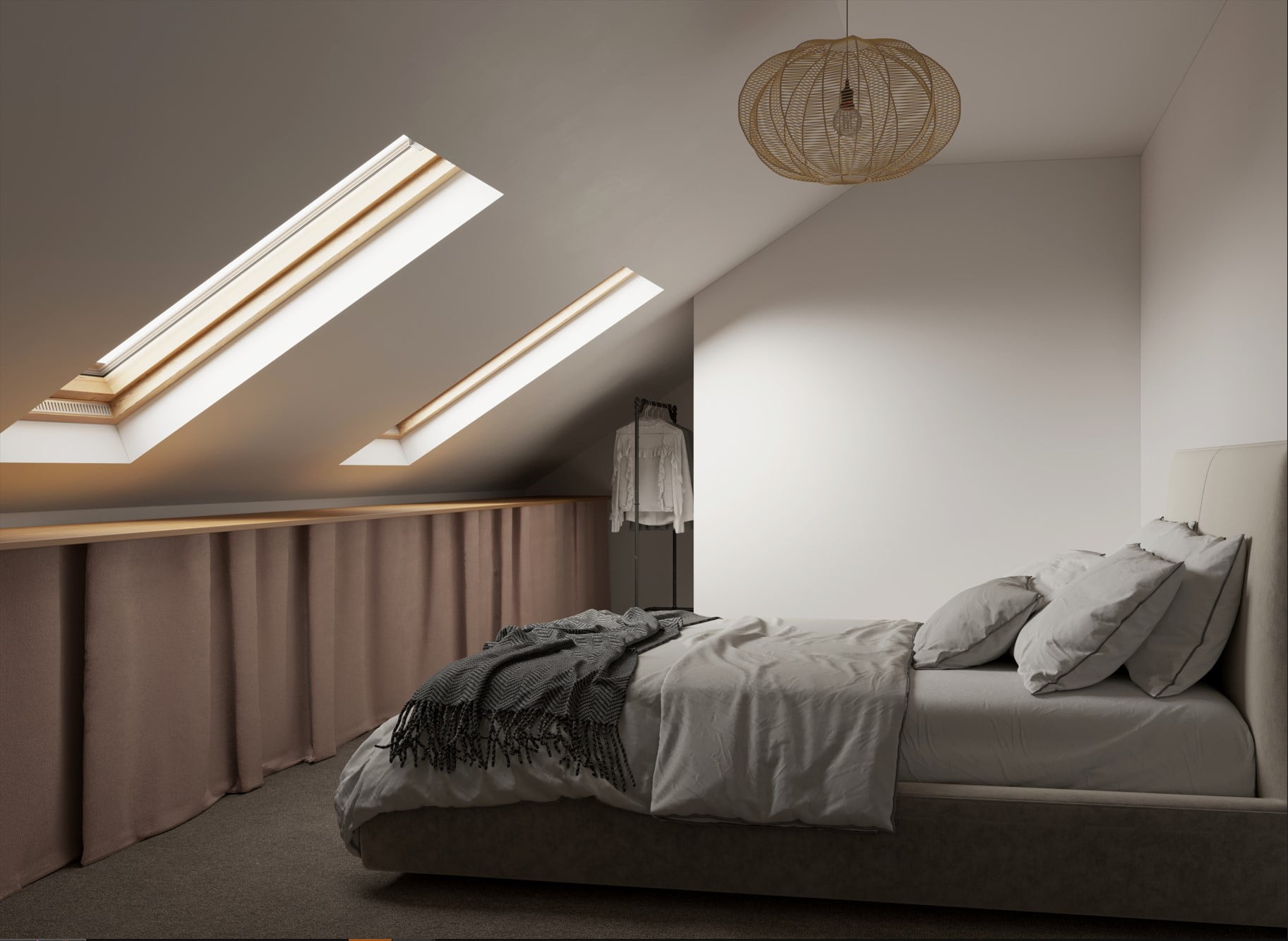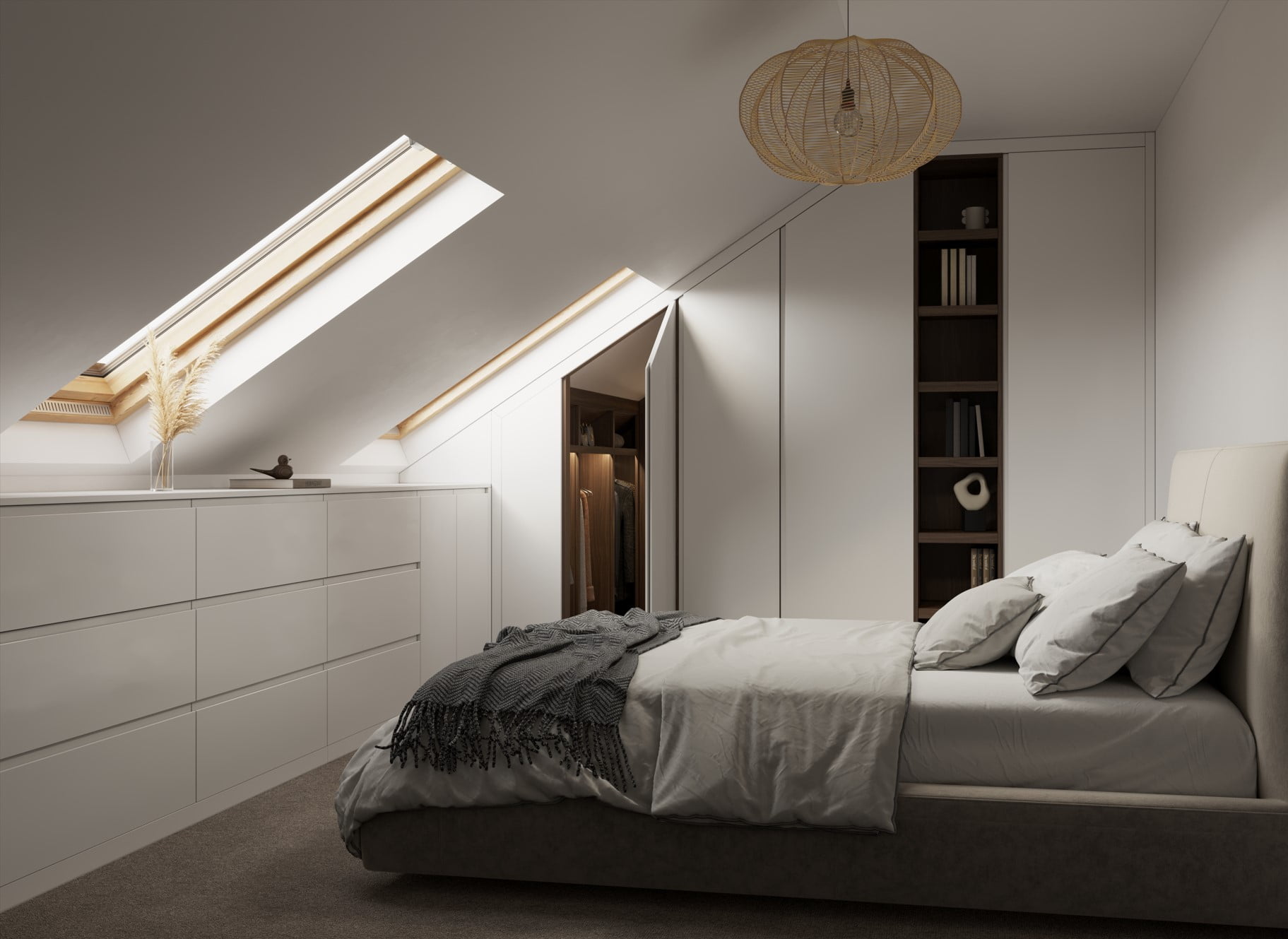 Handleless Trend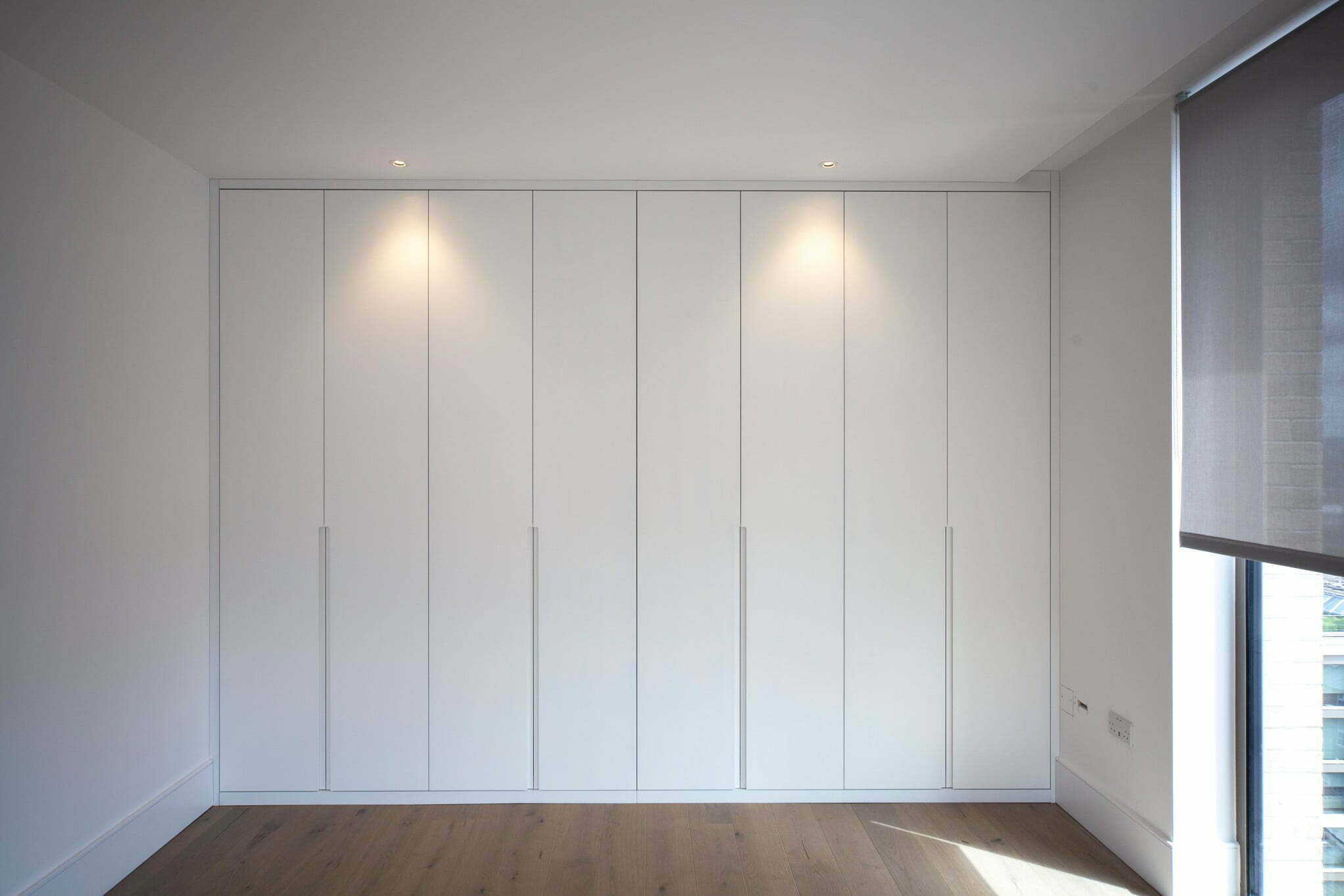 Bespoke cabinets in matt lacquer
All our made-to-measure cabinets are custom-made to fit the exact dimensions and specifications of the space, ensuring optimal use and a seamless look.
The handleless trend became quite popular in recent years as more and more customers would like to achieve a more contemporary look for their fitted bedroom furniture.
Modern Classic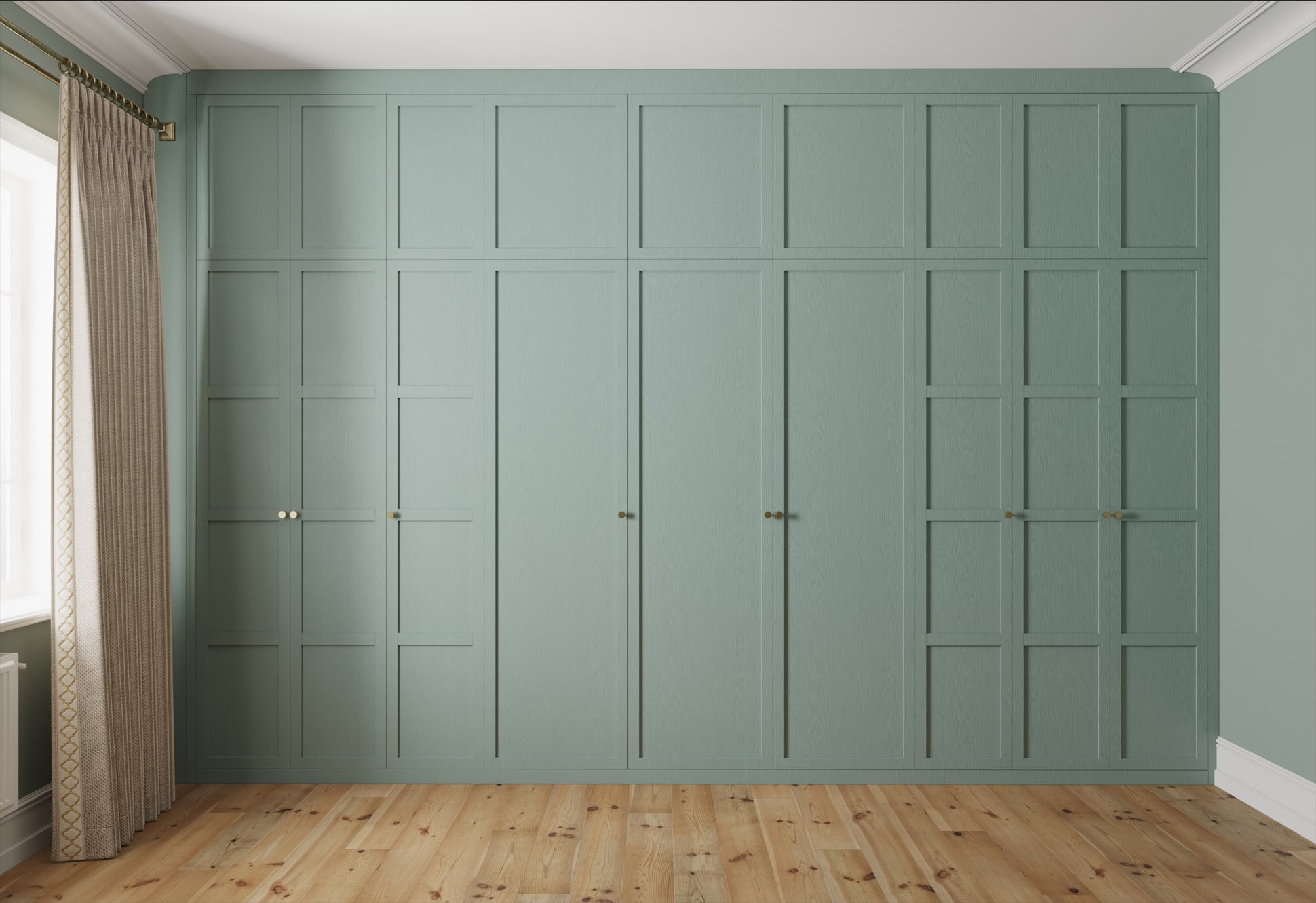 Lacquered Traditional Wardrobes
Lacquered cupboards with woodgrain texture work well even in modern homes and can act as a statement piece. Our Malmo range has been quite popular during the last couple of years. This is a great solution for those who want to combine a contemporary look with wood texture but keep the aesthetic appeal at the same time.
Spray Painted Oak Wardrobes or lacquered walnut cabinets are very popular styles at the moment.
Tailored Fits for Tricky Bits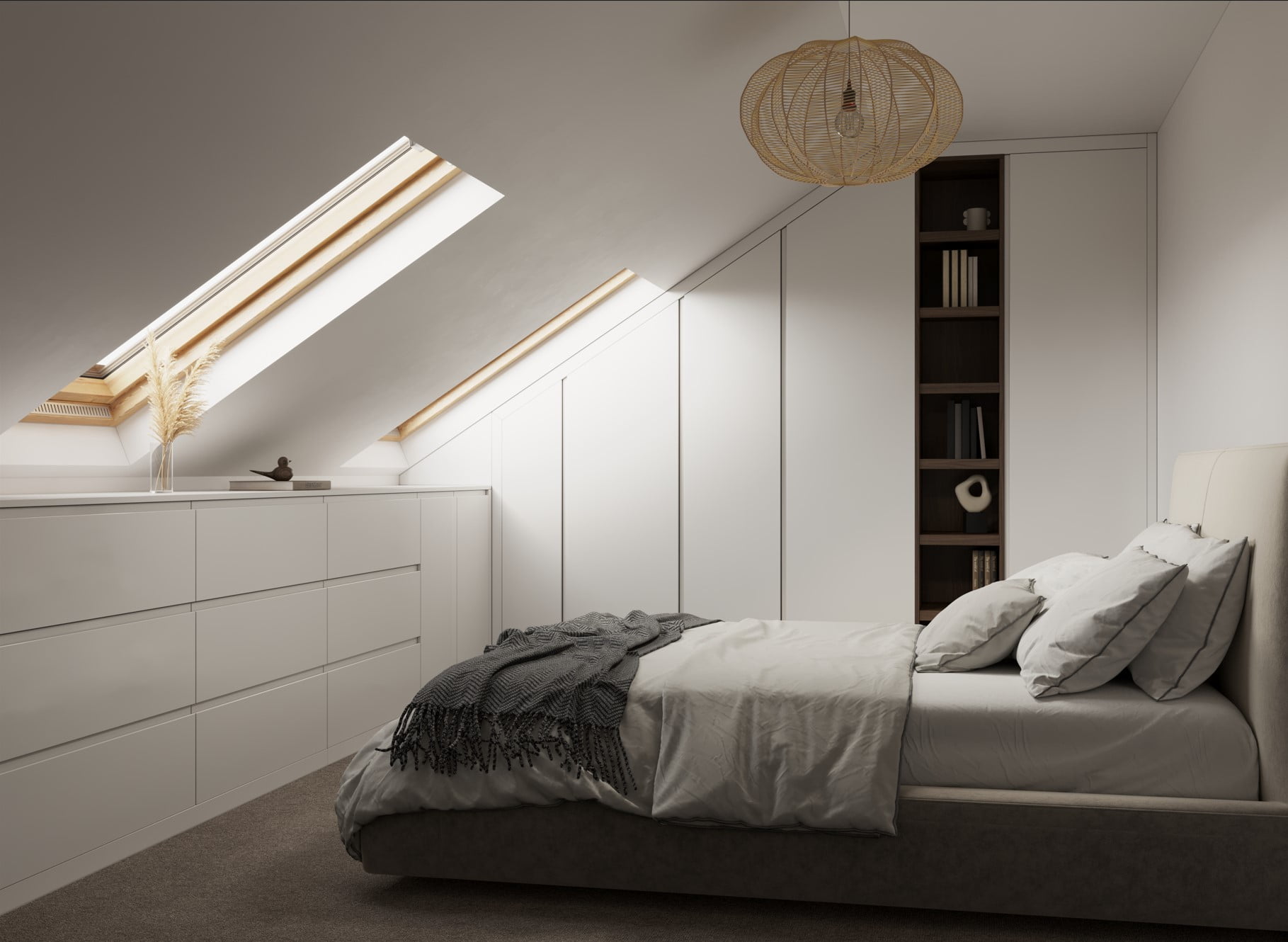 Tailor Made Spray Painted Cabinets
Sprayed finish cupboards have always been a great solution for odd-shaped rooms such as loft conversions and any spaces with sloped ceilings. The main reason for that is customizability and flexibility in design.
The sprayed finish provides a smooth, continuous look, which can help to visually streamline and unify the quirky dimensions of an awkward shaped room.
Bespoke sprayed wardrobe facades
One of the primary advantages of spray painting is the ability to achieve a smooth and seamless finish. This method avoids the brush strokes or roller marks that can sometimes appear with hand painting.
Not long time ago we started to spray the wood veneer, as lots of customers wanted to have a modern look exterior but with a touch of comfort, which is provided by woodgrain texture. If you don't fancy about wooden effect finish we can spray-paint MDF and deliver smooth finish to you exterior.
Lacquered oak or MDF finishes will increase the value of your property. So don't hesitate to contact our company for a free estimate for your project.
Built in spray painted cabinets
Storage solutions for your sprayed cabinets
We understand that each project is unique. That's why we offer flexibility in configuring your fully bespoke lacquered wardrobe. All our storage solutions for custom made spray-coated cupboards are built from scratch, meaning all your special requirements will be considered during the design process.
Who we are
Why Choose Urban Wardrobes
With so many customers on the market of fitted bedrooms & kitchens at the moment it's really hard to choose the right one. Check below what make us different.
Our specialists put up significant amount of effort behind every design they come up with. From the contemporary walk in wardrobe, bespoke sliding wardrobe, or custom-made kitchen, we leave no stone unturned to make you feel satisfied with the overall project.
We offer straightforward quotation process with none of the 'discount smoke and mirror strategy'. We never "beat other quotes" simply because 'others' don't offer same quality & service.

Our sprayed and veneered doors with integrated handles look amazing. We produce classic & modern fitted furniture. Visit our showroom to check our finishes and discuss your project in greater depth.