Maximizing Space: 15 Brilliant Fitted Wardrobe Ideas for Loft Conversions
Overbed fitted wardrobes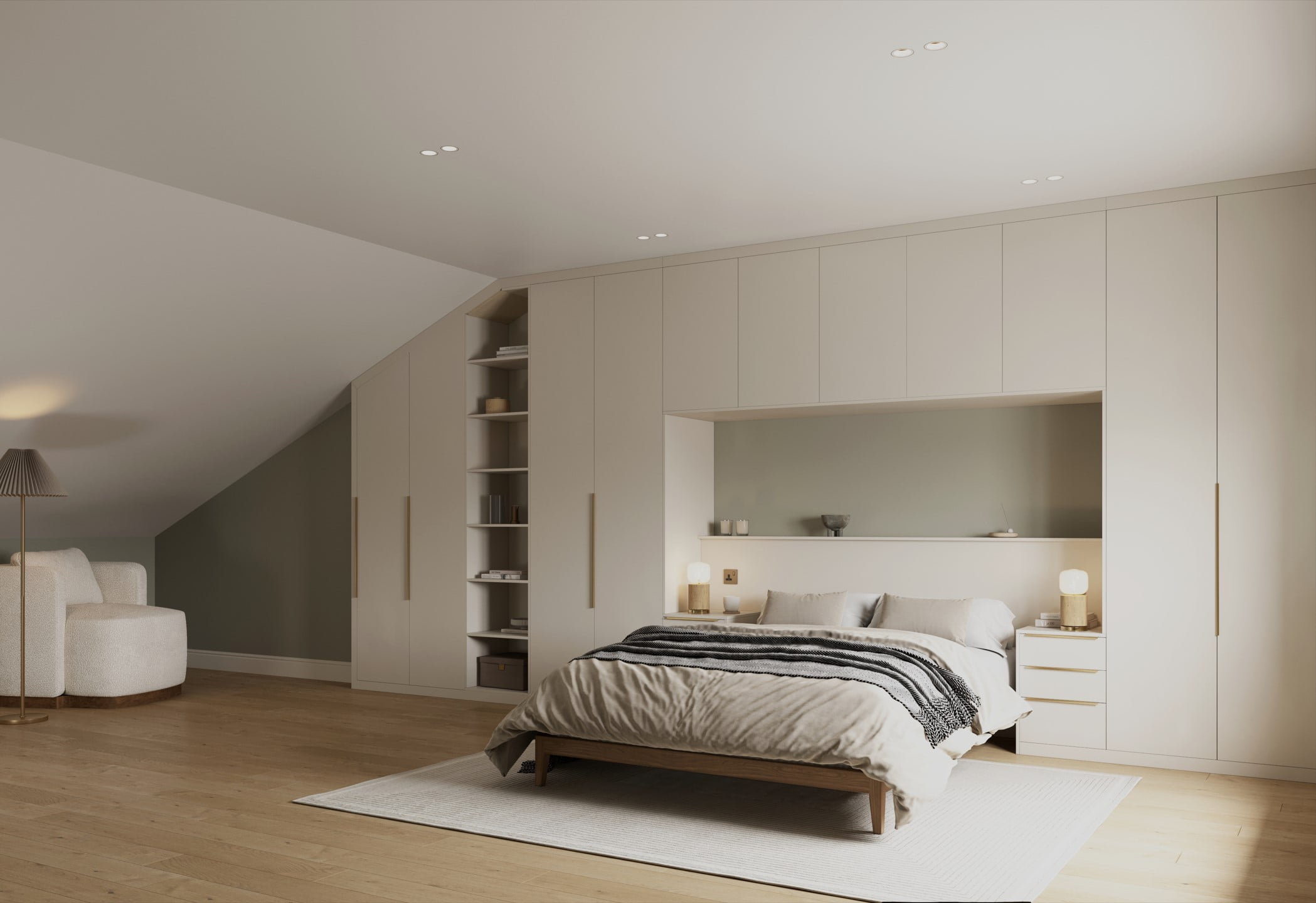 One of the most significant advantages of the over bed fitted wardrobes is the space utilisation. Overbed wardrobes fully utilize the vertical space above the bed, which often remains unused, turning it into valuable storage. This type of storage solution works well in loft conversions and maximise the space under the sloped ceilings.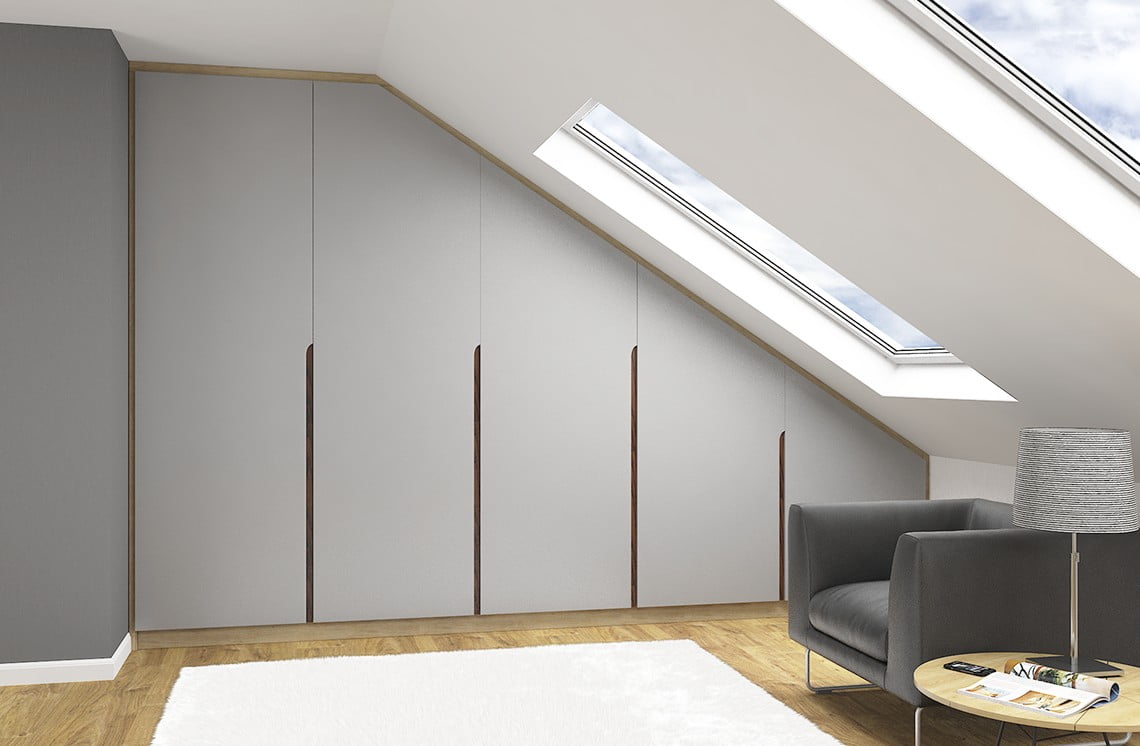 Simplicity and Minimalism make Nordic style of fitted wardrobes a very popular choice for homeowners. Compact and practical, these wardrobes make the most of available space and work perfectly for smaller bedrooms and loft conversions. Scandinavian designs prioritize 'hygge' (comfort and cosiness), ensuring the wardrobes and the bedroom exude warmth.
Shoe racks and dressing table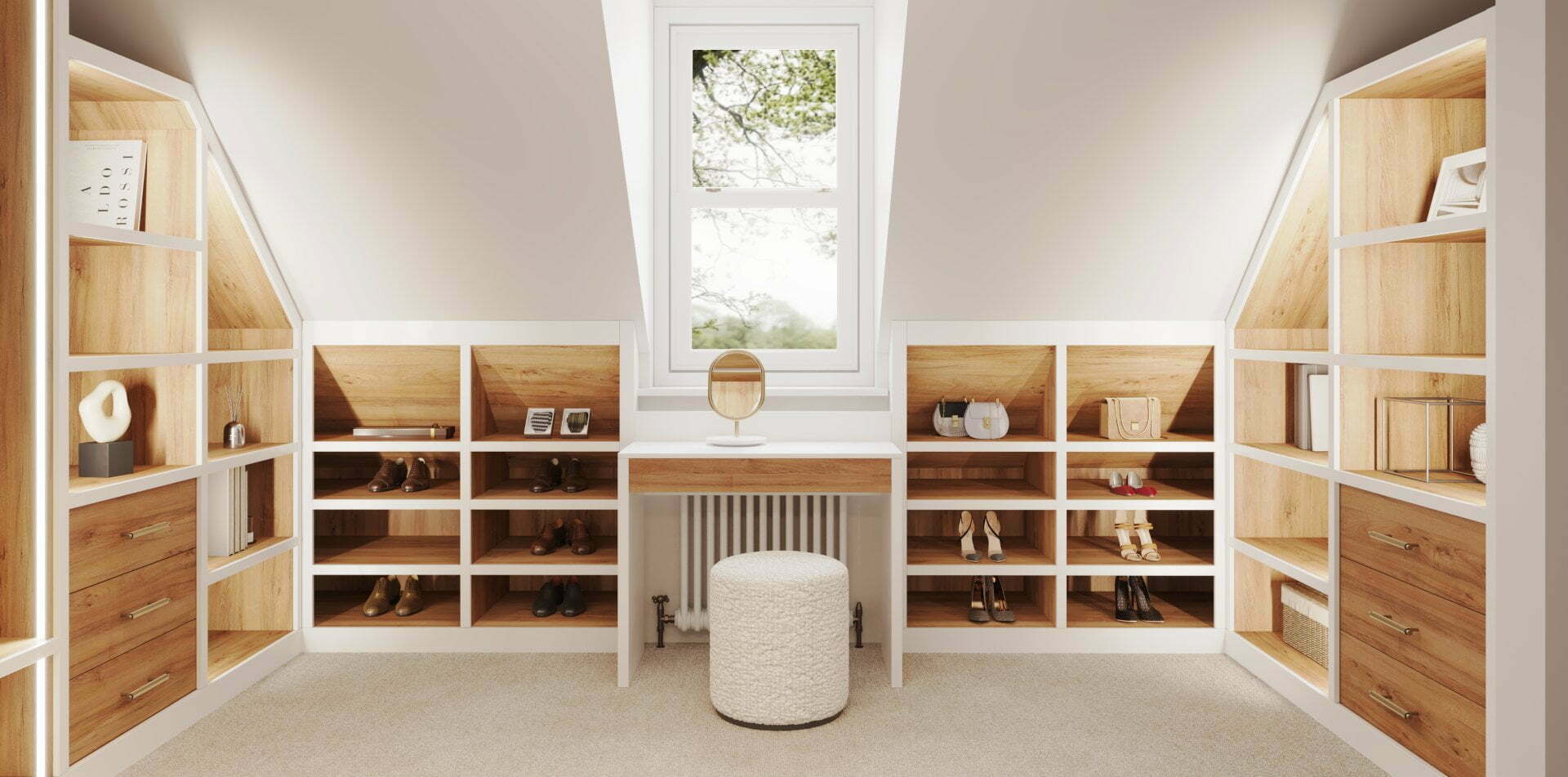 Awkward ceilings might not allow you to use the space for drawers and hanging rails, but it might be just perfect for shoe storage and a dressing table. With fully bespoke designs and tailor made cabinets built from scratch, it is possible to convert even the most difficult space into an efficient storage solution.
Loft wardrobes with built in Murphy bed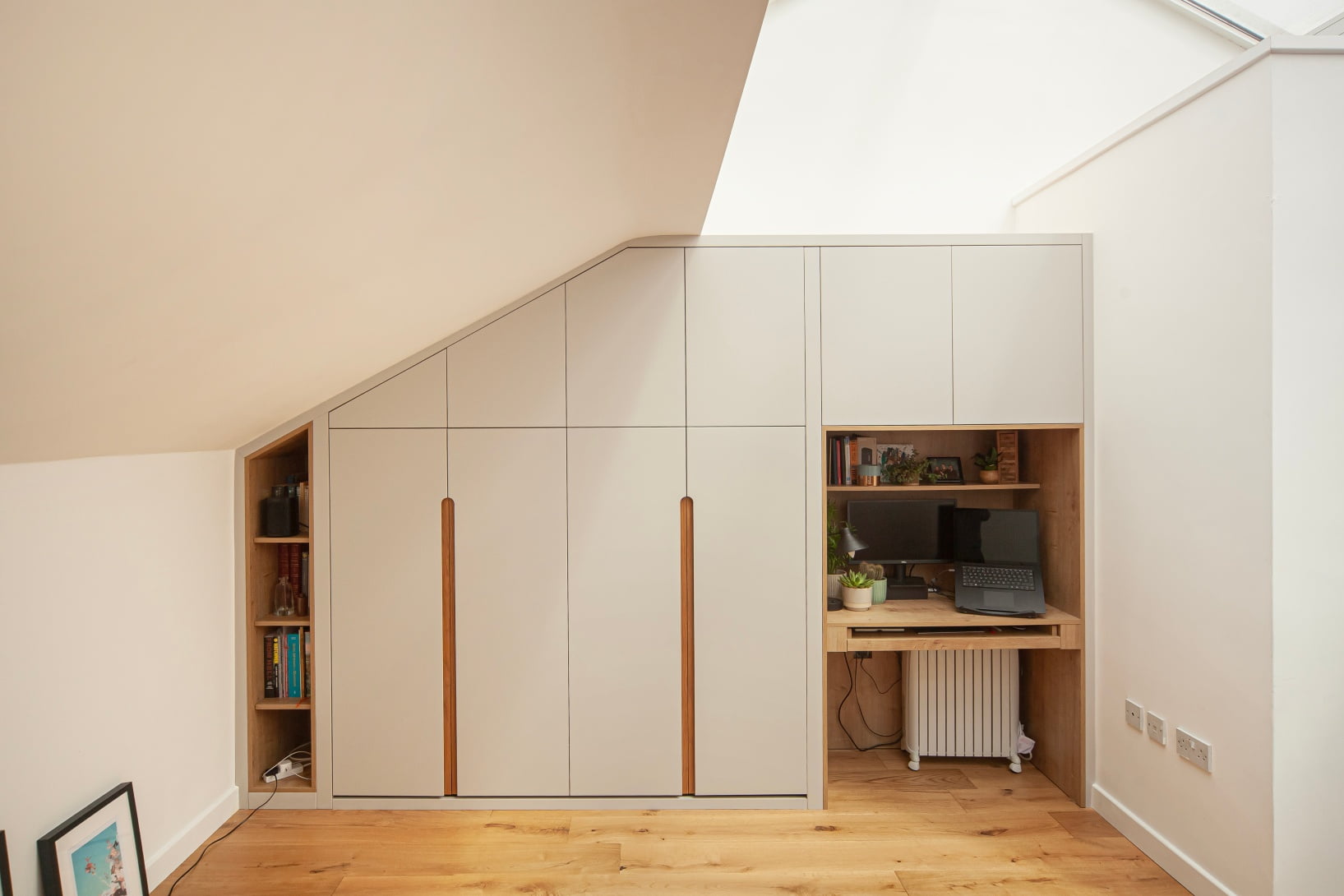 Same as with Overbed wardrobes, with built in wall beds the vertical space inside your bespoke cupboard is fully utilised. And can be used either for shelves (with a vertical pull-down bed) or for hanging rails (with a horizontal foldaway bed).
Quick conversion and comfort of Murphy beds, which are designed for regular use, make them a great option for Loft rooms with sloping ceilings, which can be quite often used as guest bedrooms or an office.
L-shape loft wardrobes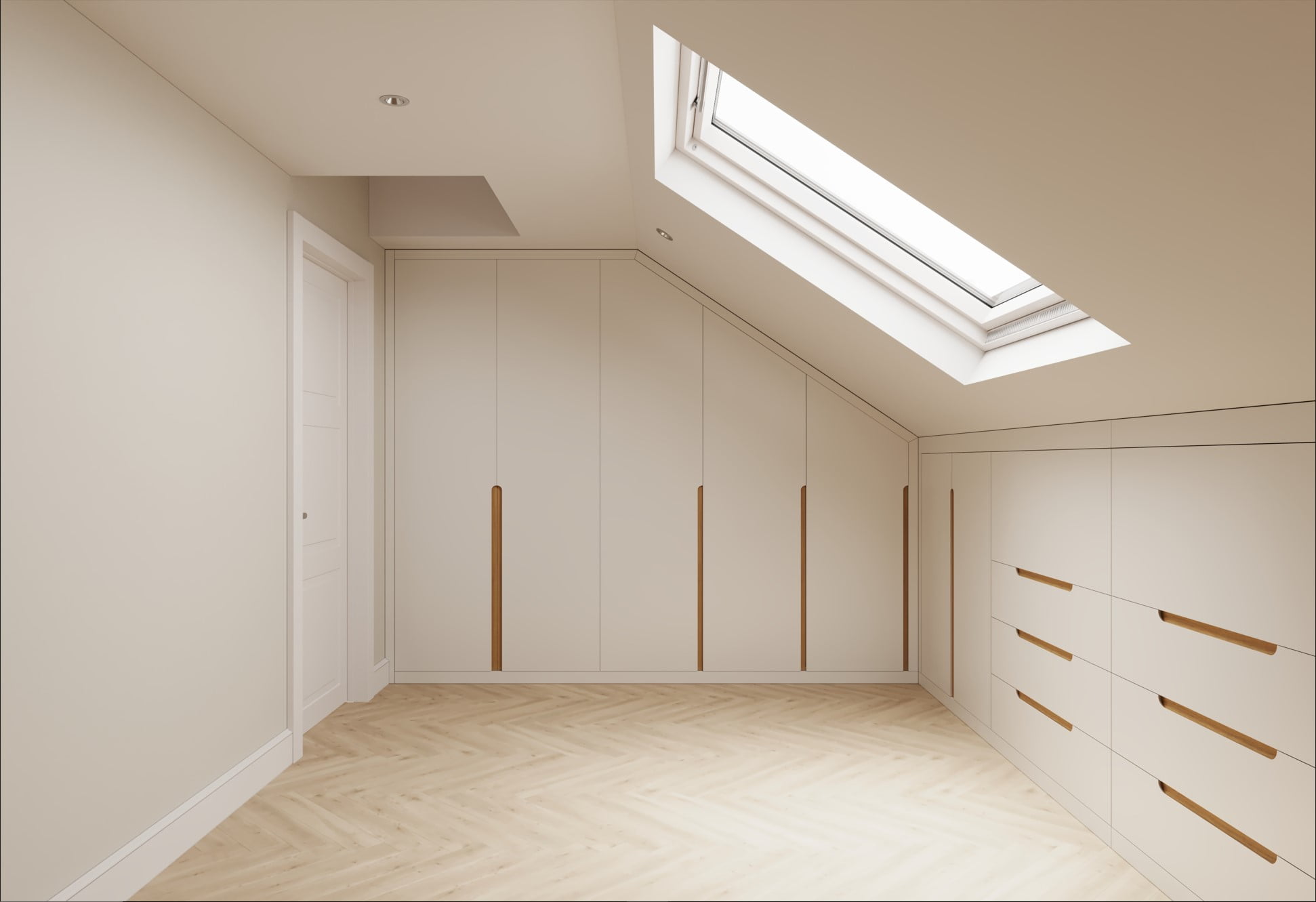 L-shape loft wardrobes is an excellent choice for those looking to combine aesthetics with functionality, making the most of the available space in a loft or attic conversion. With such designs, you can utilise the under eaves area and use it for drawers or shoe racks, and the main wall with sloped ceilings can be used for hanging rails and shelves.
Modern attic room cupboards with handleless doors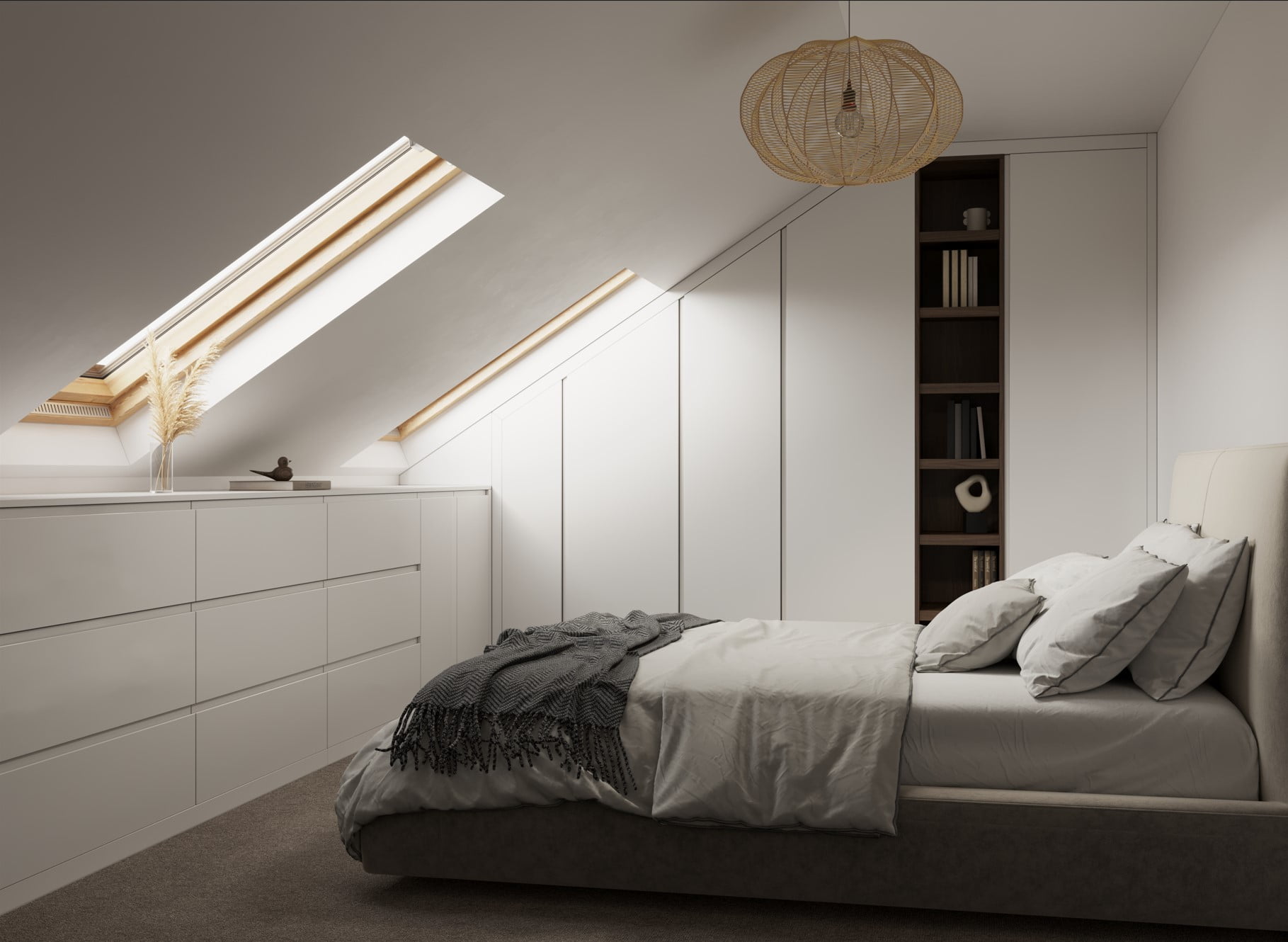 Handleless door designs have been a trend in the last couple of years, as there are lots of benefits using such cabinets in your bedroom. Integrated handle designs maintain a consistent appearance throughout their lifespan and are very adaptable to trends: the simplicity of handleless wardrobes makes them adaptable to changing interior trends, ensuring they remain relevant and stylish for longer.
Freestanding loft wardrobes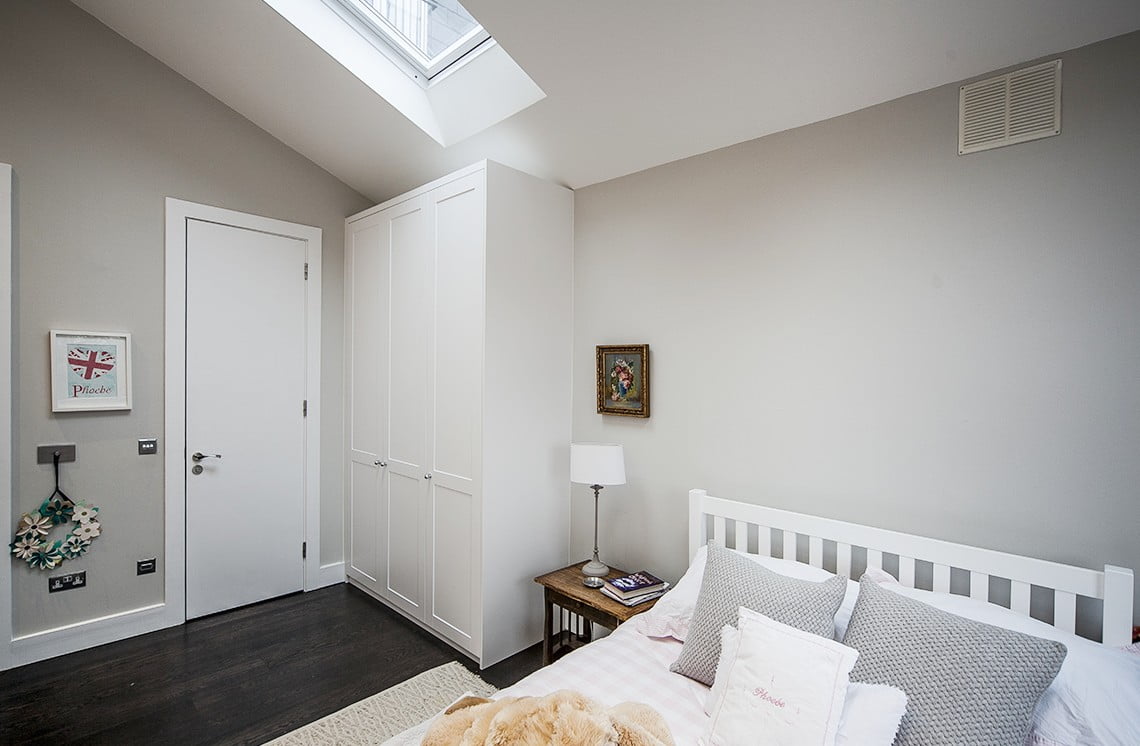 In some cases a freestanding cupboard can be a great solution for the bedroom with sloped ceilings. It all depends on the shape of the room and certain details such as location of the window, height of the ceiilings etc. Those wardrobes will be built from scratch anyway and designed in the way you want.
Under eaves built in wardrobes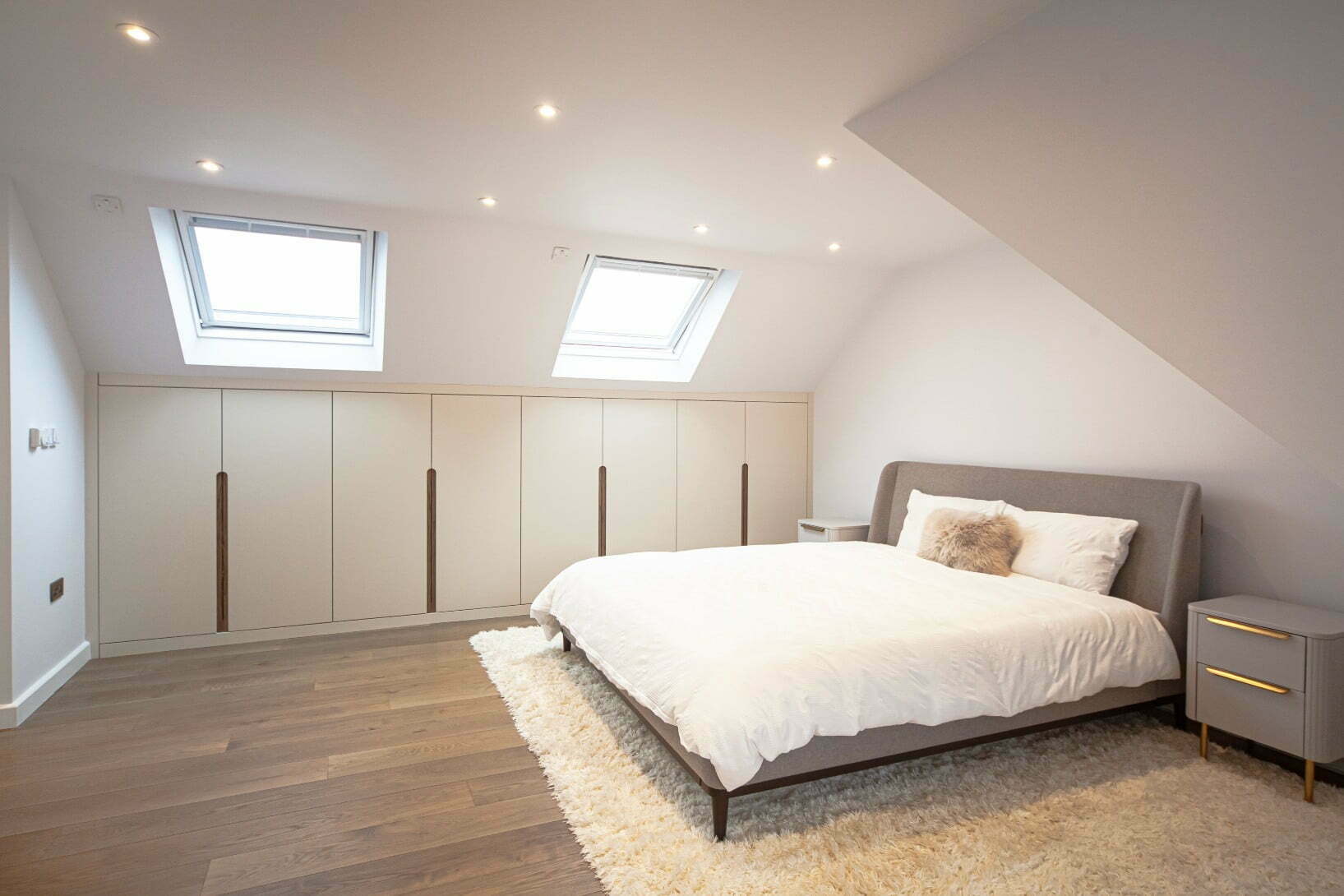 Bespoke tailor made wardrobes is the best solution of underutilized space beneath the eaves. These cupboards can be tailored to fit the exact contours of the room, ensuring no inch is wasted and maximizing storage capacity. Depending on height of your undereaves space the bespoke storage solution can be designed either to accomodate hanging and shelves or pull out drawers. Or combination of both. Drawers can be external or hidden behind the doors.
Awkward shape ceiling loft wardrobes

Here at Urban, we produce only custom-designed storage solutions to fit every curve, slope, and corner of an awkward room, making the most of every available inch. They provide a sleek, integrated look, enhancing the aesthetics of the room by eliminating gaps and awkward spaces between the furniture and the walls. The external finish including the handles (either integrated or external) can be chosen for each particular project. This type of fitted wardrobes adds value to a property by transforming unusable spaces into functional areas.
Mirrored sliding doors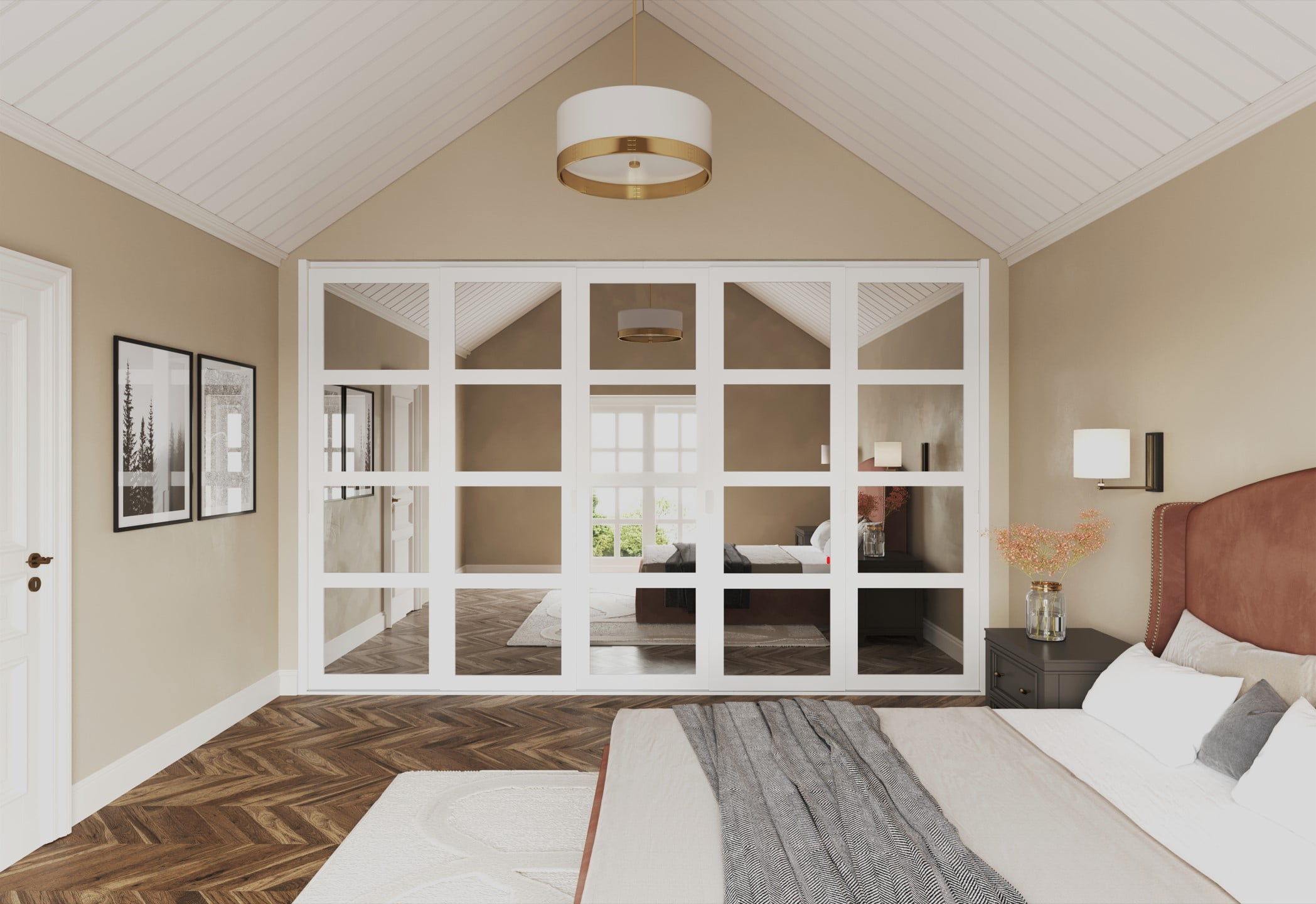 Loft conversions sometimes feel confined due to sloping roofs and limited floor space. And mirrors naturally make spaces appear larger, making them ideal for loft rooms and spaces with sloping ceilings. Another huge benefit of sliding door wardrobes is that they don't need space in front of the wardrobe to open the doors, this can be a great solution for small loft bedrooms.
Bespoke chest of drawers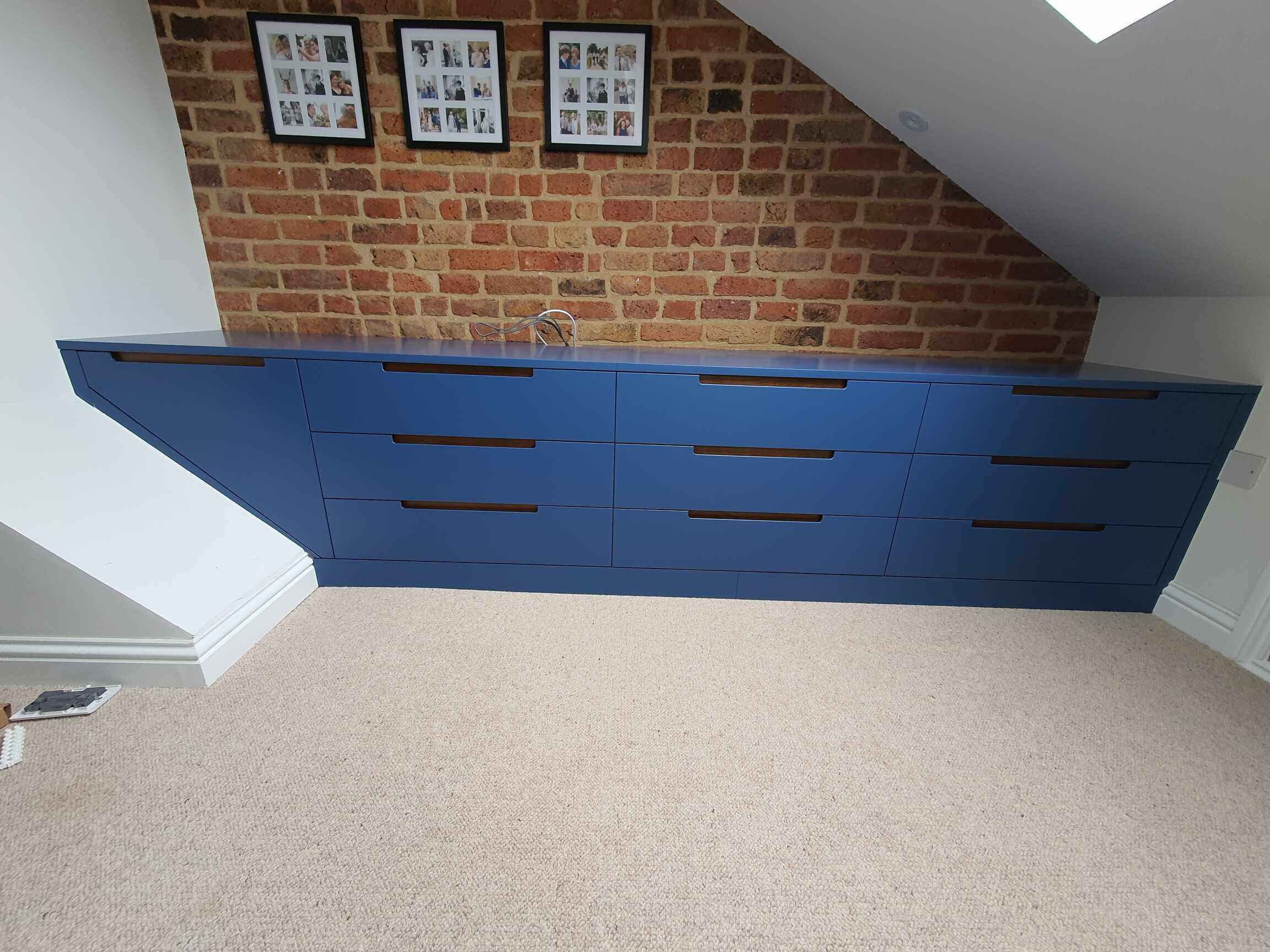 Our tailor made chest of drawers are designed to fit the specific dimensions and quirks of the loft conversion, maximizing the use of available space. This solution can be a great choise when you can't or don't want to cover the wall completely, leaving the open space above the chest of drawers.
Wardrobes with open shelves

In loft rooms featuring extended walls, interspersing wardrobes with open shelving can enhance both functionality and aesthetics. This approach not only breaks the monotony of continuous cabinetry but also offers a display area, creating a balanced blend of concealed storage and decorative space.
Classic shaker style wardrobes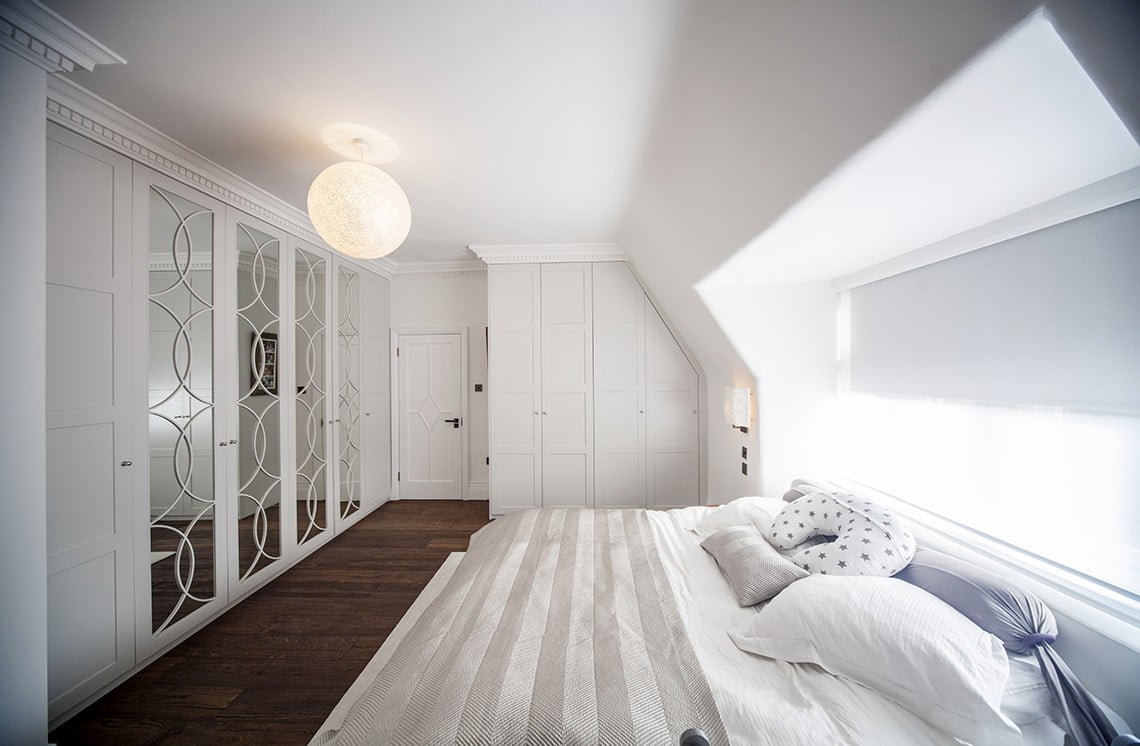 That's a great solution especially for the bedrooms in Victorian houses with classic interiors. This type of wardrobes is usually painted in white or off-white colour, can be manufactured from MDF and will have plain texture, or also can have woodgrain texture (in this case doros are made from wood).
Glossy Loft wardrobes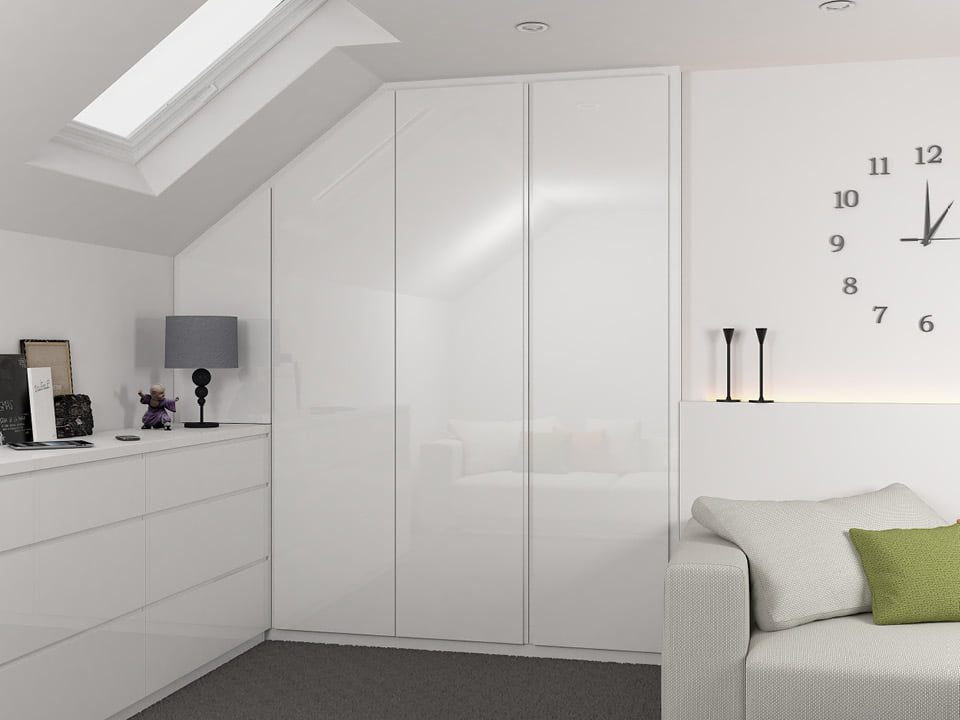 High gloss wardrobes are not so popular as they were 10-20 years ago, however, there is still a lot of demand on the market of fitted furniture for this type of bespoke storage solutions. They look absolutely great in sprayed high gloss finish with integrated full height handles.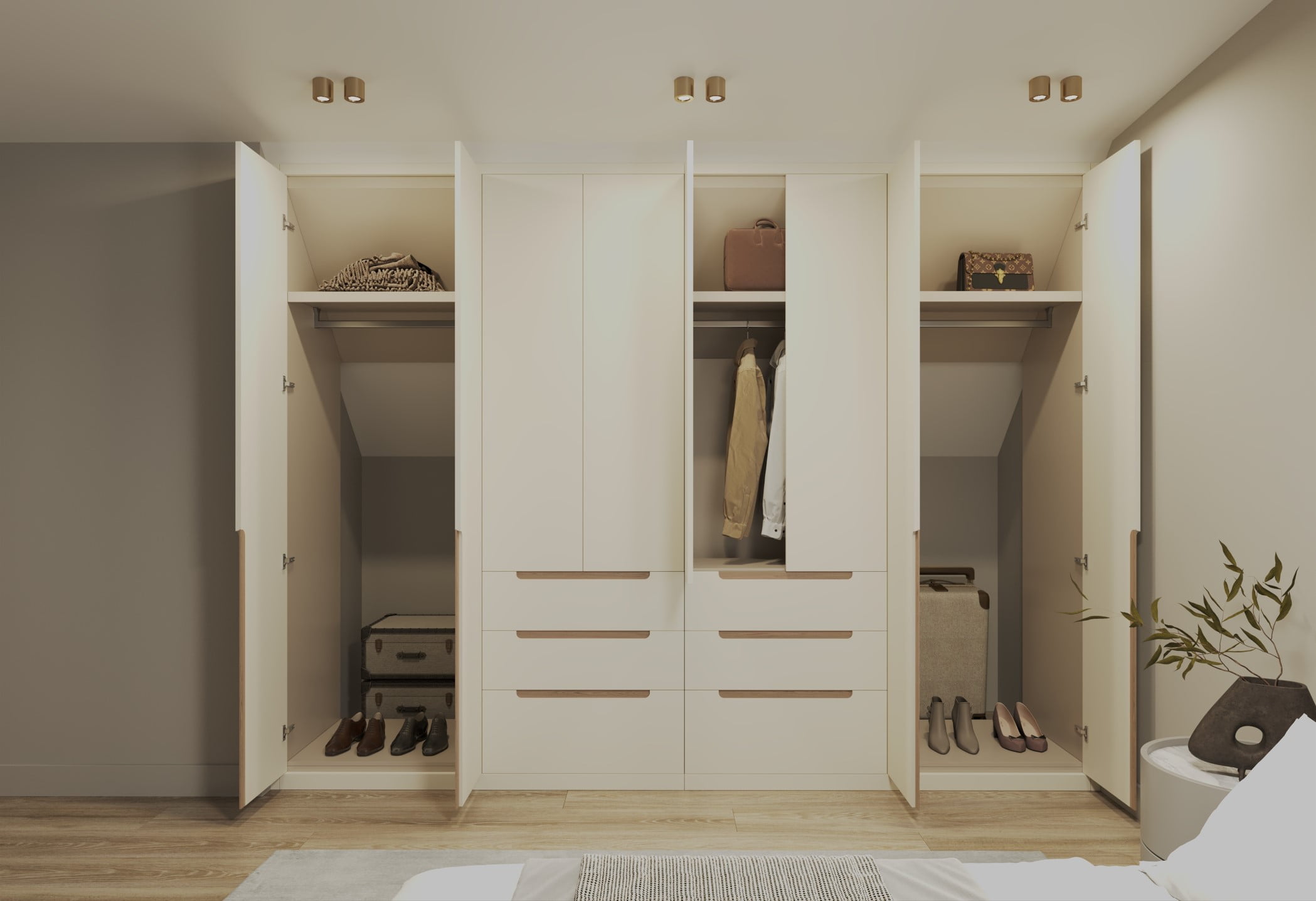 There are some cases when the shape of the wall allows you to install the full height wardrobe, but the depth of the space, in this case, is around 1 meter or even more. The main question in this scenario is how to utilise the space left at the back. In this situation we usually advise having removable back panels inside the cupboards, which can be removed when access to the void is required. The hidden space at the back is the perfect area to store your luggage, non-seasonal clothes and shoes, boxes etc.